Take a look at these tantalizing turquoise accessories.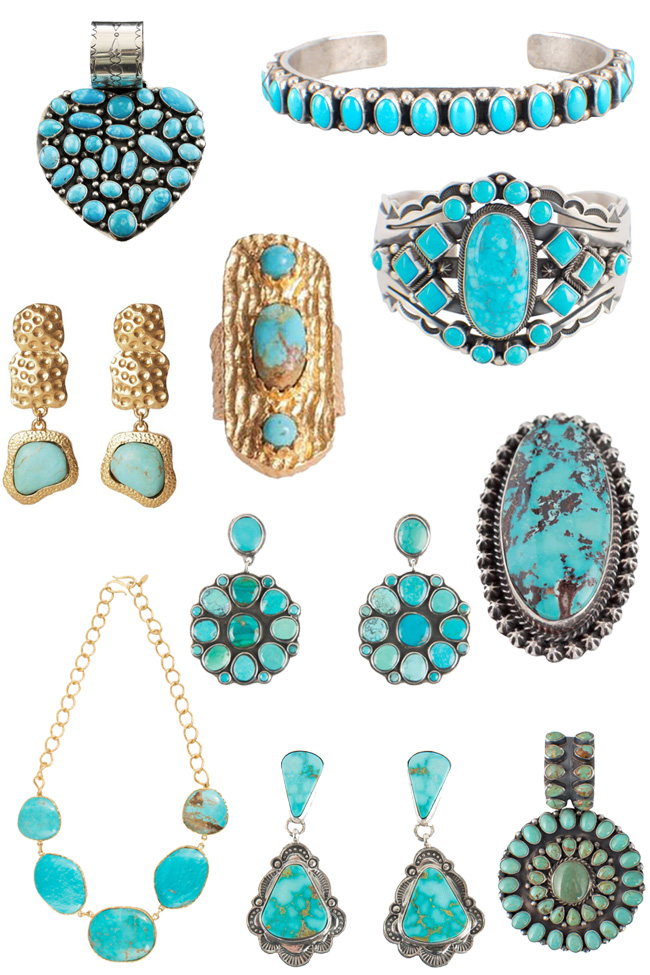 They say a diamond is forever, but so is a nice piece of turquoise. When it comes to to cost, turquoise jewelry can range anywhere from ten dollars to to thousands. I've rounded up 10 amazing pieces from Pinto Ranch that fall somewhere in the middle. They are worth the splurge, but you won't need to take out a second mortgage on your house to afford them.
Shop my favorites below (this post contains affiliate links).
The turquoise heart pendant by Rocki Gorman is amazing. Consider showing this one to your significant other and start dropping Valentine's Day hints.
The Peyote Bird skinny turquoise cuff bracelet is a classic. You can wear this alone or stack it up with  all your other favorites.
Christina Greene's Waterfall earrings are absolutely stunning. They transition perfectly from day to night.
The Avery ring by Christina Greene is a great piece to accompany the Waterfall earrings. Hammered 18K gold is plated over brass and filled with three natural turquoise stones.
This massive turquoise cuff by Turquoise Moon is definitely a statement piece. It's a lifetime piece worth the splurge.
Peyote Bird cluster earrings are a simple and sweet enough to wear frequently.
A large turquoise stone set in sterling silver by Turquoise Moon is a work of art. This ring will have everyone drooling.
This statement necklace by Christina Greene offers a modern twist on traditional southwest jewelry  by using gold instead of silver.
Turquoise drop earrings feature genuine Kingman turquoise stones. Time to treat yourself!
Turquoise doesn't always have to be blue. The Circle of Life pendant by Rocki Gorman features green turquoise stones set in sterling silver.