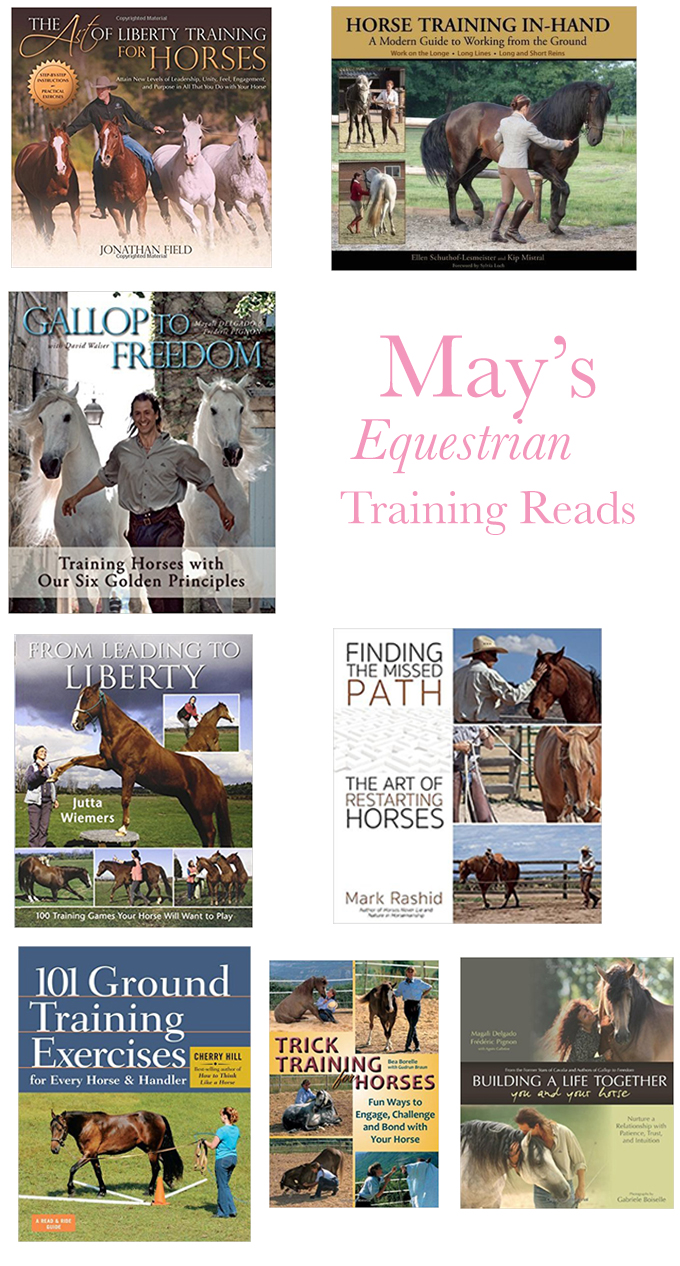 Lately I've been thinking a lot about the bond between a horse and rider. It's something we all want, harmony with our equine partner. One of the best ways to learn together is with a series of exercises or a special routine. When I was younger I taught my pony to bow and use to pretend we were in the circus together. I even made him climb up on cinder blocks and would stand on his back.
As I prepare to enter a new journey with a pretty Paint mare, I have been thinking a lot about what I really want to teach her. Here are eight books that will help you train and bond with your horse.
1.The Art of Liberty Training for Horses: Attain New Levels of Leadership, Unity, Feel, Engagement, and Purpose in All That You Do with Your Horse, by Jonathan Field. Learn about liberty and how to do it safely with your horse. Teach your horse how to respond to your every move and strengthen your bond.
2. Horse Training In-Hand: A Modern Guide to Working from the Ground, by Ellen Schuthof-Lesmeister. This book is perfect for problem horses, young ones, or anyone who wants to have a good relationship on the ground, not just in the saddle.
3. Gallop to Freedom: Training Horses with Our Six Golden Principles, by Magali Delgado and Fredric Pignon. In this remarkable book, Frédéric—a specialist in liberty and ground work—and Magali—a talented dressage rider at the Grand Prix level—combine efforts and share the secrets of the breathtaking relationships they have cultivated over the course of their lives with horses.
4. From Leading to Liberty: 100 Training Games Your Horse Will Want to Play, by Jutta Wiemers. Get for for 100 games to challenge your horse. Start simple and progress to sitting down or the Spanish walk.
5. Finding The Missed Path: The Art of Restarting Horses, by Mark Rashid. It's common for a horse to have a lapse in training, especially when owners are transferred. This book helps you identify what level they are at and what needs to change.
6. 101 Ground Training Exercises for Every Horse & Handler, by Cherry Hill. This book is meant to hang out in your arena – just read and ride.
7. Trick Training for Horses: Fun Ways to Engage, Challenge, and Bond with Your Horse, by Bea Borelle, Kristina McCormack (translator), and Gudrun Braun (contributor). Take me back to childhood – this book is perfect for someone like me.
8. Building a Life Together–You and Your Horse: Nurture a Relationship with Patience, Trust and Intuition, by  Magali Delgado and Fredric Pignon (photographed by Gabriele Boiselle). A follow up book to the successful, Gallop To Freedom. The duo opens up about their relationship with their horses and building the bond. 
What are you working on with your horse right now?