*Update: Since I posted about Cowhorse Creations, they have sadly gone out of business.
Happy Friday, I now present to you something sparkly, pretty, shiny & amazing! I am always on the lookout for gorgeous & unique items for the horse & rider. These custom designed stirrups by Christine of Cowhorse Creations are on my extremely long "to purchase list".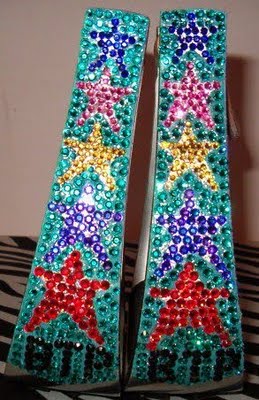 Christine creates custom patterns with swarovski crystals. You can add conchos and other pieces as well. Originally Christine sold a few pieces of tack she made at some local rodeos & barrel races & started taking special orders. One day a friend requested a pair of special stirrups with lots of sparkle.
All stirrups are solid aluminum & come in three styles to choose from; barrel racers, slanted barrel racers & roping. Just pick out your type & then the designing fun begins! As you can see the combinations are endless, visit
Cowhorse Creations
online or like them on
Facebook
to see more gorgeous photos.
I love the black & white with guns!
The crystals are set in with glue & topped with diamond hard clear finish for durability. I think the hardest part is coming up with a color combination & design… talk about overwhelming!
All photos taken from Cowhorse Creations Facebook page