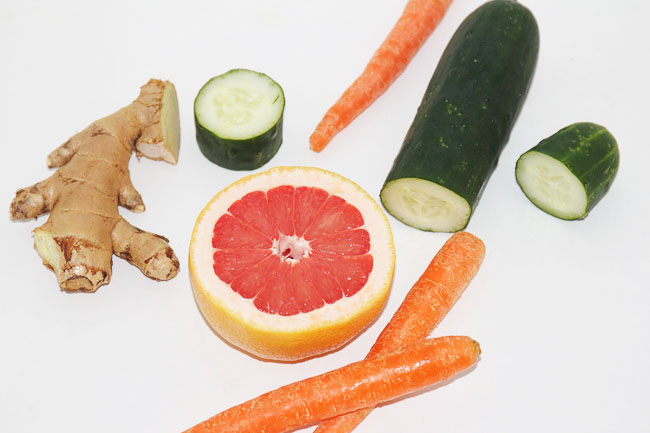 It's time to recover from an unhealthy Valentine's Day weekend with some juice. I had too much ice cream, cake and donuts this weekend. A tall glass of this Cucumber Grapefruit Juice is excellent in the morning or afternoon and it really fills you up! You get so many vitamins and a full serving of fruits and veggies in a glass, plus you feel energized.
You do need a juicer to make this but it's definitely worth the investment. Juicers have come a long way and are no longer super expensive. In the beginning, I hated this juicer. It took up a lot of counter space and it was always in the way… this was because Adam and I had virtually no counter space back in Ohio and he would always bring the juicer out while I was cooking. Flash forward to life in California, we have lots of counter space and my relationship with the juicer has improved.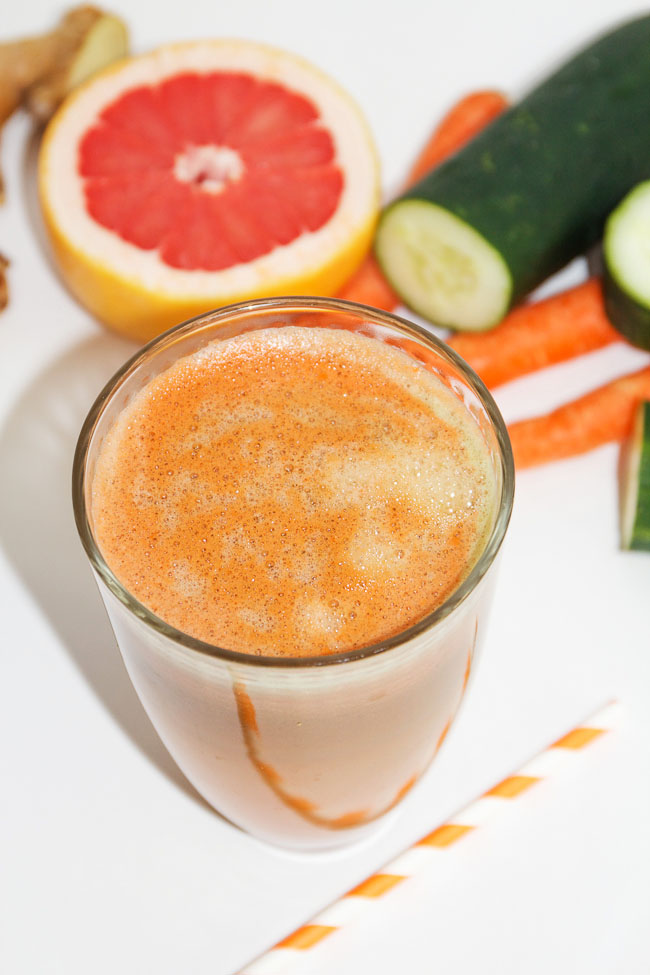 Cucumber and Grapefruit Juice
A energy boosting Cucumber and Grapefruit Juice.
Ingredients
1 whole grapefruit (medium sized)
1 medium sized cucumber (about a cup when cut into chunks)
3-4 medium sized carrots
fresh ginger root (I use about a 1-2 inch piece)
Instructions
Peel the grapefruit and remove the ends from the cucumber and carrots.
Chop the fruits and veggies into chunks and load them into your juicer.
I like to use a straw and sample the juice as it comes out, it helps me get the perfect flavor. Tweak your recipe as needed.
An important thing to keep in mind when juicing and following this recipe is no two juices will ever taste the same. It doesn't matter if I gave you the exact weight of the fruits and vegetables that I used. Your juice would still taste different because no two fruits or veggies are the same in flavor. Some could be sweeter or more bitter than others. Juicing is like an ongoing science experiment, you need to learn what fruits and veggies you like together and tweak your recipes from there.
Happy juicing!