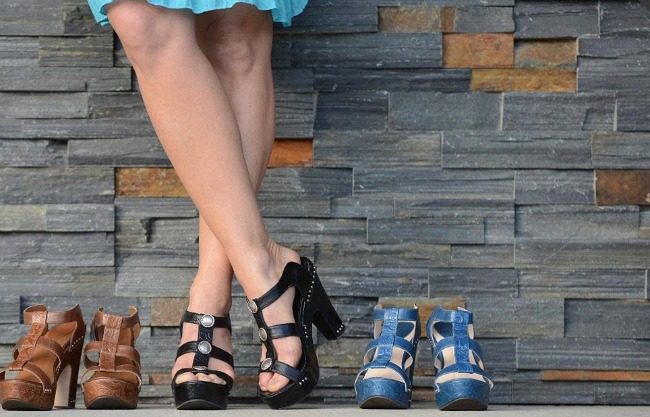 Happy first official day of spring! If you are looking for some new warm weather footwear that doesn't involve cowboy boots but still has a western flair, check out YK Branded.
Sister duo Kelly Beall and Wendy Weems of Oregon launched their shoe line YK Branded with the cowgirl in mind and brought the shoes to retail stores last summer. Kelly heads up the designing and travels as the brand's representative. Wendy focuses on fulfilling orders and running other apsects of the business; both sisters have plenty on their plates. The Alpha Mare collection features heels and wedges with western influence and plenty of sass. Today I have a fun Q&A session with Wendy and Kelly and am sharing a few favorites of mine from their Alpha Mare Collection.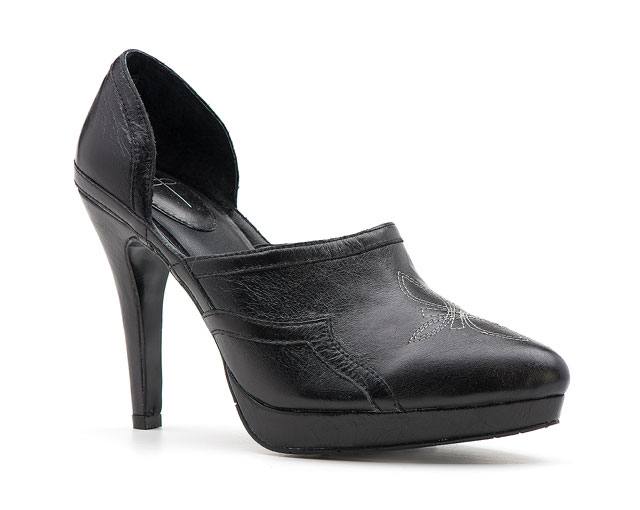 Q. Tell us a little bit about your career background before launching YK Branded.
Wendy – I graduated from Oregon State University with a bachelors in Human Nutrition. I practiced as a Registered Dietitian for several years in the south.
Kelly – I was and still am an independent representative for several well-known brands in the western wear and footwear industry. I travel a large territory that spans Oregon, Washington, California, Idaho, Nevada, Hawaii and Alaska. Prior to that I was a radio DJ, an attorney's assistant, and way back when – I managed a western wear store outside Portland, Oregon. I remember the first traveling representatives I ever met and thought "Some day I'm going to do THAT!" That was over 30 years ago. It's a job I love. I can't imagine being home every day. I was built to travel.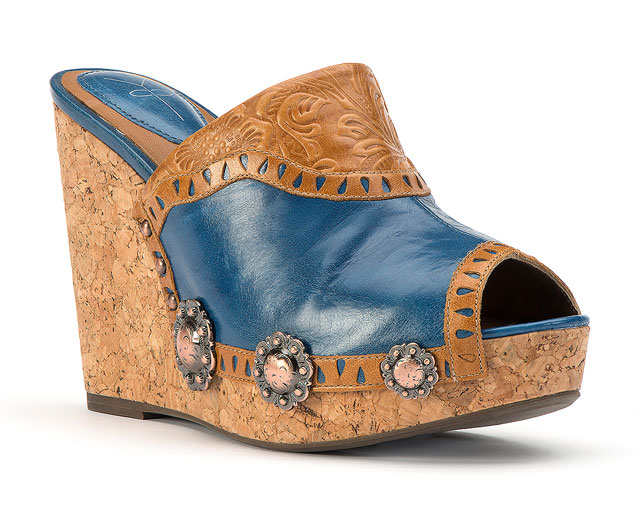 Q. Try to describe a typical day of work (if such thing exists) or your routine at YK Branded.
Wendy – First thing always is to check email. That is how we receive orders. If I can get them submitted to distribution before noon, the order will ship that day. After orders are submitted then it is on to responding to email inquires; new retailers, reps, current retailers… There is always new design development going on; choosing leathers, hardware, designing on lasts, etc. This also means constant communication with our manufacturer.
Kelly – Every day is different. My position with the company involves wearing several different hats, as does Wendy's. It may include drawing new or amending existing designs to handling inquiries from a new retailer… and everything in between. Wendy handles the communications with the manufacturer while I do my best to come up with new ideas and approaches that are authentic to the lifestyle, yet current fashion-wise while staying true to the level of quality and detail our retailers and customers rely on YKB to provide. My brain is constantly turning on our next advertising and marketing campaigns and ways to help our retailers get YKB on more ladies' feet.
 Since I am a representative, 90% of the time, I wake up in a hotel room far from "home".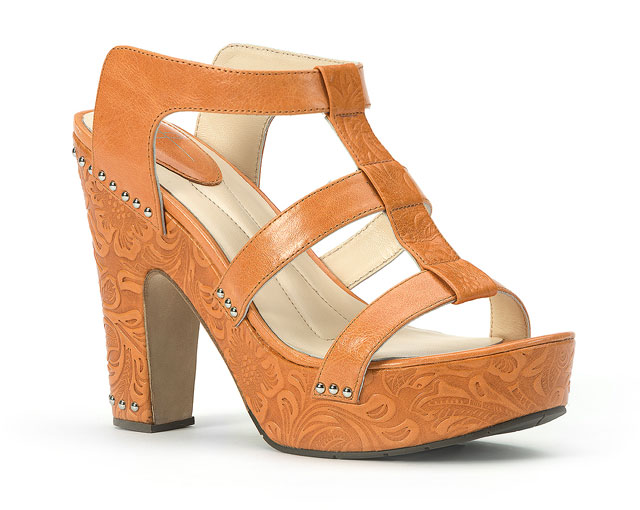 Q. Which pair of shoe(s) from the Alpha Mare collection is your favorite and why?  
Wendy – Saddled Up. The blue goes with everything! They are comfortable and super cute with skinny jeans, capris and palazzo pants.
Kelly – I'm partial to Cowboy's Sweetheart. This is the first one I designed and it is inspired by a pair of chaps I fell head over heels (pardon the pun) for.   As for comfort and versatility, I adore my Leather Lace. I've literally worked in them all day and gone out dancing the same night in them.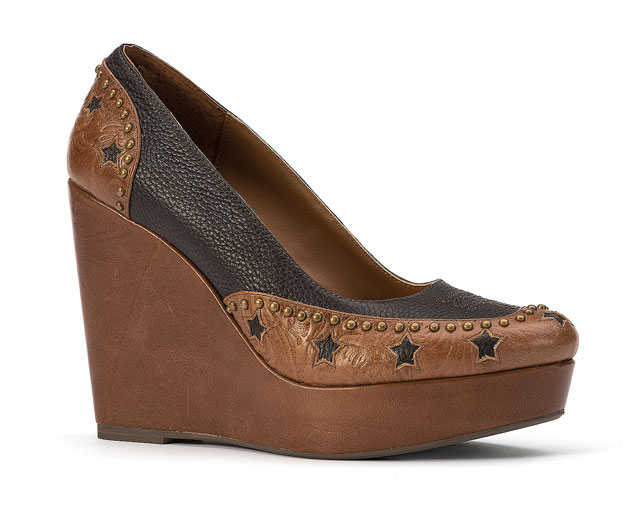 Q. Where do you find inspiration for your designs?
Kelly –  Everywhere. From titles of songs to the tack room. I try to listen to what people say about the shoes and what they "wish" they could have. If I hear a few people say the same thing – chances are good I will do my best to make their footwear dreams a reality. I try very hard to be subtle and obvious at the same time. A few of the shoes are so incredibly western, but unless a person came from that world, they really wouldn't know about the influence. They just seem like a very unique pair of shoes. However, I do everything possible to rule out the hokey. You'll never see a shoe shaped like a hoof or a saddle horn protruding from the toe on a YKB design. Ever. (Don't let Wendy fool you, she has a few design tricks up her sleeve too.)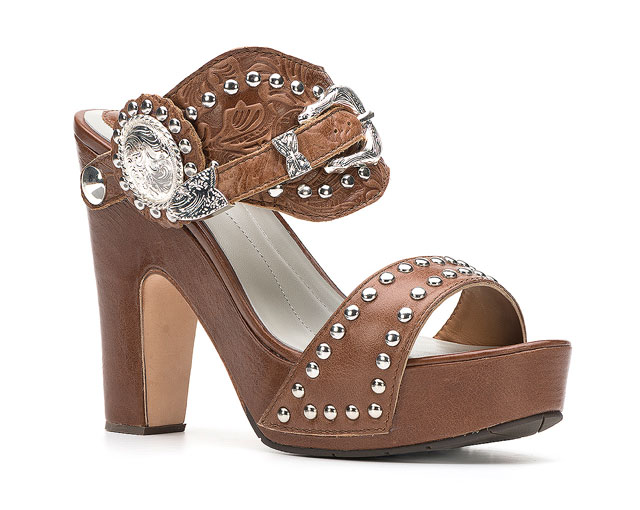 Q. Running a business can be one of the most challenging and rewarding jobs, if you could go back five years and give yourself one piece of advice, what would it be?
Wendy –  Wow! I thought about this question for a long time and realize that this whole journey has been pretty serendipitous. We have had great advice and mentors along the way that have prevented us from making huge mistakes. I have to remind myself that everything is God's timing, not mine.
 Kelly – I'm at a loss on this one. It seems like there are so many things we simply lucked into. I believe my entire career in the industry has put us right where we are today. So many people that I've known for 20+ years have given us leads, help, guidance, direction, and short cuts. Without their expertise, we would surely still be in the drawing stages. We didn't know that the way we did things and the short amount of time it has taken wasn't the norm. Of course, I honestly believe in God having His hands in everything we do. I would have to go back 50 years and just tell myself "Hang on girl! It's going to be a crazy ride, but such a FUN ONE too! Enjoy ALL of it."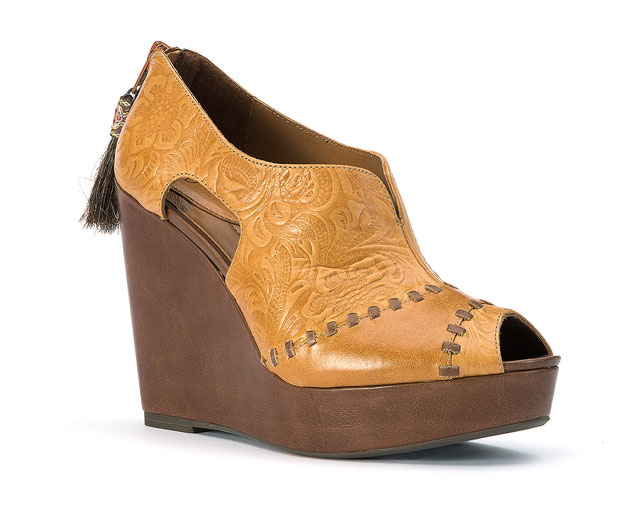 Q. And just for fun, what is your favorite brand of cowboy boots when you are not wearing YK Branded?
Wendy – Lagrange. I have four pairs right now. Doesn't matter if they are exotic leather or traditional, they are comfortable on the first wear. I think I could actually jog in these boots!
Kelly – Well, being that I am the representative on the West coast for Nocona Boots – there is only one acceptable answer. I honestly have loved Noconas since the 1980's – so I'm fortunate to represent a brand that I admire – that has so much tradition and is known for classic styling, great fit, and unsurpassed quality in the industry.
 I want to give a huge thank you to Kelly and Wendy for taking the time to give us more insight on the brand and their personal style. To see more of the Alpha Mare Collection or to find a retailer to purchase your own please visit YK Branded online.
Photos from YK Branded