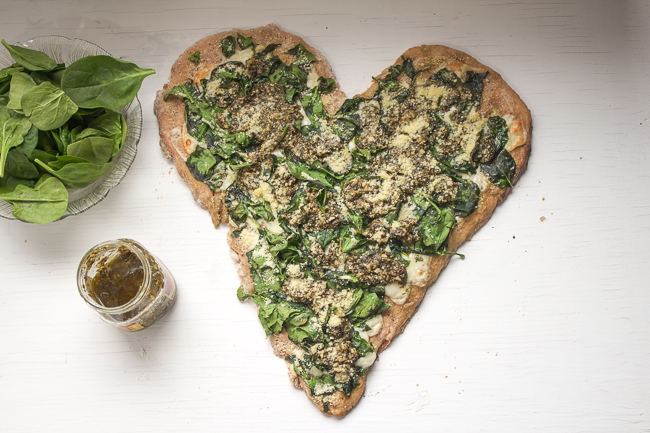 It's almost Valentine's Day, do you have dinner plans yet? Whether you are single or part of a couple, this easy pizza could be just the thing for you. I admit the heart-shaped crust might be a bit much, but it's the thought that counts.
The crust wasn't exactly easy to shape & I just used my hands to mold it into the best looking heart possible. The pizza crust is a recipe a tweaked a little from allrecipes.com & it's awesome. I use both wheat & all-purpose flour. I adore spinach & it's amazing on this pizza.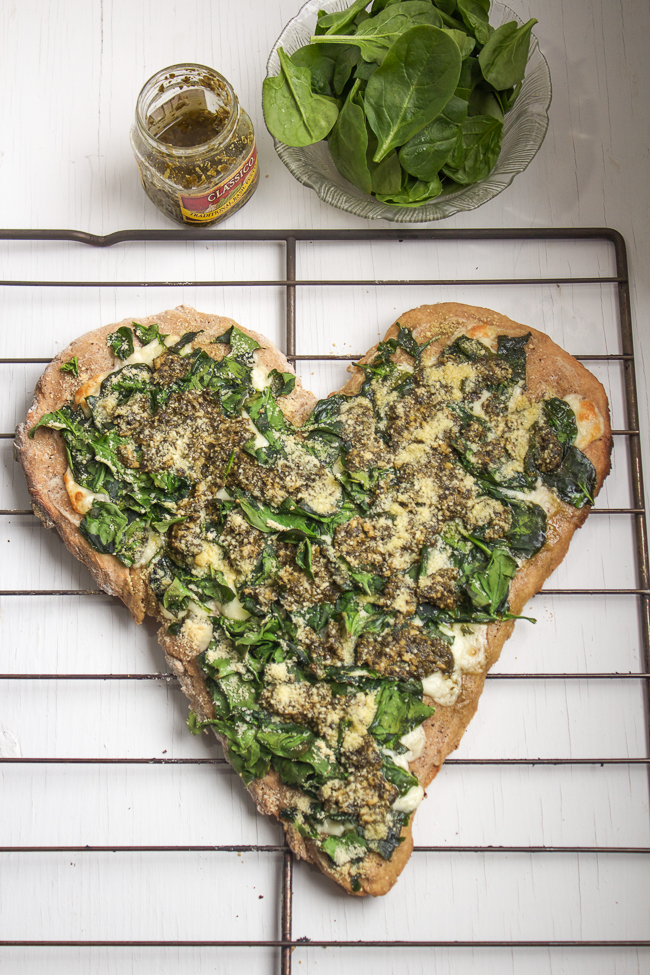 All you need is wine & chocolate to go with this. And don't worry, this pizza can easily serve four so you can have leftovers or invite over a friend or another couple to share.
Dinner for Two: Spinach Pesto Pizza
A savory Spinach & Pesto Pizza.
Ingredients
For the Pizza Crust:
2 cups all purpose flour
1 cup wheat flour
1 package dry active yeast (.25 ounces)
1 teaspoon salt
1 tablespoon sugar
2 tablespoons vegetable oil
1 cup warm water (approximately 110 degrees F.) 1 additional tablespoon of water may be needed.
For the Toppings:
1 tablespoon mayo
1 teaspoon black pepper
1 teaspoon salt
4 ounces mozzarella cheese (thinly sliced)
⅓ cup basil pesto
3½ cups of fresh spinach, loosely packed
⅓ cup basil pesto
¼ cup parmesan cheese
Instructions
Pre heat your oven to 375 degrees.
Combine flours, yeast & salt in a mixing bowl.
Add in oil & water.
Mix well & if your dough is too dry or not sticking, add an additional tablespoon of water.
Bring the dough onto a lightly floured surface & mold it into the shape of a heart with your hands. Or feel free to just round it if the occasion isn't Valentine's Day.
Once the dough is shaped place it on a large, flat baking sheet & bake for 10 minutes.
Remove from the oven & spread the mayo over the whole entire crust evenly.
Sprinkle crust with pepper & salt.
Place the thin slices of mozzarella cheese over the pizza (you may use shredded mozzarella if you prefer).
Spread ⅓ cup of pesto evenly over the pizza.
Top with fresh spinach, ripping it as you place it. The spinach is going to be heaping & look like too much for the pizza, but don't worry it will cook down.
Take the other ⅓ cup of pesto & drop small spoonfuls of pesto on the spinach.
Top with parmesan cheese.
Return the pizza to the oven & bake for another 15 minutes.
Serve hot & enjoy.