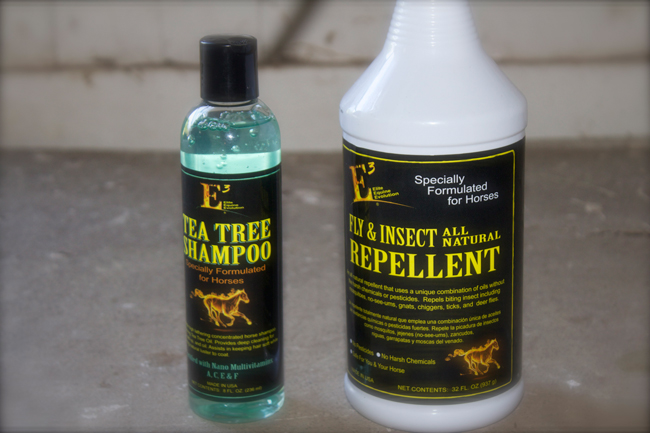 It's minty, it's fresh, it's fly spray…
I know that doesn't sound like the norm but if the flies are treating your horses as bad as they have been treating mine I thought that I would share a new discovery with you; E3 Elite Equine Evolution.
E3  Elite Equine Evolution contacted me & wanted to see if I was interested in trying any of their products, they carry shampoos, liniment, hoof dressing, detangler  & thrush treatment. I said I would try the fly spray & the tea tree oil shampoo.
Both products pleasantly surprised me, I love how the fly spray smells it is infused with citronella, peppermint, cedar & rosemary oil. The fly spray lasts & while I've never used a spray that deters away every fly it did make a huge difference. I used the tea tree oil shampoo on Rumor & Mango (the dog) everyone shined & felt soft as can be. E3 uses something called "Nano Technology" to help with better absorption of product into your horses skin, if you want to learn more be sure to check them out online.
If you have any additional questions feel free to comment, email me, tweet or Facebook me, you know where to find me!
Products c/0 E3 Elite Equine Evolution