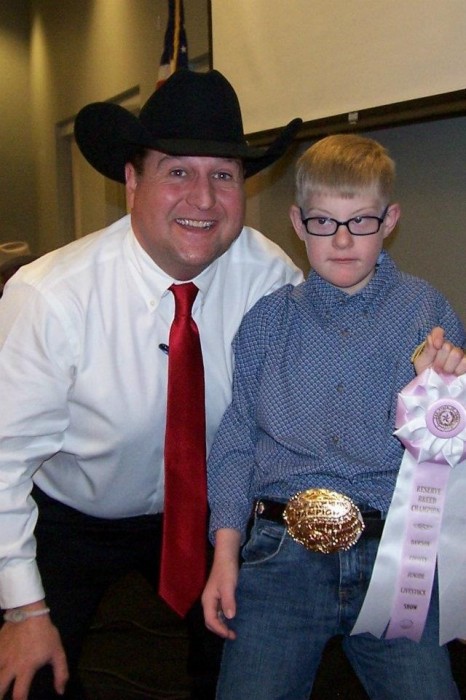 While most of the time I showcase expensive boots, all things fashionable & make you want to go shopping; I thought I would change the pace for a moment. It's no secret that I'm very fond of Anderson Bean Boot company, I have visited their factory, seen their work & met their people. It's a wonderful company & I truly believe the people who stand behind it is what makes it so special. Today I thought I would share this story about C. Jason Spence (left) & Caleb (right).
Spence is an auctioneer from San Antonio, Texas & below is his story.
Starting in 2011, I had the opportunity to sell the Dawson County Jr. Livestock Sale.  Caleb Gentry was one of the Dawson County kids that made the sale.  His pig sold right after the banner and breed champions.  Being the first year that he made the sale he was very excited and the crowd cheered loudest for him and his project outsold the Grand Champion!  With all of the activities Caleb was overwhelmed with excitement.  When I finished selling his hog, he thanked me and wanted to know where is belt buckle was.  I told him that he wasn't going to receive a buckle only the breed champions as well as Grand and Reserve.  Caleb was crushed, all he wanted was a belt buckle.  I told him that if he would make supreme champion he would get a belt buckle next time.
On the way back to the airport I knew I had to make good on my promise.  When I returned home to South Texas, I looked into one of the drawers in my desk and found a brand new rodeo buckle that was from a Wild Cow Milking in West Texas.  I thought, "This is for Caleb!"
The next year, 2012, I returned to Lamesa once again to sell the Dawson County Jr. Livestock Sale.  Caleb was sporting a buckle that he had won at Ft Worth Stock Show showing a pig the year before, none the less I had to make good on my promise.  Without telling anyone, I sold Caleb's project and then presented him with the buckle.  He thanked me and immediately put on his "Wild Cow" buckle.
At this year's sale, Caleb was not only wearing his "Wild Cow" buckle but a pair of Anderson Bean Boots with the Texas 4-H logo on them.  He made a special effort to show me his boots and I joked that his feet might be bigger than mine.
I am very blessed to have the opportunity to bring kids all over the state into the sale spotlight, usually for less than a minute a year.  After the sales are done and I leave for another, it is kids like Caleb that make the lights shine brighter.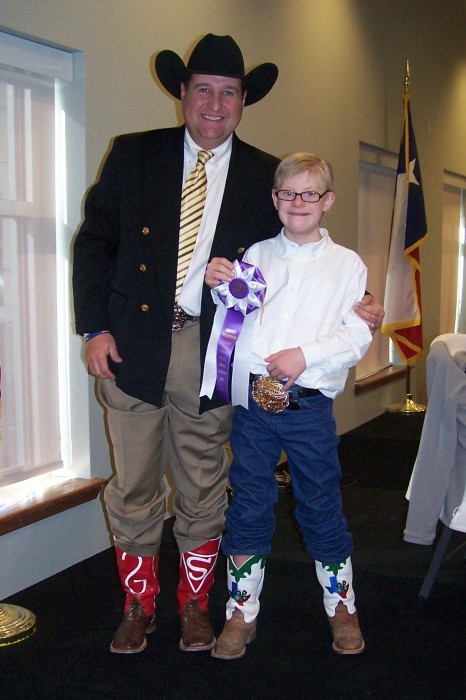 I absolutely love this photo – the boots, the belt buckle, the smiles say it all.
Have a wonderful weekend!