Heritage Brand tack is a luxury brand of western tack and accessories.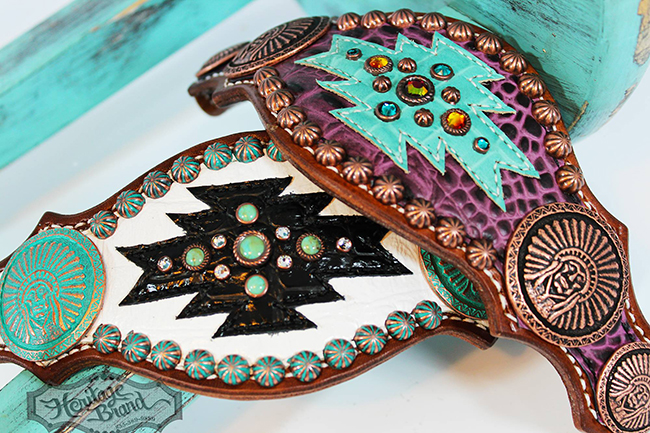 Heritage Brand makes a variety of western pieces for the horse and rider who aren't afraid to stand out in the arena. High standards and high quality is put into every piece made locally by Heritage Brand in Bend, Oregon. Heritage Brand has a variety of styles and designs online available for purchase or have your dream tack set created upon request! Custom orders are very common.
Behind every successful business is a person who started it all with just a vision. Jessica Crouch was able to turn inspiration into a career and started Heritage Brand. Let's drool together over these gorgeous pieces and learn more about Jessica and her company.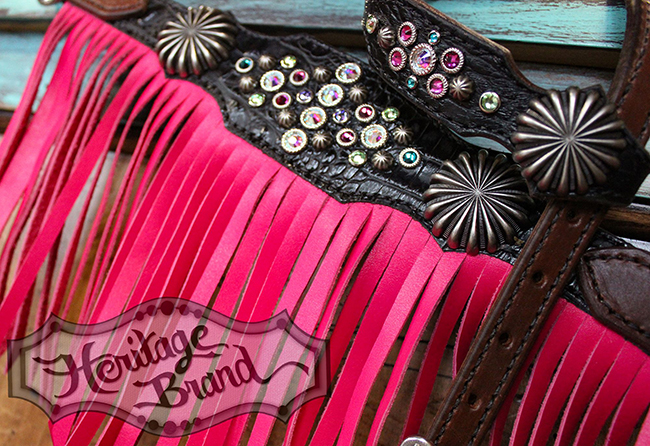 Tell us how it all started with Heritage Brand, did you have the intention of creating a thriving business or did you start making tack as just a hobby?
Jessica – I was seduced by a Kippy's belt. I even remember what it looked like… black with clear Swarovski's running down the center. Long before the bling craze had taken it's first steps, this was some insane eye candy, and I couldn't get it out of my mind for weeks. It inspired something inside me I didn't even know was there.
That began my obsession with figuring out how to make something that exciting for myself, or even better, my horse! At the time it was ridiculous and so outside of the current trends, so I did get more than one smirk and sideways glance. But you couldn't deny it was fun, and pretty soon people were seeking me out at races buying the tack right off my horses. That's when I knew I was onto something, and what initially began as a hobby could be more than that.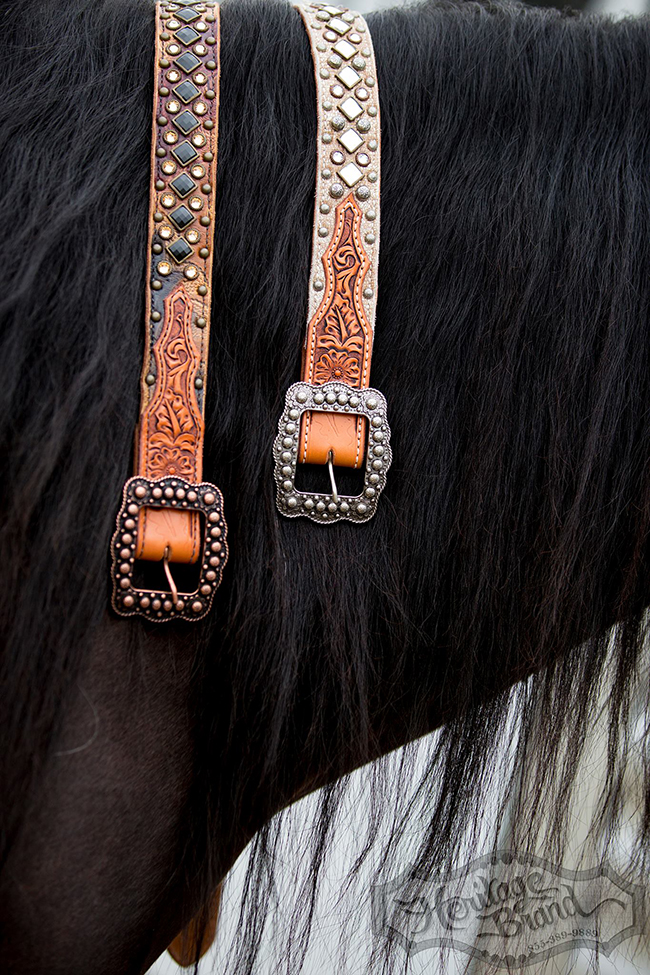 What was your career background before starting Heritage Brand?
Jessica – I graduated from Concordia University in Portland, OR. and taught 3rd grade before starting Heritage Brand. And last night, as I consulted Google in order to help my 8th grade daughter with her Math homework, I realized just how long ago my teaching days were.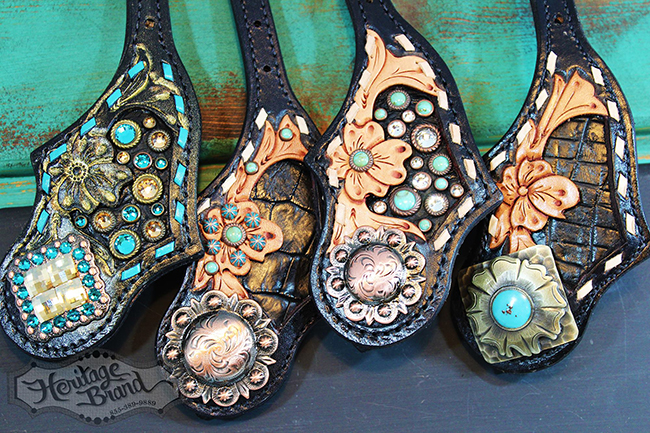 Try to describe a typical day of work (if that exists) or your daily work routine.
Jessica – Crazy. Awesome. Unpredictable.
I arrive with my Dutch Bros. coffee in hand at 7-7:30 AM, to get a jump on the day before the rest of the shop arrives. The day's first agenda is laying out social media schedules and coordinating production to make sure deadlines are being met, communicating any adjustments or pressing items with the production team, etc… The phones come on at 8 AM, and that's when the fun begins.
Orders start coming across my desk. Somebody wants a sketch of a breast collar concept to match the headstall they purchased last year…Can we fit 5 more spur straps into next week's awards order?…that purple gator we've been waiting on is back-ordered another week…
"Jess, do you remember that turquoise fringe breast collar from last week? Would that look good with the Houston conchos?" …Oops. That halter was supposed to be branded 2015, not 2014. Do it over.
Coffee. More coffee please.
So and so needs 10 Envy sets for the show next weekend as they sold out of their inventory this weekend, can we fit that on the calendar?…
Oh, look who's here! Brenda Mays (6x NFR qualifier) and her mom Lynn (also NFR qualifier) popped in to pick out a new tack set and some halters, and we spend an hour chatting and catching up.
Etc… And repeat. Each and every fabulous day.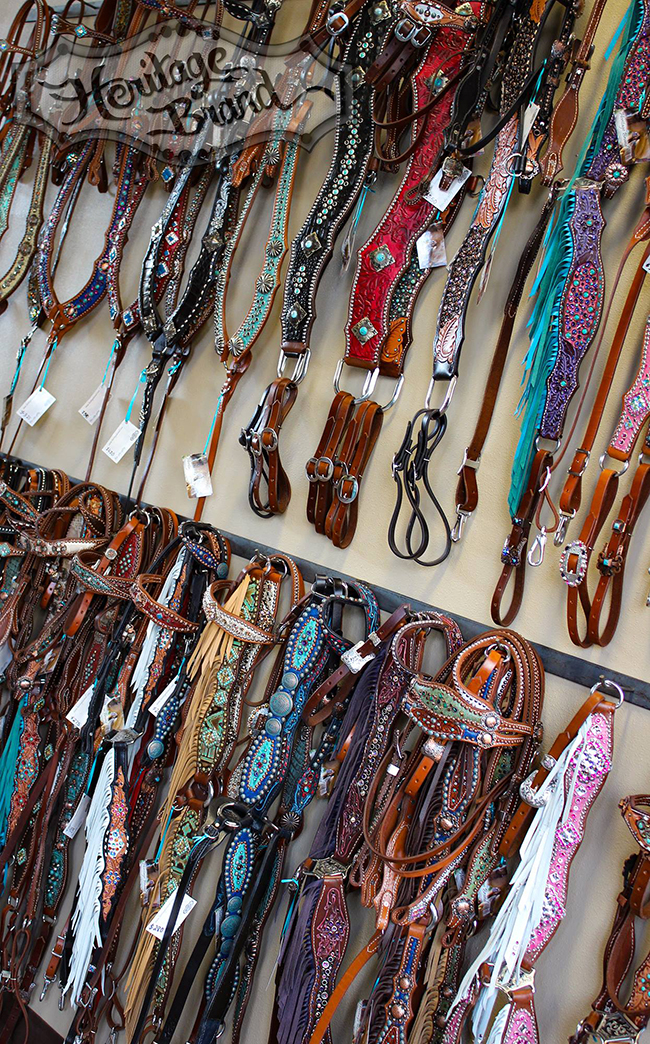 On average, how many hours does it take to make a tack set from start to finish?
Jessica – The short answer is 8-10 hours. However, HB tack is almost never created in a start to finish, stop watch type fashion. Sets reach benchmark stages in manufacturing (carving one day, hand dying the next, a day to dry, then on to buck stitch, etc…) along with other sets of similar style. Each set will pass thru as many as 5 of our artisans before completion.
And while I'm on this, I would be amiss to not acknowledge the amazing team of people I'm surrounded with here at HB. I've been blessed to have been able to hand pick our amazing crew, and there wouldn't be a Heritage Brand without them. We're kind of a family around here. We work elbow to elbow 40 plus hours a week. It's not uncommon for us to hang out outside of work, we know each others lives. They are fiercely loyal to our brand and their character and commitment is displayed in every item that goes out the door. Having people with the same vision, creating something we can all be proud of is like hitting the jackpot every day.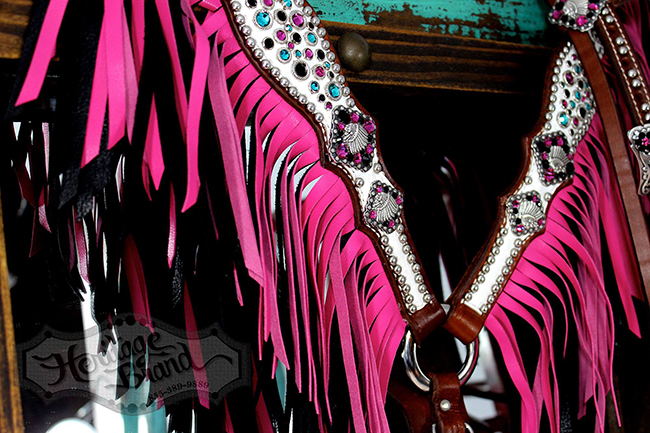 There are a lot of tack makers out there, how do you handle dealing with competition and occasional knock off products of your work.
Jessica – This is my favorite question, thank you for asking it.
The first time I came across a knock off it was from a customer who emailed me a picture of a copy cat. They were appalled and angry that someone would so blatantly do this and so was I! I mean red-hot mad.Fast forward over a decade.
It still stings, that never goes away, but now I expect it. In any industry from cell phones to sneakers…you are either the one chasing, or the one being chased. I set a goal a long time ago that HB designs would be the one others would want to chase. And while being copied is actually a twisted compliment, it's also a constant motivator that keeps the design team on our toes. Our energy is best spent staying ahead, so that's what we do. We give them something to chase.
Each of our designs is also protected under a registered copyright. This came in handy last Fall when I opened a well-known publication and discovered a full-page ad showcasing one of our most popular breast collars being featured for another company. A large and well-know western "manufacturer" (who shall remain nameless) had sent our design to a factory in India to be mass produced and they were now selling it on a large scale. Ya, we let our attorney take care of that one 😉
Beyond that it boils down to the philosophy HB was built on. Simply put, we want to blow our customer's expectations out of the water. From the first phone or email contact, all thru the design process to when their set arrives in the mail and wows their socks off. Not just because it looks cool, but because the quality is undeniable. Not to mention our warranty that is off-the-charts amazing. You've got to have all the pieces of the pie to be the best, and I'm not shy about saying that is our goal.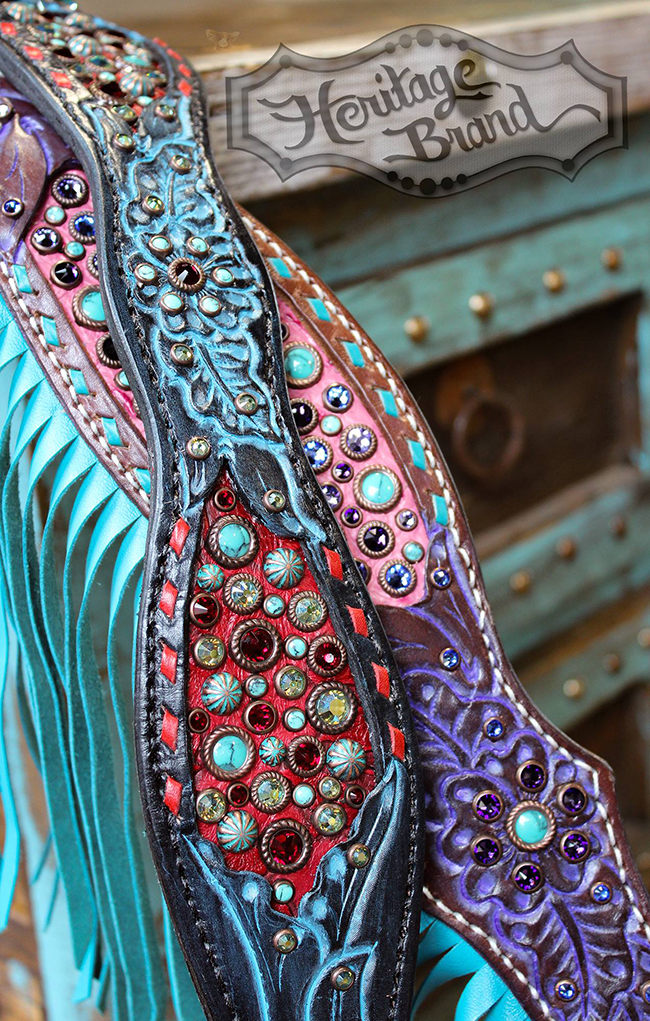 Running a business can be one of the most challenging and rewarding jobs. If you could go back five years and give yourself one piece of advice, what would it be?
Jessica – Trust my instincts.
If I wouldn't buy it don't make it. Period.
Not because my taste is impeccable, but because if my heart isn't in a product or a "look" it's going to fall flat. I've experienced this time and time again so now I'm a believer.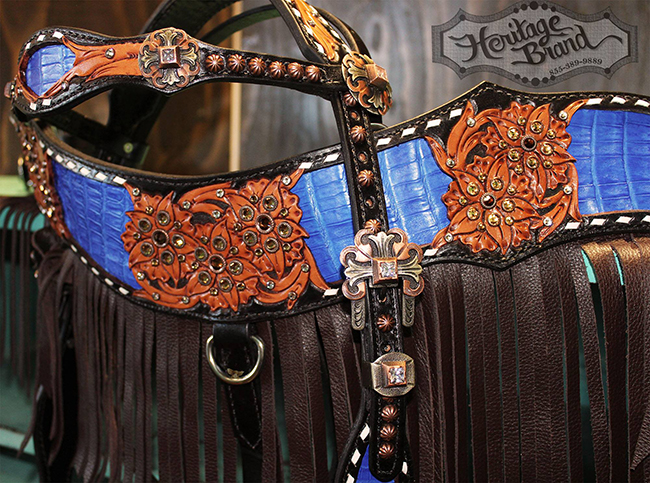 You design tack, belts, dog collars and accessories. Is there anything you are not currently making you would like to add to your line?
Jessica – Saddles! We've got these on our 5 year plan and it's going to be a dream come true for me once it's realized.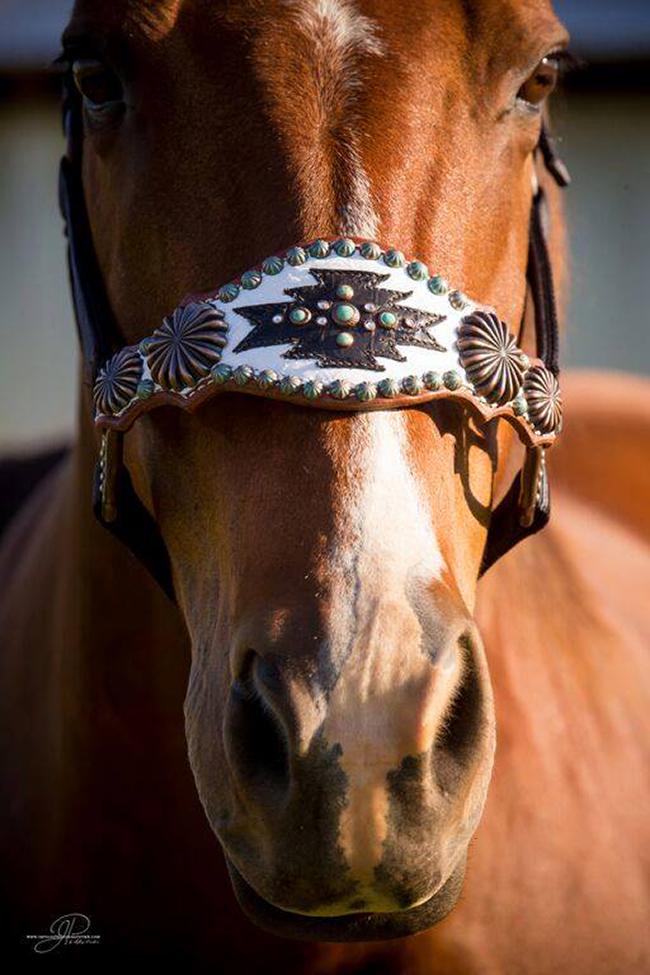 And just for fun, what is your favorite brand of cowboy boots?
Jessica – Liberty boots, followed closely by Old Gringo. Especially the older, vintage ones. They have that timeless "I've walked a thousand miles in these bad boys" vibe, combined with exquisite handcrafted detail that I really appreciate.
Thank you Jessica for taking the time out of your schedule to teach us more about your brand and life at HB!
Visit Heritage Brand
Photos from Heritage Brand online