Are you on Instagram? Head on over to @Horsesandheels_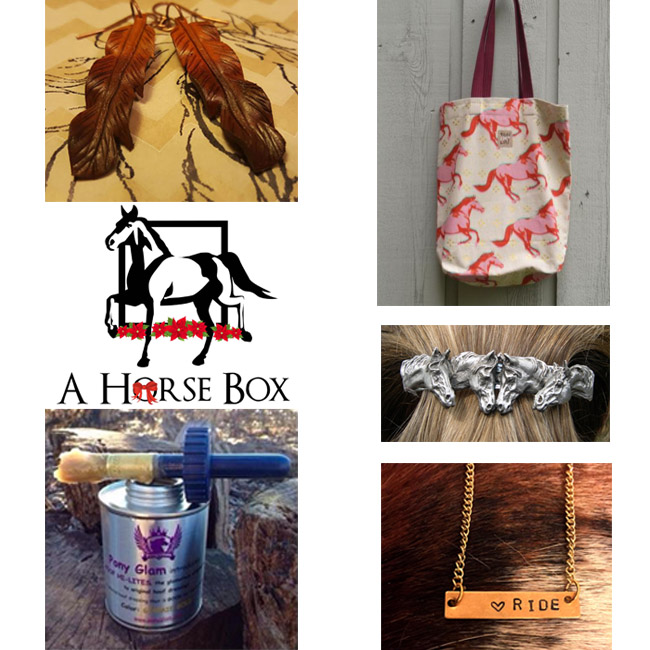 The holidays can be rough, you want to buy everything for yourself and you need to get gifts for everyone else. Treat yourself to this ultimate horsey gift package. Keep everything for yourself or giveaway pieces as gifts and/or stocking stuffers.
Here is what you win:
Leather feather earrings from The Bucking Mare. These sassy earrings are the perfect neutral color for every single outfit.
Pink mustang tote bag from Ziky Boutique. Use this stylish printed cotton tote bag to carry horse boots, your riding clothes, or groceries.
One current box from A Horse Box. A Horse Box is the first and original subscription box for horse lovers!
A horse head barrette from The Pony Habit by Beverly Zimmer. Keep your mane in control and looking good with this pretty piece.
A container of Pony Glam Gimme Gold Hoof Hi-Lites. Keep your horse's hooves conditioned and looking extra glamorous.
Ride necklace by Leather N Lace. Keep your horse love close by with this cool necklace.
To enter, head on over to Horses & Heels on Instagram and follow the instructions in the Instagram chain. Start here >
This giveaway starts at 12:00pm EST on December 11th and will end at 12:00pm EST December 17th.
Open to residents of the US only.