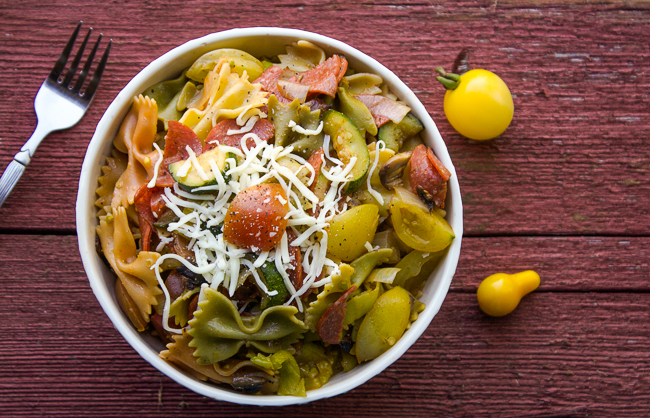 I love carbs, they are not my enemy. Summer is time for light pasta dishes & refreshing pasta salads. The best kind of meal is one that doesn't involve turning on your oven in the summer. Cherry tomatoes, zucchini & onions are plentiful & in this simple yet flavorful dish.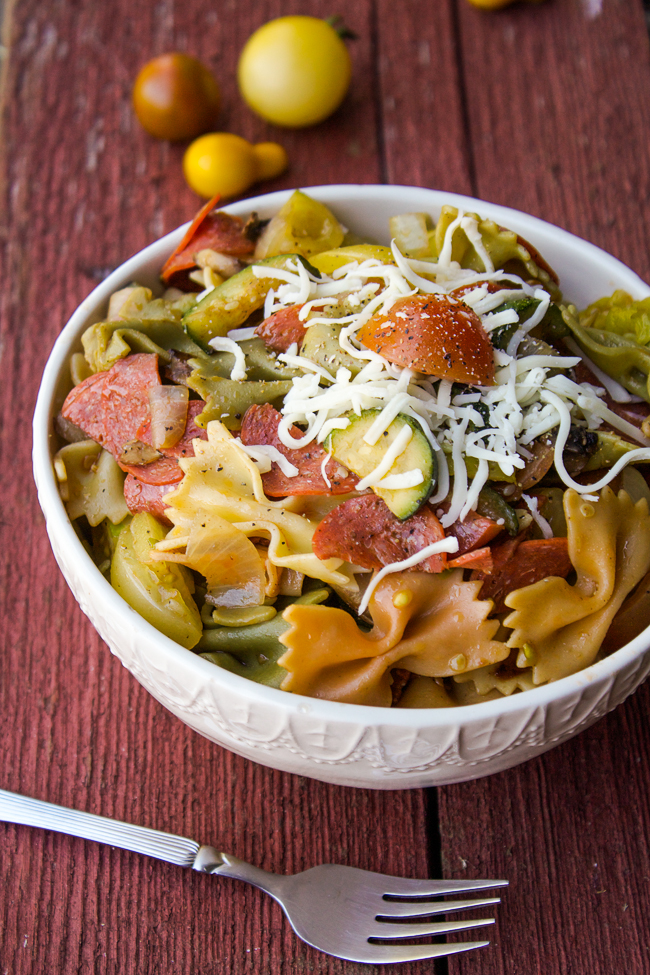 Italian Pasta Salad
A flavorful pasta salad with summer vegetables.
Ingredients
1 12 ounce box of pasta (I used tri color farfalle)
8 ounces of mushrooms, washed & sliced
1 small zucchini, sliced (yields about 1 cup)
1 small white onion, chopped (yields about 1 cup)
2 cups cherry tomatoes, quartered. Use assorted varieties for a prettier pasta salad.
6 ounces pepperoni, sliced & cut in half (I used two 3 ounce packages)
10 whole pepperchinis, de-stemmed & thinly sliced
¼ cup olive oil
¼ cup balsamic vinegar
1 tablespoon black pepper
1 tablespoon sea salt
*shredded mozzarella cheese for garnish
Instructions
Cook the pasta according to the directions on the box (drain & set aside in a large mixing bowl when finished). I like to prepare my vegetables while the pasta cooks.
Add mushrooms, zucchini & onions with a splash of olive oil to a skillet & cook for 10 minutes.
Toss the cooked vegetables in with the pasta, add cherry tomatoes, pepperoni, pepperchinis, olive oil, balsamic vinegar, black pepper & sea salt. Stir well.
Serve with a little bit of mozzarella cheese.
Notes
Tastes great warm or cold.
Here are some other pasta recipes you will love.