This is a guest post from Carole Rains of Rustic Artistry, as an owner of a successful online shop specializing in selling rustic furniture and accessories Carole knows a thing or two about leather. The truth is not all leather is created equally, Carole is going to talk to you about the main types. 
In Part 1 of our Leather Series, you'll learn about the most common types of leather, how they are different from each other, and why you may want to select one over another.
Bonded and Top Grain and Full Grain, Oh My!
Look around you right now. Chances are good that you'll see at least one item made with leather. In fact there's a good chance you'll see several.
That's because leather is not only beautiful, it's also extremely versatile. From bags, belts and boots to furniture, saddles and car interiors, leather has the ability to be rugged or delicate, masculine or feminine and colorfully bright or naturally tan. Add to this its ability to be molded into shapes in a way that most fabrics can't and it's no wonder that leather has such a wide variety of uses.
It's important to know, however, that not all leathers are created equal and that understanding these differences can make you a savvier shopper when you're considering investing in a leather item.
For example, have you ever been shopping for a leather chair or looking longingly at a soft leather jacket and not been sure what the leather type on the label actually means? Top grain, full grain, genuine, bonded…. There's a wide range of quality when it comes to leather, and knowing the basics will make it a lot easier for you to choose a quality piece and get what you paid for.
Leather comes in different grades that identify how it's processed, and are often an indication of quality.
The most budget-friendly "leather" is called bonded leather. It's also known as reconstituted leather or blended leather. While bonded leather is made with leather, it's not actually 100% leather. Instead, it's a man-made material made up of layers: a fiber or paper backer is topped by a pulp made from shredded leather bits mixed with bonding glue, which then gets topped by a polyurethane coating that is embossed to look like leather. You'll find bonded leather on books, desk accessories, belts, bags, clothing and furniture. While the quality of bonded leather can be decent depending on the manufacturer, it lacks the breathability and soft natural feel of real leather. In addition, the color is only sprayed onto the surface, not dyed all the way through, so it's more prone to showing scratches and flaking.
Unlike bonded leather, real leather starts out very thick and can be split into multiple layers. The topmost layer is called full grain. The layer under that is the top grain, and the layer under that is called genuine.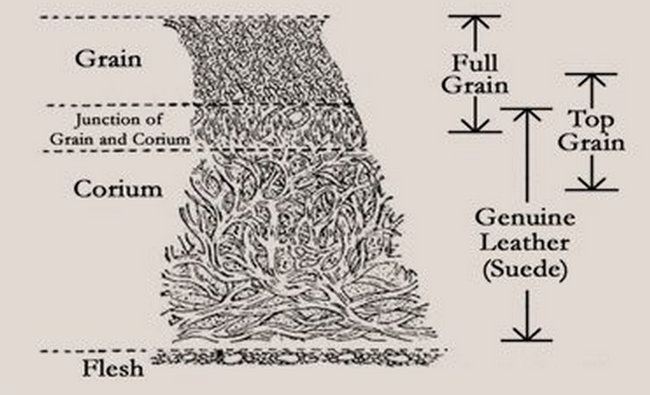 In terms of luxury and longevity, the top of the line is full grain leather. It is the topmost layer of the hide and is reserved for leather that has not had any sanding or buffing to remove imperfections or natural marks on the surface. For this best quality leather, the full grain is left intact, which provides strength, durability and breathability. With continued use, as opposed to wearing out, full grain leather will develop a rich beautiful patina.
This grade also includes hair-on-hide, which is full grain leather with the hair still attached. Hair-on-hide leather is commonly referred to as simply "cowhide", even though nearly all leather, with or without hair, comes from cowhide.
Next up is top grain leather. Top grain is also considered a very good grade of leather. It is made by removing the layers above and below, followed by sanding to remove any scars or marks from the hide. Top grain leather is a bit thinner and more pliable than full grain, an important factor for certain applications such as clothing where softness and suppleness are desired. Top grain leather is the most common type for leather goods and furniture as it is strong and durable. But beware, some furniture manufacturers use top grain on the front, then use bonded leather on the sides and back. Be sure to ask about that when you're comparing prices for leather furniture as that can explain some of the wide price fluctuations.
Genuine leather is created from the fibrous part of the hide that's left once the two top layers have been removed. This split layer is usually treated with a finish or dye to make it resemble higher grades of leather. It's also used to create suede, which is simply leather that is fuzzy on both sides.
So next time you are shopping for an item made of leather, find out what grade of leather it is and you'll be better able to gauge if it's worth the asking price.
Thank you Carole for this wonderful guest post! Want more on Rustic Artistry? Check out Sit with Rustic Artistry and New West Furniture Rides Again.
One of my favorite leather pieces is this bag below, it's a vintage leather Coach bag made with full grain leather back when Coach was made in the United States (thrift store score). The leather is thick and buttery soft and the bag has the United States stamp on the inside. I have several present day Coach bags and the leather quality is not the same, probably bonded leather.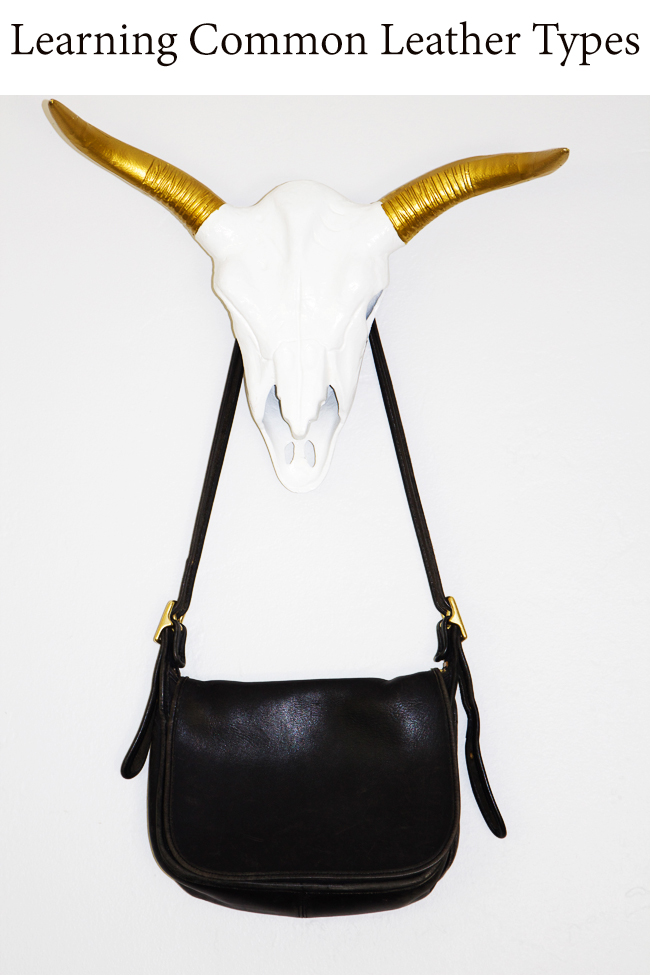 The next time you are out shopping, think about the types of leather when you are trying to determine a purchase's value.