Living in Los Angeles with a horse is possible.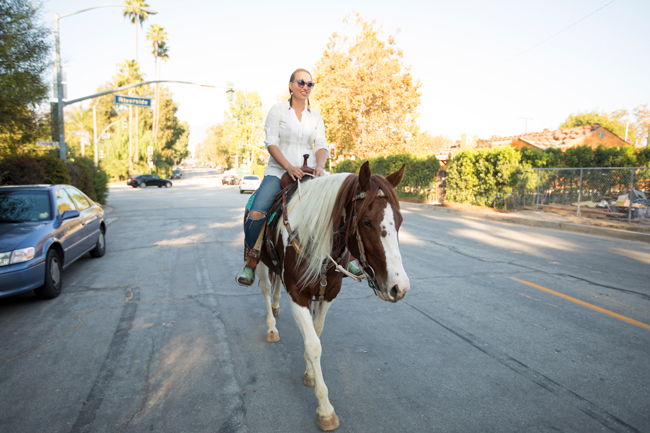 I've been living in the Rancho District, a Los Angeles neighborhood for 8 months. Fira, my three-year-old Paint mare has been here for 7. I introduced her on the blog when she arrived (read Introducing HH Indys Nu Daisy) back in May. Since the year is quickly coming to an end, I wanted to do an update on our training and general everyday life in the city together. I'm also sharing a few photos at the end of our adorable rental home since I'm almost done decorating.
When Fira arrived, she had 30 days of training put on her and had basically been unhandled up until that point. She came from Texas and had been living out in the pasture and not getting an education. I knew having a young horse in the city would be challenging, especially training one. Fira has overcome so many fears; fly spray (or anything being sprayed), her fly mask, being blanketed, putting on a bridle, the tarp, and we are working on getting over the clippers.
Fira lives in our backyard in a 24 x 30 stall. This is a generous size for a horse in Southern California but I make sure to get her out every day. Despite not having turnout or a pasture, Fira gets plenty of daily exercise and attention. Since I'm lucky enough to work from home I go out on my lunch break sometimes. Nothing clears the mind like an afternoon ride.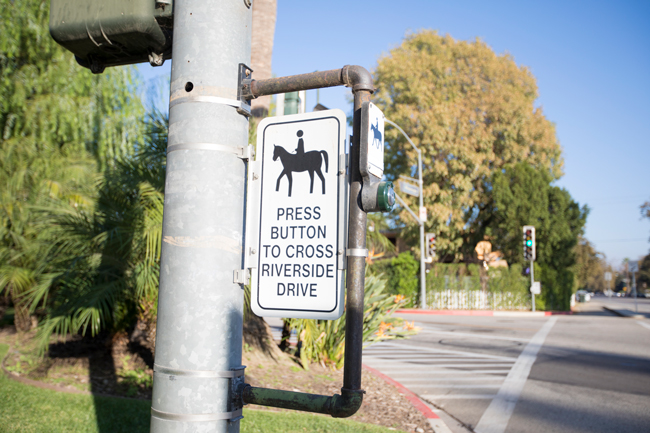 To take Fira to a round pen or arena for turnout, we walk or ride about 2 miles. We cross a few streets, walk on the road and go on the designated equestrian pathways. When I first go her, I saddled and led her every morning to the round pen until I trusted her to be ridden in the open. Luckily I have access to a public round pen and arena for training.
There are lots of things that can potentially scare a horse in a city neighborhood; bikers whizzing up behind your horse quickly, drones being flown (illegally in the park), dogs, goats, garbage trucks, construction, gardeners working, the list goes on. Each ride or walk out on the city streets is a new adventure. Fira is solid when it comes to traffic. She isn't frightened by cars passing her in the street, honking horns, or motorcycles. She even knows to stop right at the cross walk and wait while I push the button.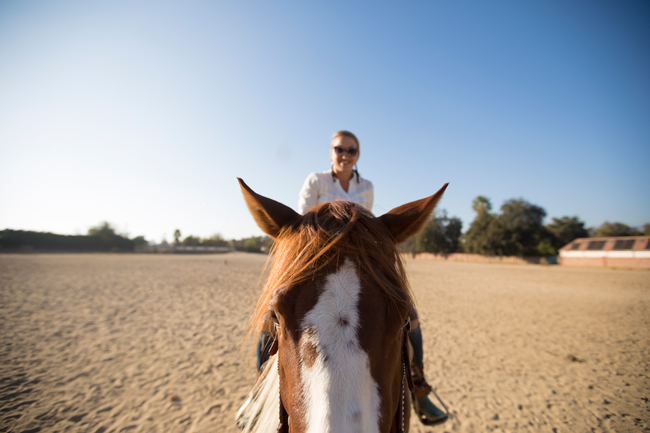 These days Fira and I are working on collecting and climbing the hills out on the trails. She's learning how to carry herself up and down the hills.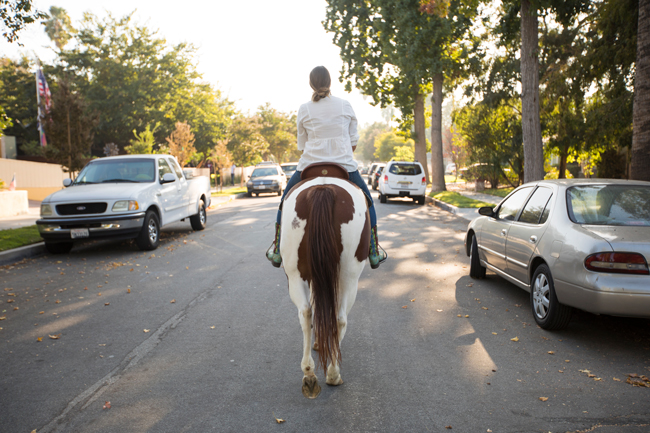 Life in the city with a horse is very different compared to the country. Manure gets picked up by the garbage truck every Tuesday and I have dedicated bins to put it in. You can't store a lot of hay so I have a local tack and feed store deliver hay, grain, and supplies every two months.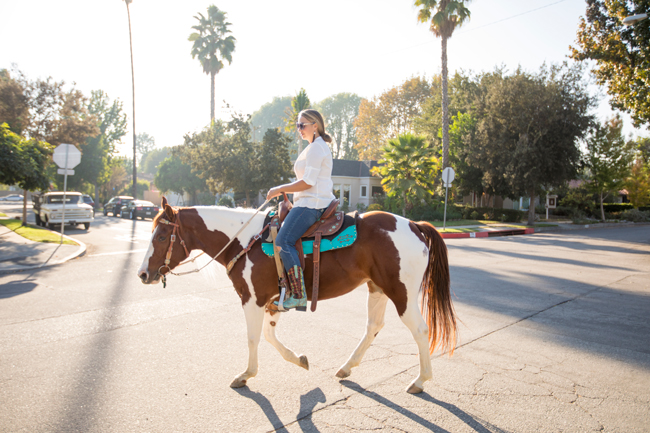 I have access to all of the trails at Griffith Park, the round pen, one large unfenced arena, and two fenced in arenas. Needless to say I have plenty of places to ride, more than I ever had in Ohio.
In the beginning Fira was very spooky and while she still spooks plenty, she is a young horse. I'm thankful that we have obstacles that will test us on a daily basis, it keeps things interesting.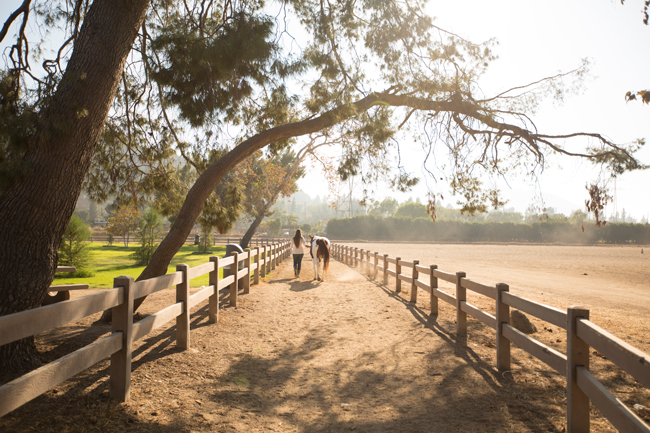 On my left, Bette Davis Park and on my right is Easter Field, the unfenced riding area that leads to a mile loop around the equestrian center, bridge, and trails into the park.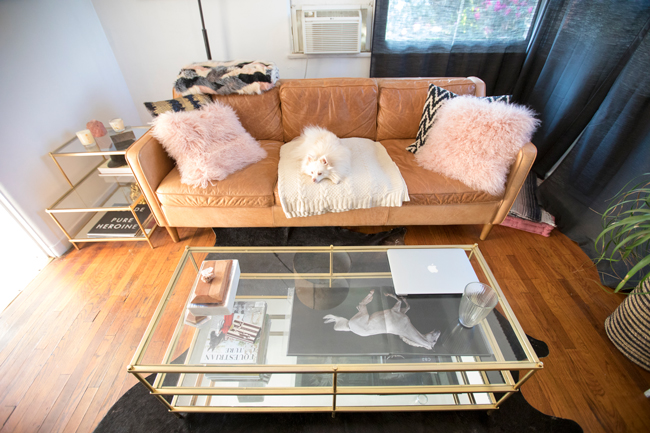 Mango absolutely loves her new home. She has a fenced in yard and plenty of cozy places to nap during the day.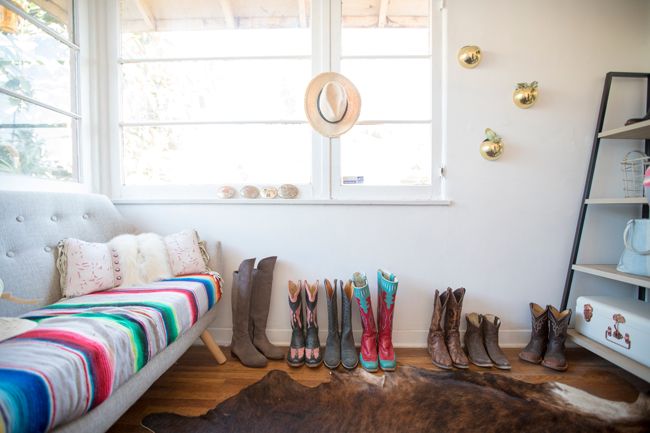 This is my office, to see more photos of it check out my home office tour.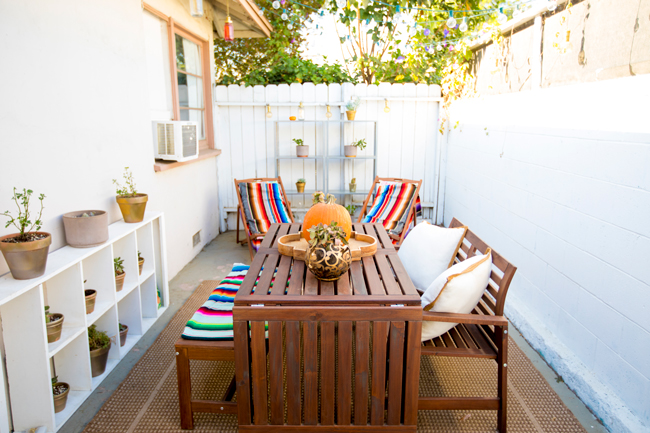 Here is the patio, it's one of my favorite places to sit and relax after a nice ride.
Photos by Lady Photographic