Featuring Malibu Rum, 7UP®, tropical rainbow sherbet, fresh squeezed orange juice and toasted coconut.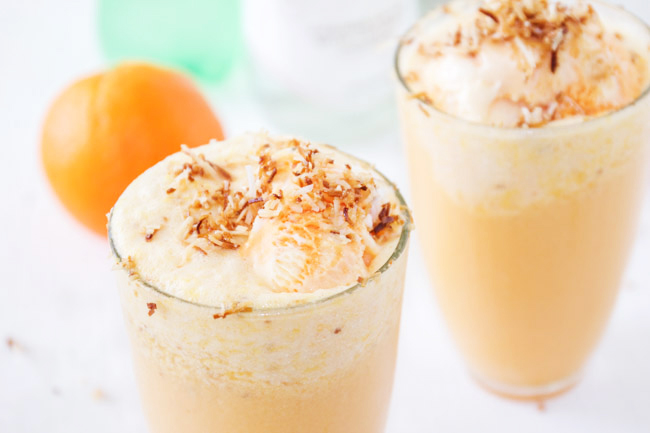 This delicious recipe and post is sponsored by DPSG Green Bottle (for those of you wondering what DPSG Green Bottle is, it's refreshing soda like Canada Dry® Ginger Ale, 7UP®, and Squirt®). I found my perfect tropical cocktail mix with 7UP and Pernod Ricard Malibu Rum!  The next time you get together with the girls (or guys) whip up a batch of these delicious floats to be your official party drink. The flavor of coconut and sweet oranges will take you to the tropics no matter where you are, plus these can be made these in minutes. Host your own happy hour party with a few friends, tell them you will supply the cocktails and have everyone else bring finger food. Hosting a gathering doesn't have to be stressful!
For me, the perfect gathering is outside, laid back and casual. A simple yet delicious food and drink menu is a must for a gathering and a cozy space. California weather makes having a great outdoor space a must have that can be used all year round.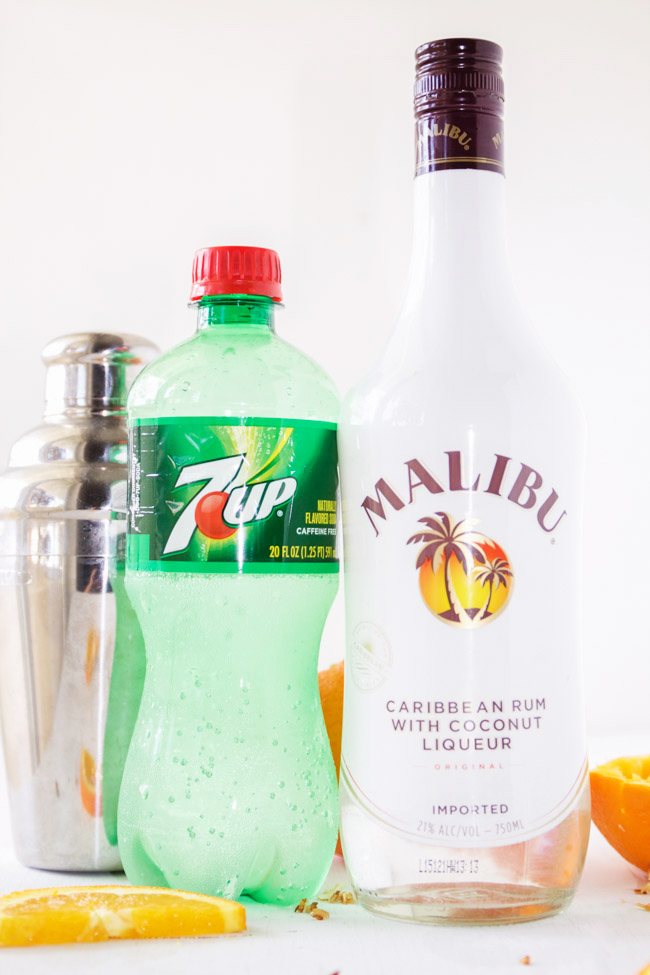 Hello Malibu Rum!
I do most of my shopping at Von's which is a Safeway/Albertson's grocery store. There is a Von's right around the corner and within walking distance so it's perfect for last minute trips to the store. You can pick up DPSG products and Pernod Ricard brand alcohol like Malibu Rum, Jameson Whiskey and Altos Tequila at your local Safeway/Albertson's grocery stores.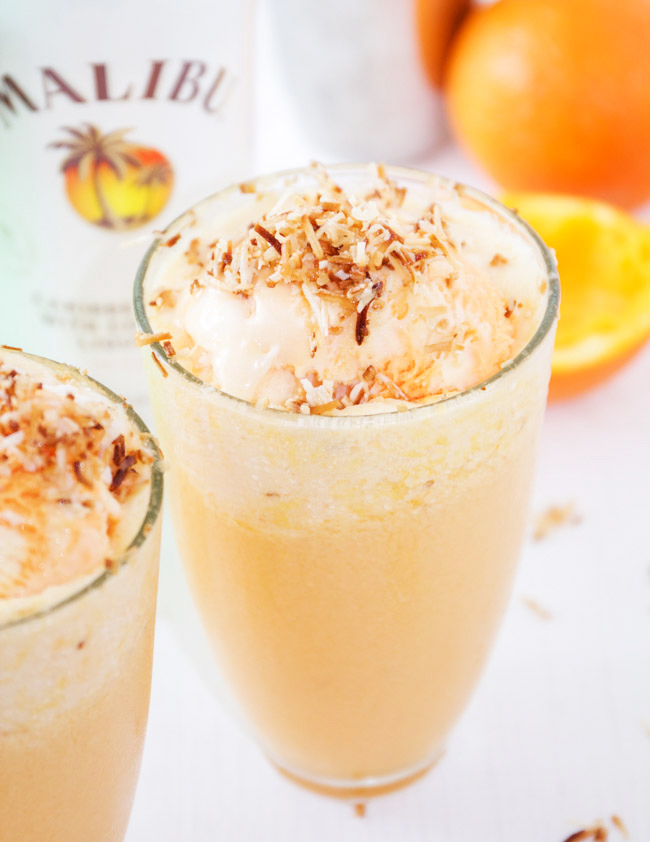 Sherbet is one of those treats I used to have ALL the time as a kid but I hadn't had it in years! It's still amazing as always and paired perfectly with my Malibu Rum, 7UP, and orange juice. The toasted coconut is always a must! Just add a little butter to a small skillet, melt, add in coconut and toast over a low heat until it begins to brown. Be careful not to burn the coconut, it browns up quickly.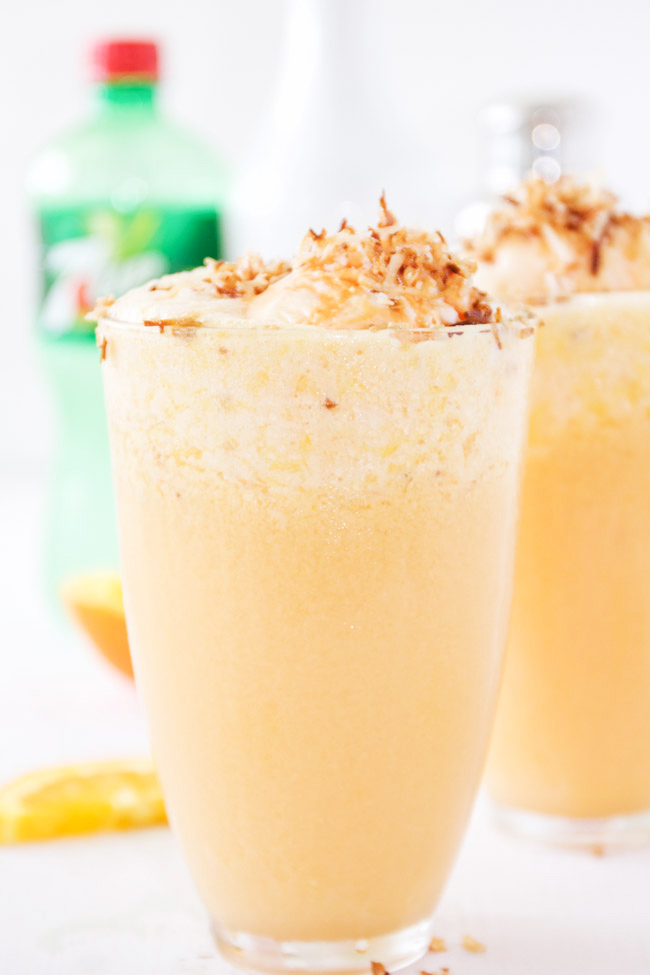 Malibu Sherbert Floats
A delightful tropical coconut and orange flavored float for adults.
Ingredients
6 ounces Malibu Rum
¼ cup fresh squeezed orange juice or orange juice with pulp
8 ounces 7UP
2 cups tropical sherbet (mine was orange, pineapple and lime)
2 tablespoons toasted coconut
*Additional sherbet, use 1 - 2 scoops of sherbet per float
Instructions
Add Malibu Rum, orange juice, 7UP, sherbet and 1 tablespoon of toasted coconut to a blender and blend on high until smooth.
Pour into glasses and top with 1 or 2 scoops of sherbet and sprinkle remaining toasted coconut on top.
Notes
This recipe with yield about 4 liquid cups. You can make two very large drinks or 4 smaller drinks, it all depends on your glass sizes.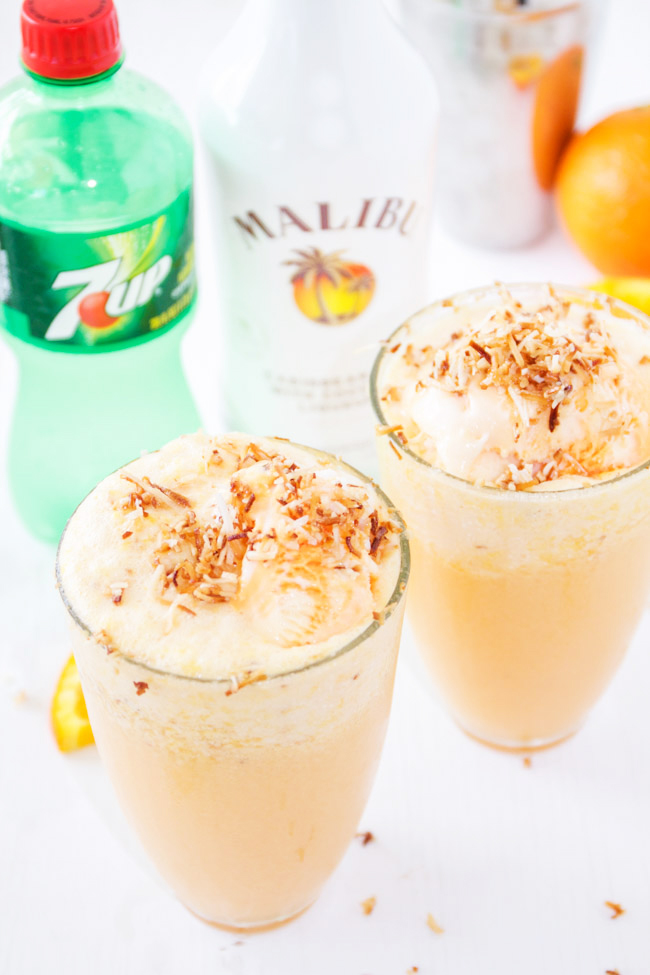 For more great drink recipes, ideas and inspiration head on over to FindYourPerfectMix.com.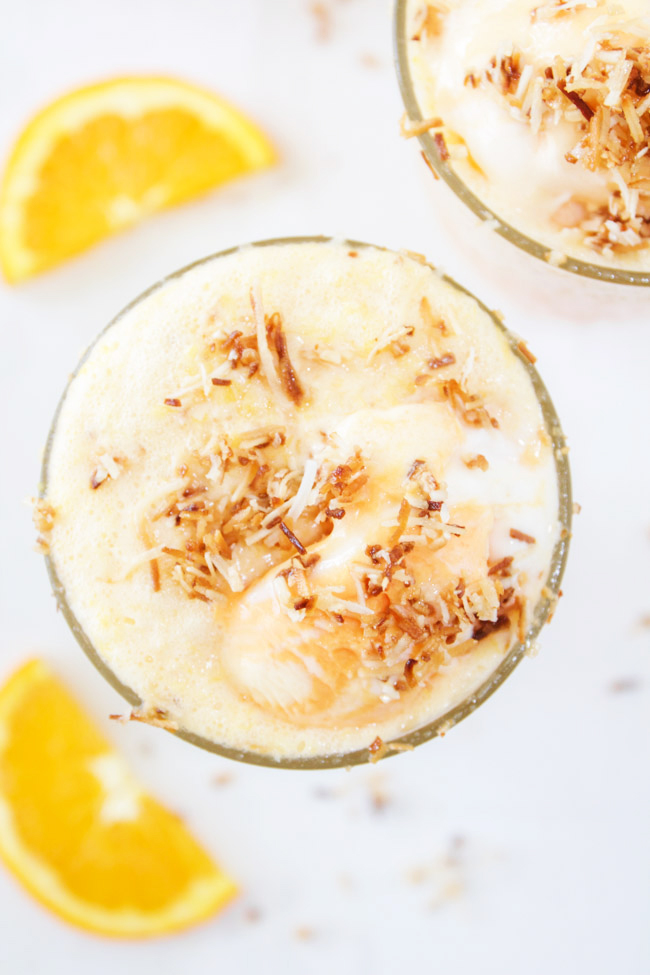 Cheers to the weekend and hosting happy hour at home!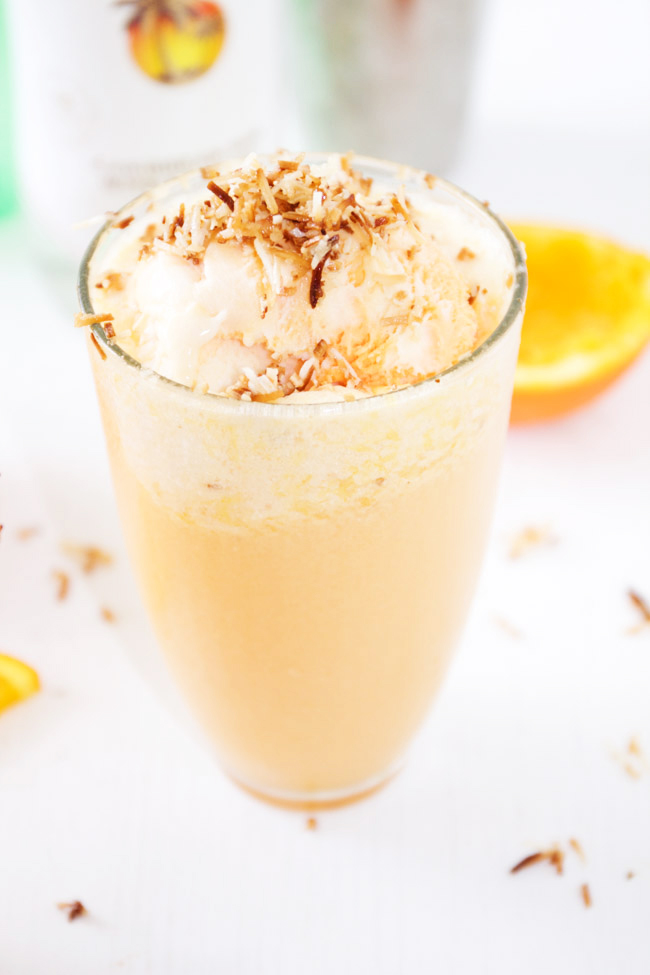 This is a sponsored conversation written by me on behalf of DPSG Green Bottle at Safeway/Albertsons. The opinions and text are all mine.