B.B. Simon is seriously the key to my heart.
B.B. Simon collections are handcrafted leather belts, fashion & home accessories adorned with Swarovski crystals. I happen to have 4, no 5 B.B. Simon belts & I love them all. I would own every one if I could. I am sharing just a few photos of brand new belt designs, the crystals are coming in new cuts & more elaborate designs.
Rectangular cuts of Topaz…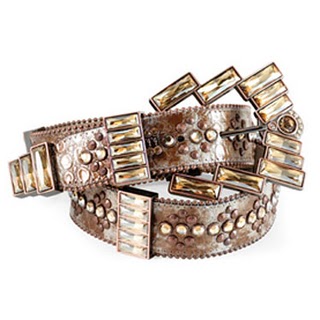 A fancy buckle for sure, I would like to see B.B. Simon copy cats try & do this design (actually I wouldn't, that is sarcasm).

I love the style of these crystals in this third belt's style.
If you are not familiar with the AMAZING creations of B.B. Simon you can visit them here. They are the original creator of these belts & are often copied (unsuccessfully in my opinion). Their belts are always a great statement piece to have in your wardrobe & a conversation starter for sure.
Do you have any B.B. Simon in your collection?
Photos Courtesy of B.B. Simon