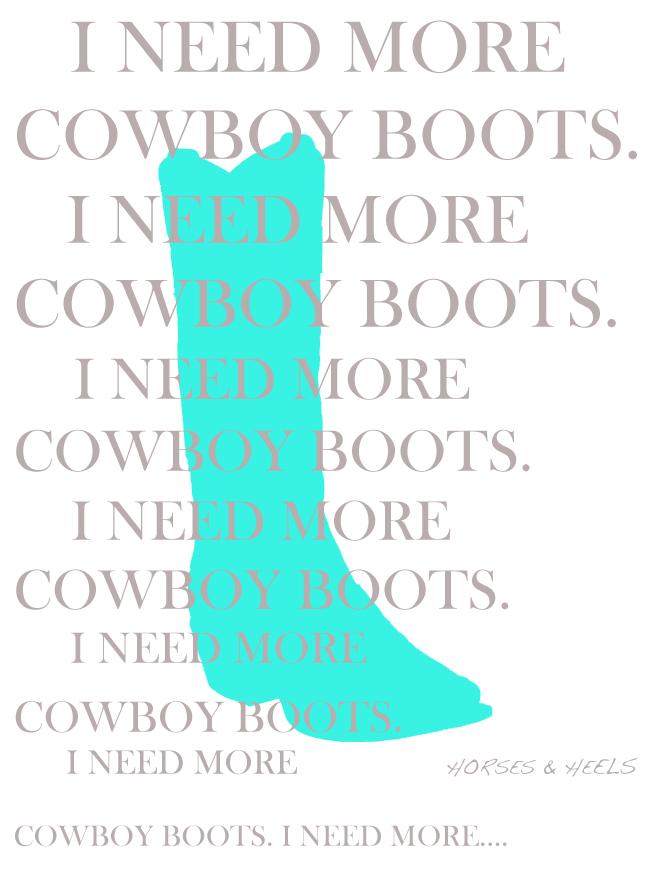 It's a Monday and I would personally rather be shopping right now… but I made this adorable little graphic and wanted to share a write-up from Horses & Heels' reader Amanda on her thoughts on cowboy boots. Take it away Amanda! 
Every cowboy boot tells a story. Glancing in my closet at all seven pairs of boots, I admire each pair uniquely made and important in its own way. My freshman year in high school, my dad gave me my first pair of Ariat boots for my birthday. I remember opening the boot box and was greeted by the most delicious leather smell. The boots were a beautiful caramel color with decorative white stitching on the sides. The calf of the boot fit a little big for my legs, so the boots made a flopping sound as I walked proudly in them. I still wear these boots; however, only for the occasional dove hunt or two each season. These boots endured countless memories and for that reason I plan to never part with them. From that birthday on, boots became more than an accessory–I consider them a prized possession (and perhaps an obsession). According to Jennifer June, cowboy boot enthusiast and author, "Every generation at some point discovers cowboy boots, they're icons."
Cowboy boots have walked through decades of history. Based on information found in the online article, The History of Cowboy Boots: From Workhorse to Fashion Statement by Korky Vann, records state that the legendary Genghis Kahn wore red boots with wooden heels! We also discovered the early stages of the cowboy boot in England during the 17th and 18th centuries with the creation of the riding boot. The first Duke of Wellington, Arthur Wellesley, wore a calf length boot with a low heel. These riding boots, also known as "Wellingtons", reached popularity during the United States Civil War. After the war ended, the soldiers took their Wellingtons back home. The revisions to Wellingtons during the era of the cattle drives helped the traditional cowboy boot serve as a better work boot.
So where did the cowboy boot become a fashion icon? Hollywood viewed cowboys as heroes and an opportunity to market towards the fashion industry.   The industry advertised the appealing "cowboy code" to the public. June describes the "code" of a cowboy as "…honor-rugged individualism, strength, self-reliance, and independent." This enticing idea opened the world to the cowboy boot trend. Celebrities helped popularize cowboy boots while country artists wrote songs about them.   Cowboy boots could be found not only in your local western store but also in boutiques and department stores all over the country.
Today's cowboy boots come in a variety of colors and animal skins. In addition, boots are customized however you would like them designed! A growing trend is college cowboy boots, also known as Gameday boots, with the university's logo engraved on the boot. As boots become more popular and more creative, the price also skyrockets. On my teacher salary, I do not have a spare $200.00-$300.00 in my wallet to purchase my next pair of boots, so I frequently resort to online discount shopping. I bought my latest pair of cowboy boots off of Etsy for $70.00! The minimal wear on the boots actually gives them a more rustic and worn in look that a new pair of boots cannot emulate!
Each pair of my cowboy boots tells a different story. My red alligator skin cowboy boots belonged to my mother when she was my age. Every time I wear these boots, I cannot help but think of her. My Old Gringo floral boots were a gift from my dad after graduating from college, and I already have my eyes on a beautiful pair of turquoise Yippee-Ki-Yay boots I found online. Clearly, these "shoes" hold a very unique place in my heart. If you do not own a pair of cowboy boots, I highly suggest purchasing a pair in which to make lifelong memories. Cowboy boots are so much more than a shoe, and they have the history to prove that.
Article by Amanda and graphic by Horses & Heels.