Quarter Horse Congress was last weekend & a blast as always, in fact much better than last year. I didn't have to listen to a certain "cowboy" for hours at end while trying to shop & ignore him, but that's another story. The shopping is always fantastic, I'm always overwhelmed by jewelry, cowboy boots, belts, purses & so much more.
As always I am a big fan of anything custom made or designed. Nothing says original better than you cannot find this anywhere else. Up first in my Congress tour of stores is
Kowgirl Glitz
based in Harrisburg, Pennsylvania.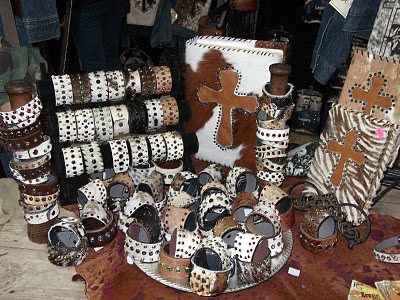 Kowgirl Glitz specializes in making custom bronc halters, purses, denim jackets, denim vests, belts, watches & rope cans & lids.
Here are some of the bronc halters with breast collars in the background. You can get just about anything customized on them.
So pretty, here are some nosebands options. If you happen to be in Vegas during the National Finals Rodeo, be sure to check out their booth. You can't miss it there will be three locations: Mandalay Bay, The Sands & Cowboy Christmas.
I definitely fit the qualifications for a high maintenance kowgirl
Kowgirl Glitz also has some very cute clothing accessorized with Swarovski crystals.
Here is the back of a customized denim jacket, my sister purchased one of the vests last year & she loves it.
There are so many other great items I had a hard time picking out photos. You can check out all of
Kowgirl Glitz's
creations at
kowgirlglitz.com