It's time for some more cowboy boots!!! You really never have too many, & you need them to keep up with a constantly changing wardrobe. Rios of Mercedes are awesome cowboy boots straight out of Texas. Rios of Mercedes were first made in the 1850s by the Rios Family.
All of their boots are handmade so you know they are going to be exceptional quality. Not only do they look great but they are comfortable too. They come with a higher price tag, but as always you do get what you pay for.
I wanted to share a few of my favorites that I found while browsing through their gallery.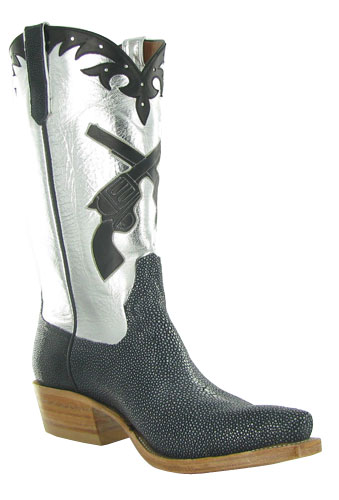 Okay first of all to tuck or not to tuck? I'm talking about your jeans… with tops like these you definitely want to show them off. Black stingray bottoms with silver tops & silhouetted guns on top.
If you feel like a more neutral color, stick with these. I like the variety of hides & textures that give this boot a nice contrast.
For a polished & colorful boot, opt for the teal stingray with white tops. Rios of Mercedes comes in four different toe types; Roper, Milan, Cutter, & A Toe.
Simply yet pretty. The brown ostrich bottoms accented with gold & flowers is very nice. Rios of Mercedes boots take five times longer to make than the average handmade cowboy boots.
I think it is just the green that draws me to these boots, plus I really do like stingray. If you want to learn more about Rios of Mercedes cowboy boots just visit their website. You can see all of their styles & look for an authorized retailer to purchase them from.
Okay just one more pair… definitely not for someone who is afraid of a little attention.