One of my favorite things about the holidays is looking at all kinds of shiny & pretty things. The lights, the snow, the ice; everything sparkles. I'm a visual person & I can't help it, looks do matter. Why not continue the holiday theme with some red & green? For your viewing pleasure I have selected some pretty belts that are very festive!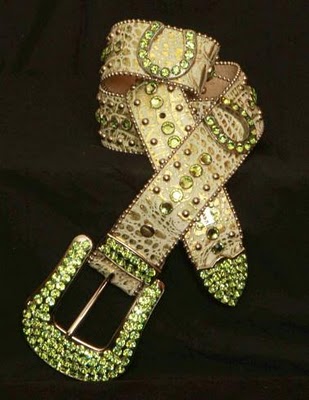 Green & gold BB Simon crocodile textured leather. It's available at
A. Renee Coutur
e for $345. I love the loaded buckle & horse shoe crystals. A. Renee Couture has some great clothing & acessories too.
I found this red & brown BB Simon at
Belts & More
for only… get ready for it $129! That's an amazing steal, I stared at the enlarged photo for a while just to make sure it wasn't a fake… I hate knock-offs & cheap merchandise.
Bigger really is better with these large green crystals on green crocodile available at
Corbett Silver Company
. It's $350 & well worth it.
A stunning red BB Simon available from
Blue Ridge Rags
on sale for only
$175
!, originally $350. You will definitely light up the room with these large crystals.
So go ahead & admire these festive belts, they will definitely get you in the holiday spirit! Only 10 days left until Christmas!