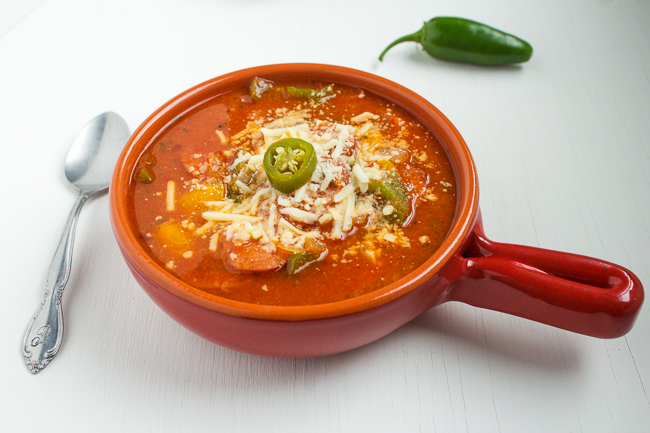 Soup is one of my favorite go to meals in the fall for many reasons; it's a one dirty dish kind of meal, it's easy, you can make it over the stove or in the crock pot, & it always yields a lot of great leftovers. While the garden is almost done, ours is still producing a lot of peppers. I made this spicy sausage & pepper soup – it reminds me of the sausage sandwiches you would get at the fair, except it's carb free & much healthier.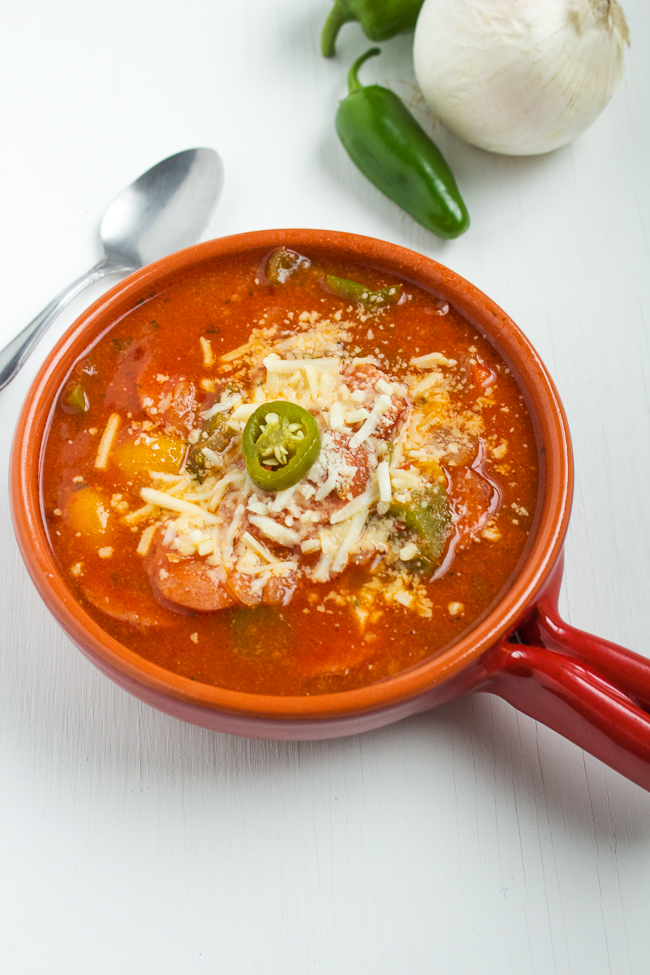 I'm warning you this is one spicy soup, but definitely in a good way,
Spicy Sausage & Pepper Soup
A spicy soup loaded with sausage & peppers.
Ingredients
3 cups of water
1 beef bouillon cube
1 large white onion, diced
2 cups of green bell peppers, chopped
¼ cup of thinly sliced jalapeno peppers
1 cup of assorted color sweet peppers, chopped
1 14 ounce package of pre cooked smoked sausage, sliced (or feel free to use Italian sausage)
2 - 3 teaspoons of crushed red pepper flakes
1 tablespoon garlic salt
¼ cup seasoned bread crumbs
1 cup water
2 cups tomato sauce (I used a chunky style with green peppers & onions)
Instructions
Add water, bouillon cube, onion, green peppers, jalapeno peppers & sweet peppers to a large pot on the stove & turn it on a medium heat.
Allow this to cook for about 15 minutes until the vegetables start to become semi tender.
Add sausage, red pepper flakes, garlic salt, bread crumbs, 1 cup of water, & tomato sauce.
Stir well & allow to simmer on low for another 10 minutes.
Serve hot & enjoy!
Feel free to garnish with cheese, I used shredded pepper jack cheese on mine & it goes great with bread.