But first I have to tell you all about
Steamboat Soap Company
, a unique creator of bath & body products. Steamboat Soap Company has an amazing line products, but of course it was their Western Soap Collection that caught my eye.
This Wild West Embellished Soap Crate is too pretty for words!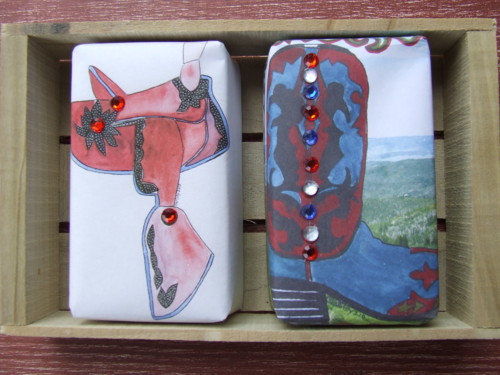 Of course I love the cowboy boots, & this would make an amazing gift for the hard to please cowboy or cowgirl in your life. There are lots of other gorgeous embellished soaps to choose from, you can pick any two & create your own set.
Turquoise Embellished Soap Gift Crate
I heart you turquoise, this looks more like art work than soap.
The Paisley Embellished Soap!
There are so many more great designs. This post should have taken me twenty minutes but I have been staring at soap for the last hour, I'm not joking. All of the soaps are hand-made, wrapped in artisan paper & embellished by a local water color artist.
Here is the Turquoise Embellished Guest Soap Set, it could be yours! To enter just comment below & tell me why you you want to win this set. Be sure to include your e-mail so I contact you. Winner will be chosen in one week, March 12th.