My days of playing with My Little Pony may be over as a child but it doesn't mean the fantasy is over.
It shines, it sparkles, it shimmers, it's SugaRein.
I discovered an amazing new product line that I had to share, can I say glamorous? SugaRein offers a variety of colorful extensions for your favorite equine. ManeSuga, Mini ManeSuga, TailSuga, & Mini TailSuga are all available in a variety of colors. There is also HairSuga available for you too!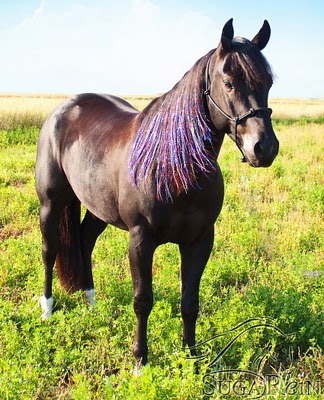 Lynzee, the creator of SugaRein comes from a cosmetology & equestrian background & wanted to create something that would stand out. I say job well done. You & your horse will stand out at rodeos, barrel races, parades, grand entries & all of your favorite events.
These lovely photos were provided to me courtesy of Lynzee & are great examples of how SugaRein looks. The pieces are easy to attach & are extremely durable.