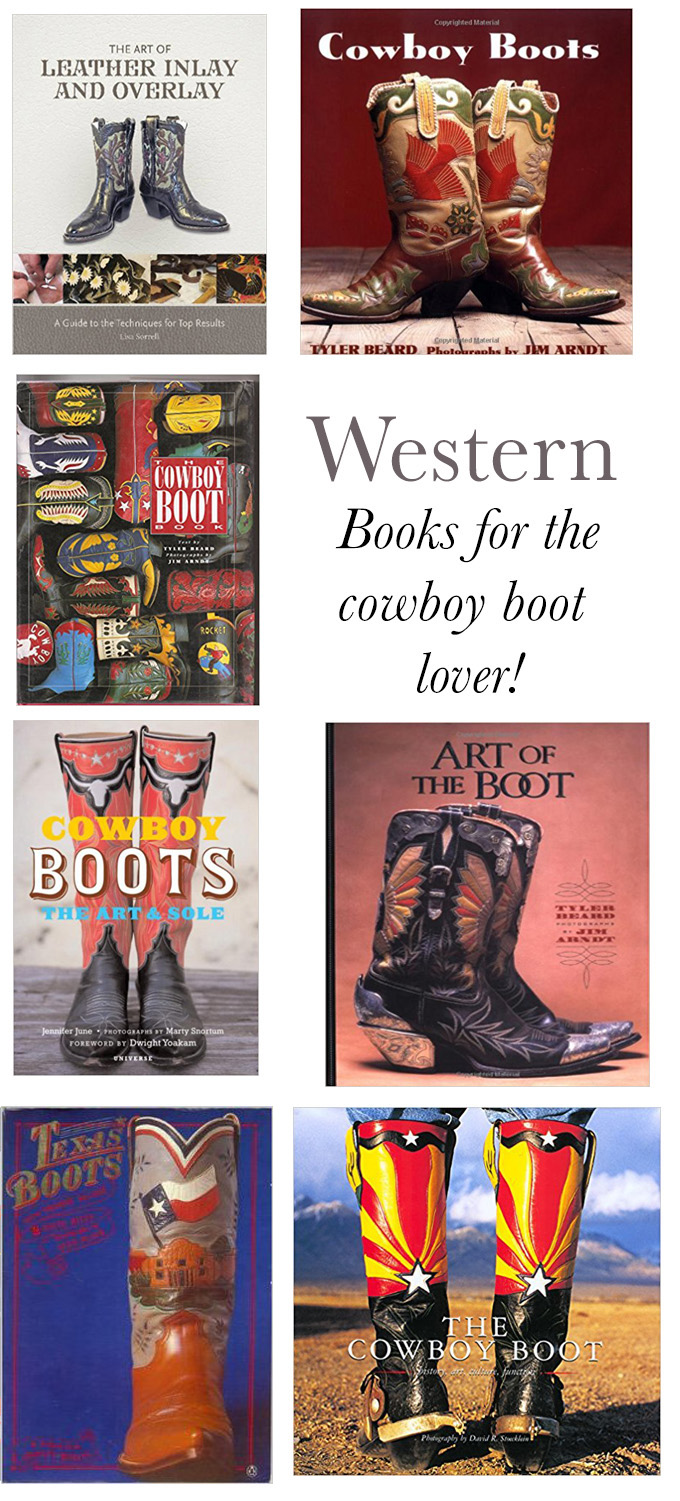 I like cowboy boots. Shocking, right? I wanted to share some good books any boot enthusiast will love. Whether you a collector, boot maker, or retailer you are sure to learn something new. Books make great gifts and hardcover books can be styled and displayed on the coffee table when you are not reading them.
The Art of Leather Inlay and Overlay: A Guide to the Techniques for Top Results, by Lisa Sorrell. Lisa's cowboy boot are amazing and speak for themselves. In her book, Lisa describes various tools and techniques needed to decorate leather. She goes into detail about creating inlays and overlays.
Cowboy Boots, by Tyler Beard (photographed by Jim Arndt). This book showcases so of the best designs and styles of boots ever made. It's a small paperback book, perfect to take with you when shopping.
The Cowboy Boot Book, by Tyler Beard (photographed by Jim Arndt). The book features history, anatomy, leathers, fit, care, makers, sellers, and famous wearers. It comes with a glossary of boot terms. The beautiful photography will leave you drooling.
Cowboy Boots The Art and Sole, by Jennifer June (photographed by Marty Snortum). Jennifer June is a custom bootmaker. She shares her take on the history of the boot, Texas bootmaking, and how to design your own cowboy boots as a customer.
Art of The Boot, by Tyler Beard (photographed by Jim Arndt). This book is dedicated to the art of the cowboy boot. Long live bootmakers.
Texas Boots, by Sharon Delano (photographed by David Rieff). This is your go to book reference for Texas bootmakers. It celebrates the work of independent boot makers, many who are now retired.
The Cowboy Boot: History, Art, Culture, Function (Cowboy Gear Series), by David Stoecklein. David talks about more than just cowboy boots here. He goes into detail about the essential pieces of cowboy boot gear.