I have been putting this off for a long time… spurs. It's time to invest in a new pair & I haven't worn them in years. That is actually the easy part though.
I have been training my new mare Rumor over the past few months & while she has been an angel doing flat work, sometimes she just needs a little extra push. I can thank her for my extremely strong thighs though. But now that she is starting to pick up on the barrel pattern I need a quicker response from her in her turns.
Picking out a mild spur was easy, here is where the decisions come in. I need new spur straps!
What kind/color/design do I want?
I have lots of cowboy boots so it will be impossible to find something that matches everything. I know spur straps are just supposed to be a practical item but why be boring when you don't have to?
Below are a few of my favorites.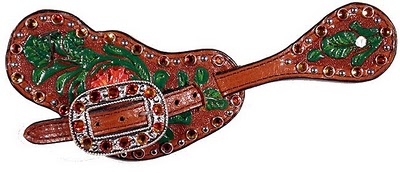 1. This strap set is custom made to order (of course there are two of them) from
Double J Saddlery
. The crystals are fire opals with hand carved & painted leather. Flashy but not too much.
2. Also from
Double J Saddlery
is this roan cowhair spur strap with turquoise & metal studs. I am always smitten for turquoise & these are also custom made to order.
3. As you may or may not know, I love bb simon. I found these at
Diamonds In The Rough
. What a flashy & fun leopard set, very tempting! Update – these are no longer available for purchase. 
4. More bb simon please! These are also available at
Diamonds In The Rough
I like them because they are very neutral but still pretty. Update – these are no longer available for purchase. 
5. Last but never least is this large & blinged out strap set with red & gold acid wash! Ahhhh I love red! I recently just found it at
Luans Leathers
, I haven't had a chance to check out the rest of their stuff but I can already tell I am not going to be disappointed.
Now you have seen my top five picks! Please help me decide, comment below 1-5 & tell me what spur straps I should buy!