A creamy white mac & cheese with brussels sprouts and chicken.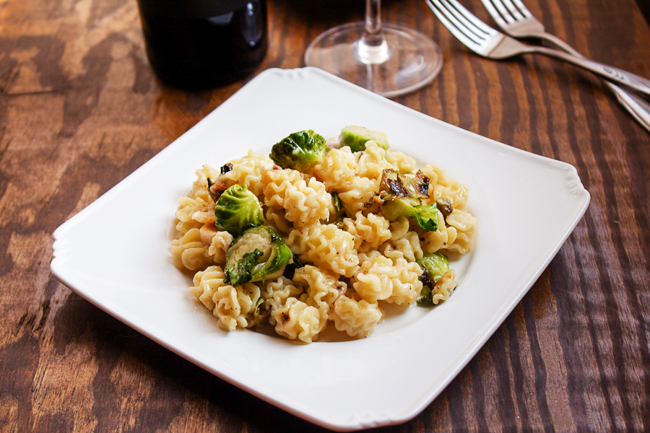 The nights are getting longer and the days are becoming shorter; it's time to start thinking about enjoying fall foods. Homemade macaroni and cheese is a delicious and traditional meal you can enjoy at home, but I prefer to put a spin on it. Enter White Mac & Cheese with Brussels Sprouts, featuring a creamy aged white cheddar cheese sauce which coats pan-fried brussels sprouts and juicy chicken. Serve this with a glass of wine for an excellent home-cooked dinner.
This recipe was originally made and created for Equestrian Culture magazine last year but since the magazine has merged with Horse & Style, the beautiful publication no longer exists. I decided sharing the recipe now would be perfect!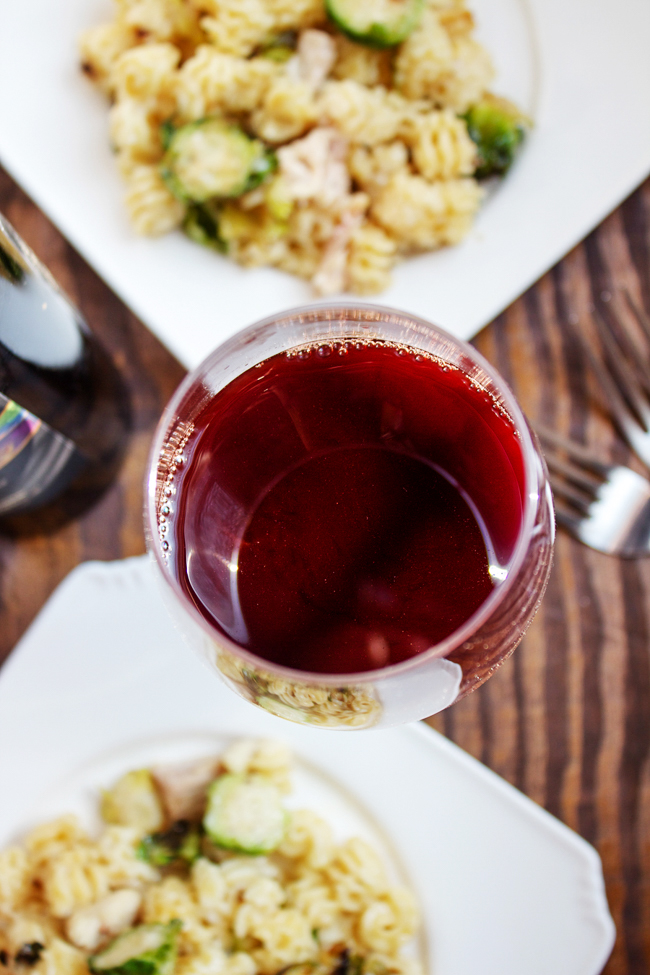 The flavor of the aged white cheddar overpowers the mozzarella cheese, so pick a wine that goes well with a hard cheese. I suggest Cabernet Sauvignon with cheddar, but you may also try a Merlot or a Sauvignon Blanc. The wine should compliment your food and enhance its flavor.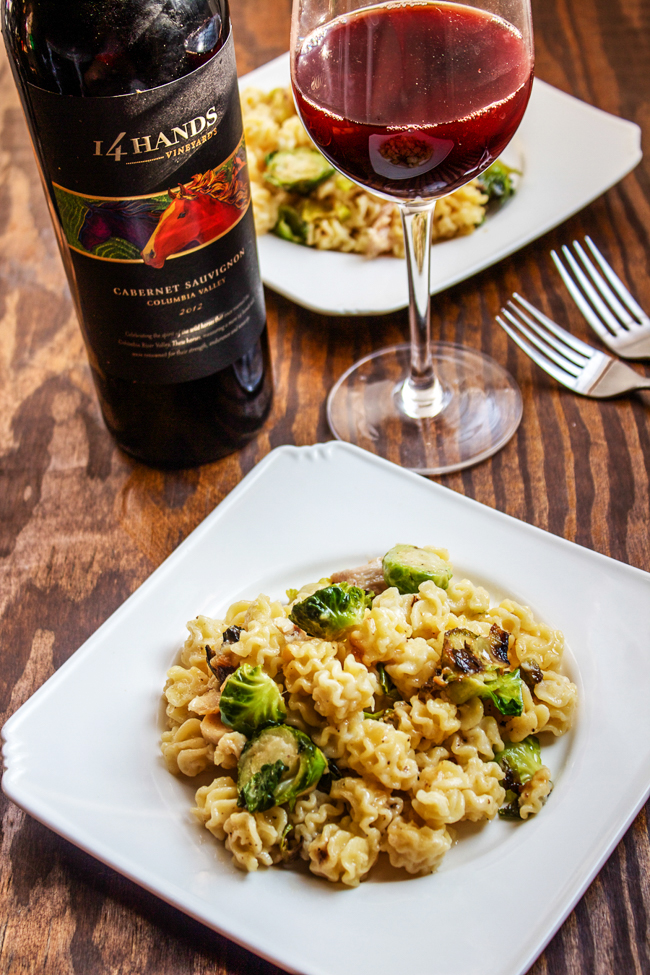 White Mac & Cheese with Brussels Sprouts
A creamy white mac & cheese with brussels sprouts and juicy chicken.
Ingredients
3½ cups uncooked pasta (any shape)
3 cups brussels sprouts, sliced into thirds
1 teaspoon black pepper
1 teaspoon garlic powder
Oil for the skillet
1 cup diced chicken breast
Cheese Sauce:
5 tablespoons unsalted butter
2 teaspoons all purpose flour
1 pint whipping cream
8 ounces mozzarella cheese, cubed
8 ounces aged sharp white cheddar cheese, cubed
Instructions
Cook and prepare the past according to the directions on the box.
This recipe calls for 1 cup of diced chicken; I suggest boiling a large chicken breast in water and saving the leftovers for another meal.
While the pasta and chicken are cooking, prepare the brussels sprouts. Slice each sprout into thirds and season with black pepper and garlic powder. Add the sprouts to a skillet with about one tablespoon of warm oil. Cook over a low heat for about 12 minutes, turning occasionally so the sprouts do not burn. A nice browning on the outside of the sprout is ideal.
Meanwhile drain the pasta and add it to a large serving bowl, then stir in the cooked chicken and finished brussels sprouts.
Prepare the cheese sauce:
Melt the butter over a low heat and add the flour while stirring slowly. Once the flour/butter mixture is fully blended and about to boil, pour in the whipping cream.
Stir occasionally until small bubbles come to the surface, then add the cubed cheese.
Stir slowly allowing the cheese to melt and also to prevent any burning on the bottom of the pan.
Pour the hot cheese sauce over the pasta, mix well and serve hot.
Looking for more Mac & Cheese or Brussels Sprouts? Try these:
The Best Brussels Sprouts (my personal favorite)
Brussels Sprouts with Bacon and Walnuts