A fresh and flavorful white pizza loaded with chicken, tomatoes and basil.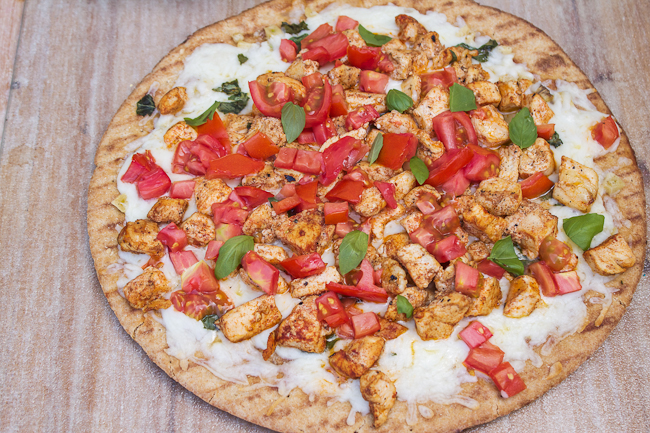 I love pizza, I love pizza, I love pizza! I enjoy the classics and traditional pizza but a speciality pizza is one of my favorite kinds to make. You have endless topping and recipe combinations.  My white pizza with fresh garlic, basil, tomatoes & chicken is so simple to make. It might be one of my favorite pizzas & that is no joke. The garlic sauce is amazingly good, not too powerful & just the right amount of punch.
Start with a homemade or pre-made pizza crust and cover it with my homemade garlic butter sauce. Then top with shredded mozzarella cheese, juicy cooked chicken, diced tomato and use fresh basil for garnishing after baking.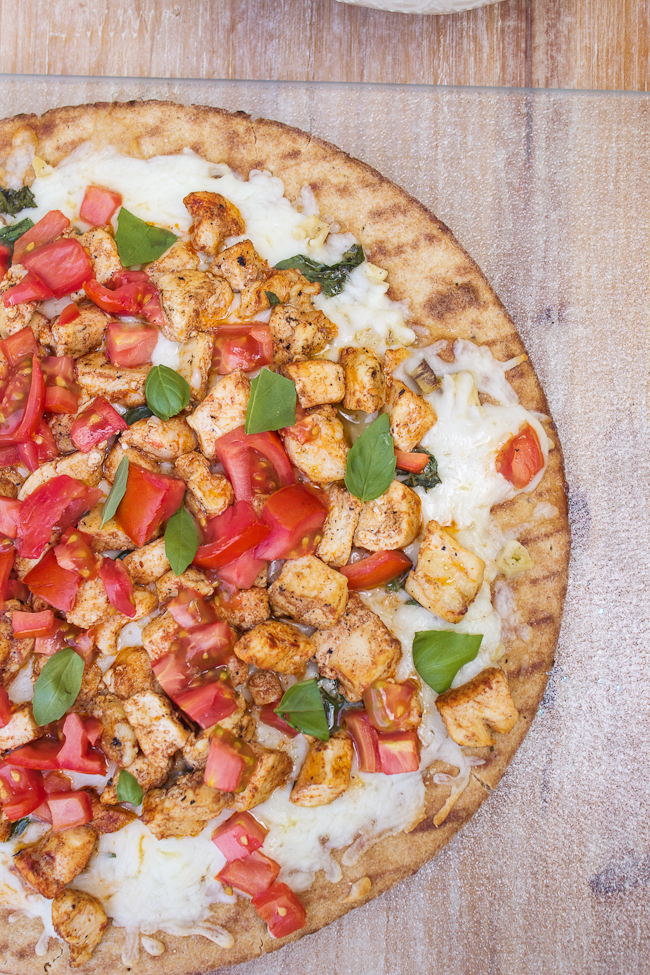 It's refreshing, light & so tasty. This pizza did not last long, it was devoured quite quickly. 
White Pizza with Chicken & Tomatoes
A delicious & savory white pizza with chicken & tomatoes.
Ingredients
1 12" pre-made pizza crust. I opted for a whole wheat crust that was already baked.
⅛ cup olive oil
1 tablespoon melted butter
2 tsp black pepper
1 tsp garlic salt
6 gloves of garlic, minced (about one heaping tablespoon)
1 large chicken breast, diced
2 heaping tsp paprika
(splash of olive oil)
2 cups shredded mozzarella cheese
1 heaping tablespoon fresh basil, shredded (reserve a few extra leaves for garnish)
1 large tomato, diced
Instructions
Pre heat the oven to 350 degrees
Add olive oil, butter, black pepper, garlic salt, & minced garlic to a small bowl. Mix well & set aside.
Toss chicken, paprika, & a splash of olive oil into a skillet & cook it over a medium heat. Stir occasionally.
While the chicken cooks, evenly spread the garlic mixture over the top of the pizza crust.
Layer cheese on top of this.
Top the cheese with shredded basil.
By now your chicken should be done, spread it evenly over the pizza.
Top with tomatoes.
Bake for 10 minutes.
Garnish with additional basil leaves & serve hot.
Notes
If you use an unbaked pizza crust, you will have to increase your cooking time.