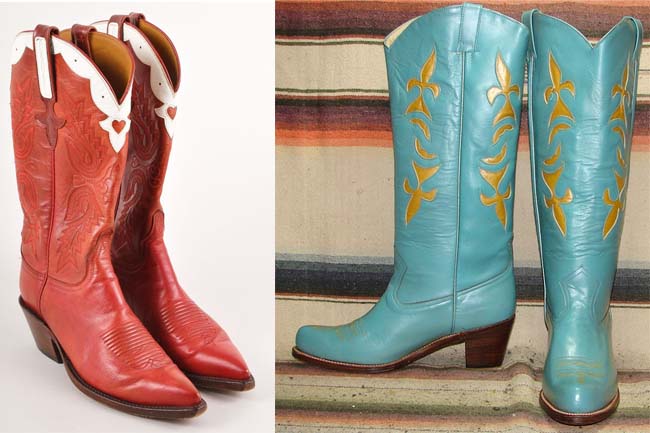 Boots, boots, and more boots. You can never have enough! Buying brand new cowboy boots is always fun, but what about those times when the boots you want are no longer in production or discontinued? Perhaps you are seeking a perfect vintage pair? You might just hop on eBay but then hop right off after browsing and not knowing where to start. You can find AMAZING boots and deals on Ebay with a little knowledge.
There was a time when I was obsessed with the Lucchese 2000 Classics and wanted them in every color. I used eBay to track down a few pairs after they stopped making them. I also love having boots that no one else does or rare finds. Do you want to walk around at a rodeo only to have every other girl wearing your boots?
Here are some helpful hints to help you become a cowboy boot shopping pro on eBay in no time. All it takes is a little education and some determination.
1. Do a broad and specific search. It helps to know what you want – I always say, "a woman who knows what she wants, gets what she wants". First do a broad search for a brand because not all sellers use good key words and you might miss out on finding a specific color or style. Then do a specific search by color, brand, and/or terms like vintage, brand new, used, leather, ect. It helps to be through.
2. Make sure the brand matches the boots. If the brand is listed but not clearly displayed (no box, no close up of a label) then ask the seller for a photo to confirm. It's sneaky but sometimes people will try to pass off their boots as a better brand to make a sale. It's okay to be a cowboy boot snob and ask questions.
3. Beware of pretty looking no name brand boots. I have seen my share of these boots, they look gorgeous and high-end but there is no brand associated with the boots. That's a sign of low quality and sore feet in your future. Stay away from them and move along.
4. Read descriptions carefully. This should be a no brainer but a lot of eBbayers do not accept returns unless they are a big company. Once you buy those boots, you are stuck with them (unless you put them right back on eBay) but make sure you know what you are buying or that you may return them.  Does it say how many times the boot has been worn or describe the condition?
5. Make sure you know your size. Not all boots are made the same, so go to a store and try on a pair of brand new boots in the brand you want if you have no prior experience with them.  If you are guessing, check the return policy and make sure you can send them back.
6. Know your prices. It sounds like a good deal, but is it? Know what brand new boots of various brands cost. I sold a pair of boots on eBay that many people get messaging me and asking if I could drop the price, I told them the boots were priced very well for the brand and eventually they did sell. Remember just because cowboy boots are listed on eBay doesn't mean they are cheaper or even a deal. If you can find a boot in a store for cheaper try to contact the seller and see if they will price match or beat it. It never hurts to ask and some people are reasonable.
7. "Watch" the boots you want. eBay has a great feature allowing you to watch an item to see if the price goes up and it sends you reminders and remaining time left. When you are scrolling through boots, click watch when you find something you might be interested in so you can easily find it later on.
8. Do not bid until the last-minute, literally. If the boots you want are listed in an auction style listing. Don't drive the price up by bidding early on. Make sure you are signed in and bid when there is only a minute or 30 seconds left to ensure you get the last bid.
9. Be a history buff! I love vintage finds especially because some brands were made better back in the day (sad and true story for some boots). They were made in the US and with better leathers. I would pay way more money for a pair of used quality vintage boots over a pair of brand new cheaply made boots. So if a person is trying to pass off a pair of boots as vintage it's good to know a little more about the boots and where they were made prior.
10. Set up alerts for new listings. You've searched and searched with no luck. Set up an alert for new listings. Say you are looking for Turquoise Lucchese Boots, type this into the search and then click follow this search and check the box that says Email me new items that match this interest Now whenever someone lists turquoise Lucchese boots, you will be emailed and can check them out.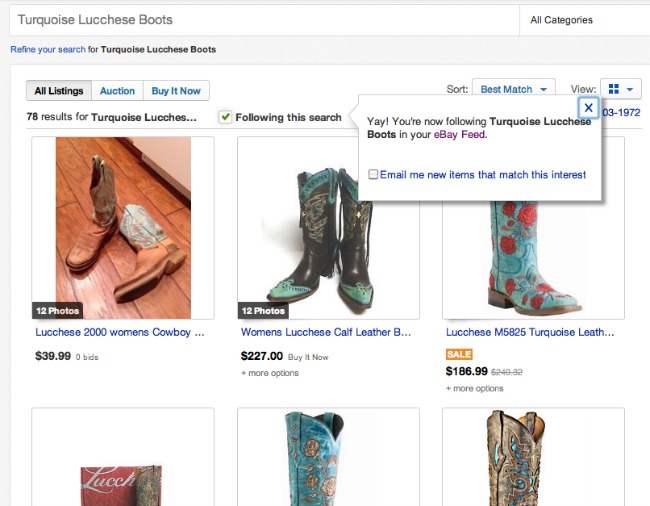 Try pinning this image below to your favorite Pinterest board and keep it on hand for when you need to do some shopping.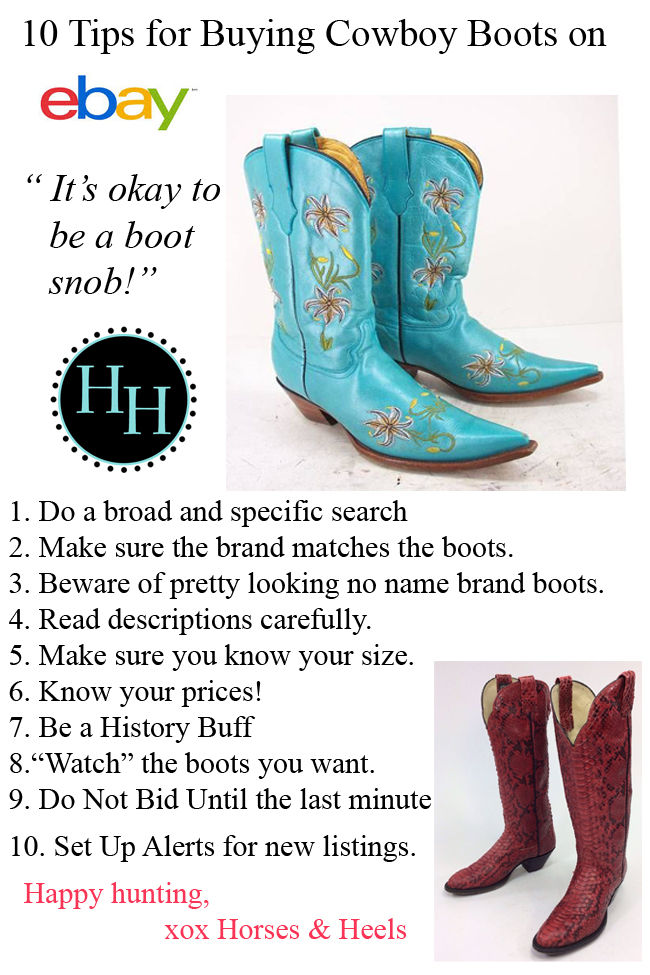 Have you had any luck with cowboy boot shopping on eBay? Share your stories!