Healthy and delicious Orange Vanilla Bean Creamsicles.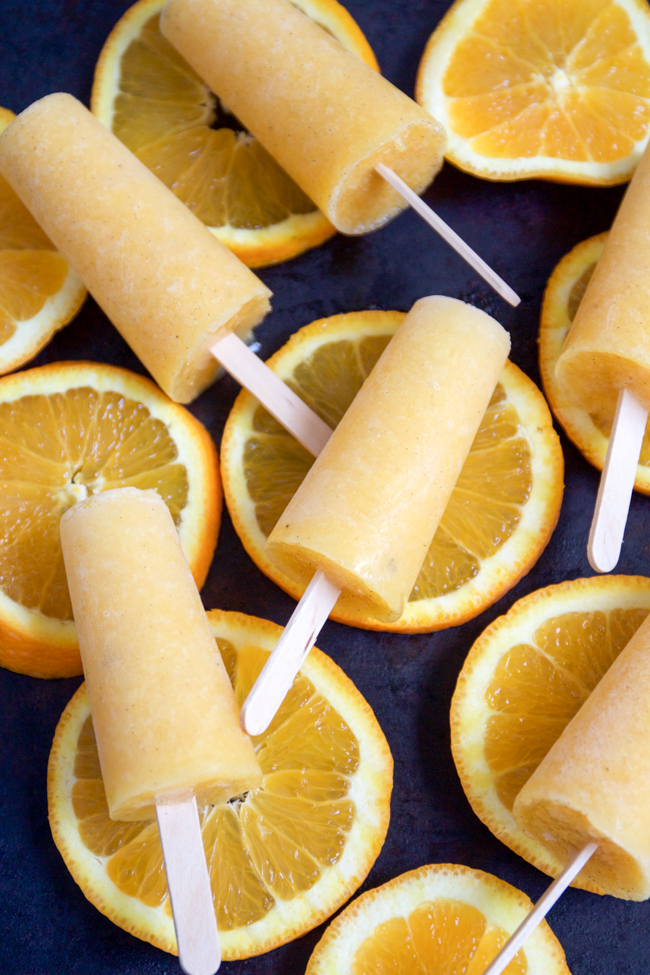 When life gives you an abundance of oranges, you make creamsicles. There are currently two different orange stands down the street from our apartment complex. You can pick up a massive bag of oranges for just $7! Adam and I are on an orange kick with our second bag of oranges. I've been juicing them and we've been snacking on them a lot.
I decided to try making some creamsicles since we are on a popsicle kick too. These orange vanilla bean creamsicles taste refreshing after walking around the neighborhood on an 80 degree day in March.
All you need is almond milk (or a milk of your choice), half a vanilla bean pod, and four oranges. There is no substitute for delicious vanilla bean. Adam thinks it's a stretch calling them a creamsicle… sure they aren't loaded with heavy cream or sugar but I wouldn't change a thing. Plus my recipe is vegan friendly!
3 Ingredient Orange Vanilla Bean Creamsicles
A creamy and healthy vegan friendly recipe for Orange Vanilla Bean Creamsicles.
Ingredients
4 oranges
1 cup almond milk (or milk of your choice)
½ vanilla bean pod
Instructions
Peel the oranges and split them in half. Check for seeds, remove them if necessary.
Add orange halves and almond milk to a blender, pulse until liquified.
Pierce the middle of your vanilla bean pod split it open with a knife. Gently spoon out the seeds and pulse the blender, distributing the vanilla.
Add the vanilla bean pod to the blender and place in the fridge overnight or for 12 hours.
After the time has elapsed, remove the pod and pour the mixture into molds.
Insert a popsicle stick into the molds and freeze for at least 6 hours or until frozen.
Gently run the popsicle molds under warm water and twist the sticks to remove and enjoy!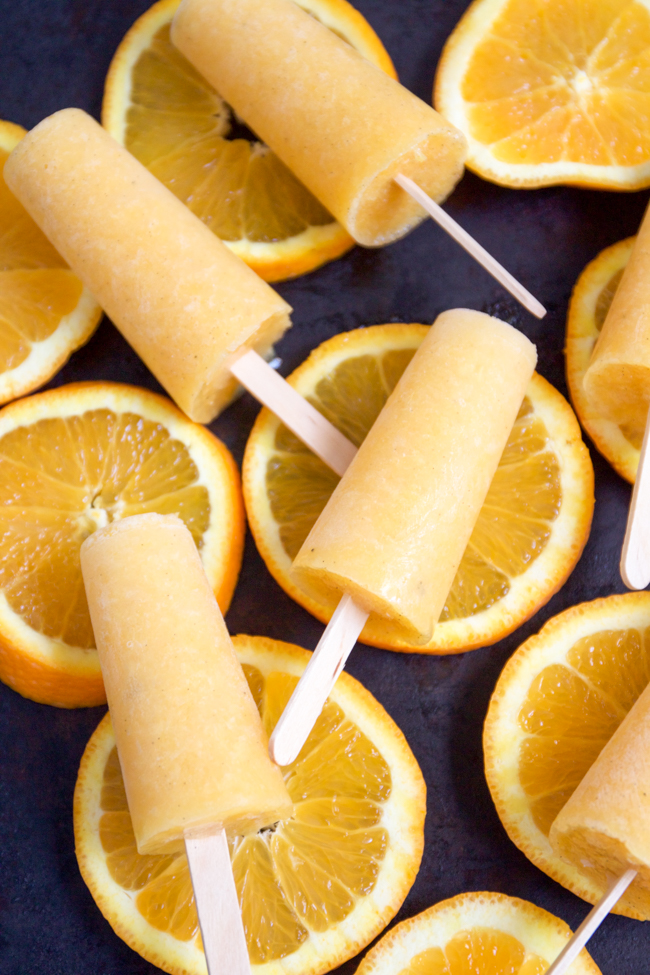 These treats also make a perfect breakfast too ; ) Make these and share your dessert on Instagram using HandHFood and tag @Horsesandheels_