This post brought to you by The Hershey Company. The content and opinions expressed below are that of Horses & Heels.
Sweet and salty peanut butter, pretzels, dark chocolate, and toffee bits meet!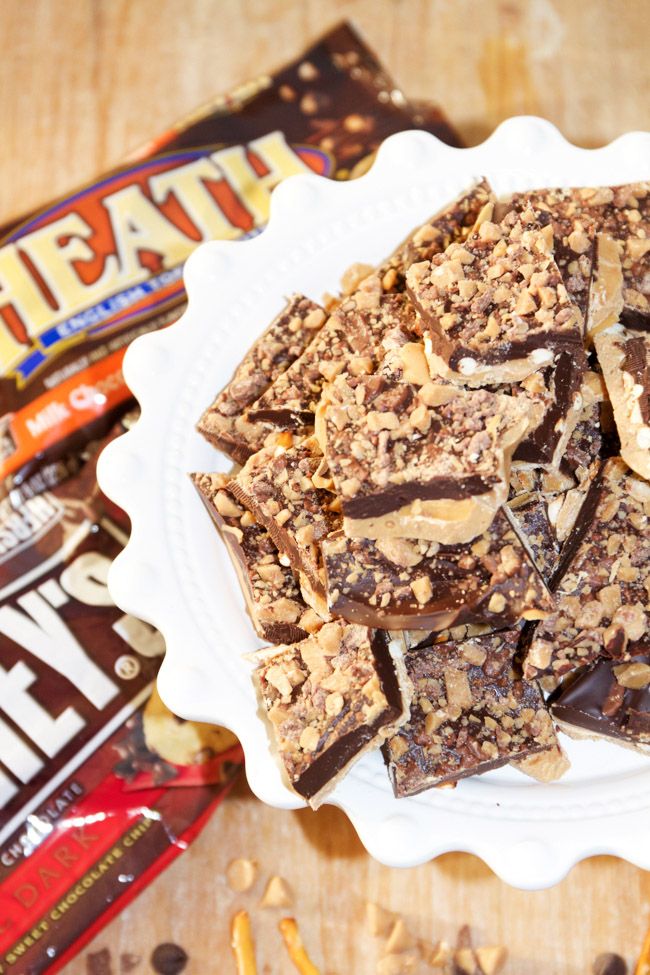 Holiday baking and traditions go hand in hand – mom's delicious cinnamon rolls, rich chocolate pie, and grandma's soft cookies, tis the season for lots of baking and desserts! Looking forward to enjoying the same food year after year is something I truly enjoy. When I was younger I would help my mom in the kitchen with recipes and be eager to stir something in the bowl or lick the spoon if possible.
The Hershey Company has a large variety of baking products can help you make the sweetest recipe with classic ingredients like Hershey's Kisses and Hershey's Cocoa.
There is a treat for everyone when it comes to baking this season, you can find the following Hershey's products at your local grocery stores;  Hershey's Semi-Sweet Chocolate Chips, Hershey's Cocoa Powder, Hershey's Kisses Milk Chocolate chocolates in red, green, and silver foils, Reese's Peanut Butter Chips, Heath Milk Chocolate Toffee Bits, Hershey's Kisses Candy Cane Mint candies, Hershey's Milk Chocolate Chips, Hershey's Special Dark Chocolate Chips, and Hershey's Special Dark Cocoa Powder.
I still consider Adam and I to be newly weds even though sometimes it doesn't feel like it since we have had such a crazy year. This Christmas I wanted to make something Adam and I could easily create together while listening to a record and drinking a glass of wine. It had to be SIMPLE but still taste amazing and look good. At first I was against the idea of making something so easy like bark, I thought it didn't count as a recipe. But I reminded myself, holidays are not about having a bake off competition, they are about enjoying the people around you. It was a chance to make #NewTraditions as a couple. We both are extremely busy all the time and baking together was so much fun.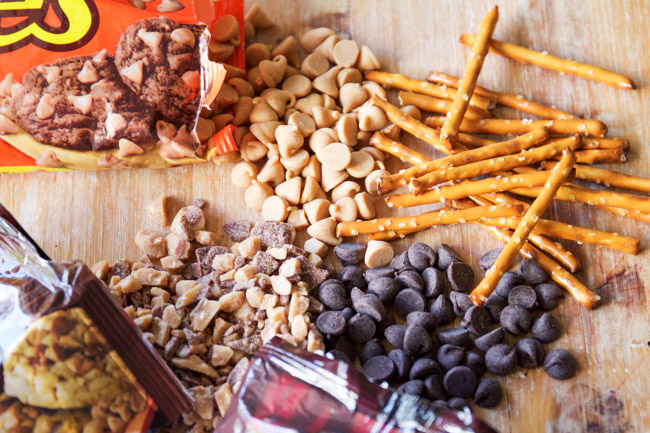 Enter the four ingredient dark chocolate peanut butter toffee bark. You will need a bag of Reese's Peanut Butter Chips, pretzel sticks, Hershey's Special Dark chocolate chips, and Heath Milk Chocolate Toffee Bits. This is one rich and filling bark, the peanut butter chips make the perfect bottom layer, Adam and I would have eaten this bark with just peanut butter and pretzels if given the chance.
4 Ingredient Dark Chocolate Peanut Butter Toffee Bark
Ingredients
1 10 ounce bag Reese's Peanut Butter Chips
1 cup pretzel sticks, snapped into pieces
1 12 ounce bag Hershey's Special Dark Chocolate Chips
1 8 ounce bag Heath Milk Chocolate Toffee Bits
Instructions
Line a baking sheet or shallow pan with parchment paper.
Slowly melt the peanut butter chips over the stove with a double boiler or in the microwave. Do not burn!
Spread the melted chips evenly over the parchment paper and top immediately with pretzel sticks.
Place the pan in the fridge for about 20 minutes until chilled.
Melt the dark chocolate chips and spread on top of the pretzel layer.
Pour toffee bits over the dark chocolate immediately. Chill for at least 30 minutes before serving.
The kitchen is normally my domain but it was nice to share it with Adam, since there are just two of us, we plan on sharing our toffee bark with neighbors and friends.