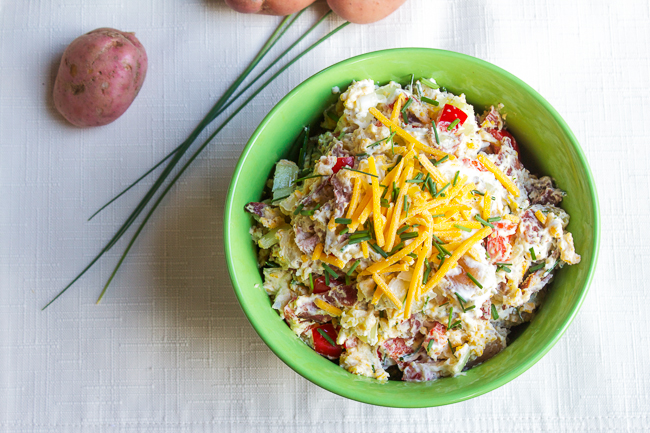 I have a love for potatoes, bacon & cheese; together. You might call that a baked potato but I like to keep things interesting. Besides doesn't a baked potato seem so winter? Spring is here (sort of) & soon you are going to need the perfect picnic dish, pass this recipe along.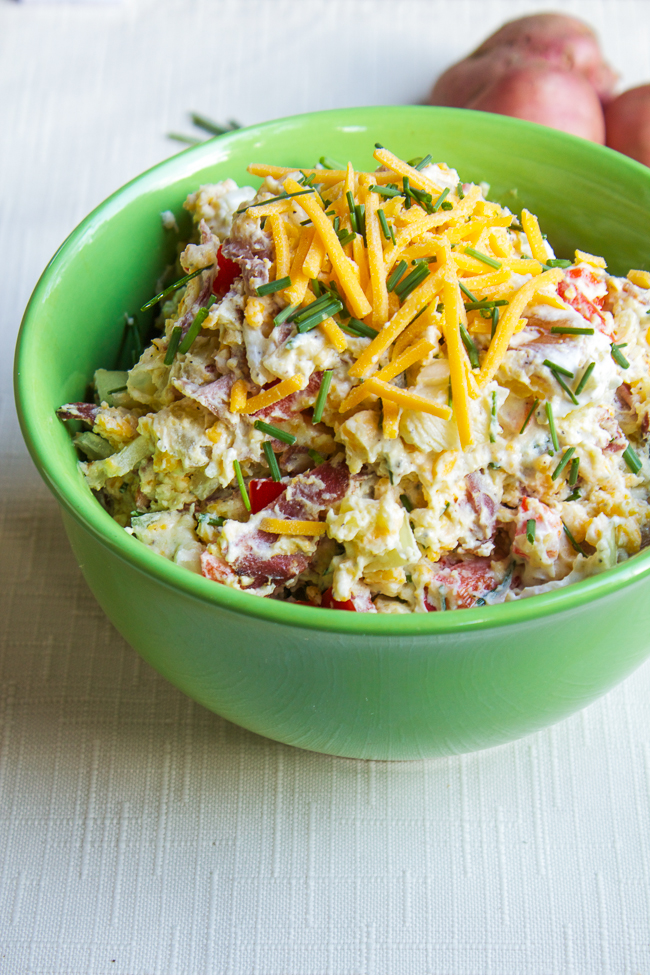 Loaded Baked Potato Salad
A tasty potato salad with the flavor of a loaded baked potato.
Ingredients
8 medium sized red skin potatoes
1 12 ounce package of bacon
1 16 ounce container of sour cream
1 small white onion, diced (about ¼ cup)
1 red pepper, diced
8 ounces extra sharp cheddar cheese, shredded
1 tablespoon vegetable oil
1 tablespoon honey
¼ cup fresh chives, chopped
1 tablespoon black pepper
1 teaspoon salt
Instructions
Cook your potatoes, I prefer the microwave way - poke a few holes in them & hit the potato button a few times until they are all cooked.
Allow potatoes to cool & cut them into cubes.
Put bacon in a skillet & cook over a low heat until it is done, blot off excess oil with paper towels.
Crumble or cut the bacon with scissors.
Add sour cream, onion, red pepper, cheese, vegetable oil, honey, chives, pepper & salt to a bowl.
Mix well.
Add in crumbled bacon & potatoes.
Stir throughly, allow the potato salad to cool or chill in the fridge before serving.
Garnish with additional chives or cheese.
More great potato recipes here!