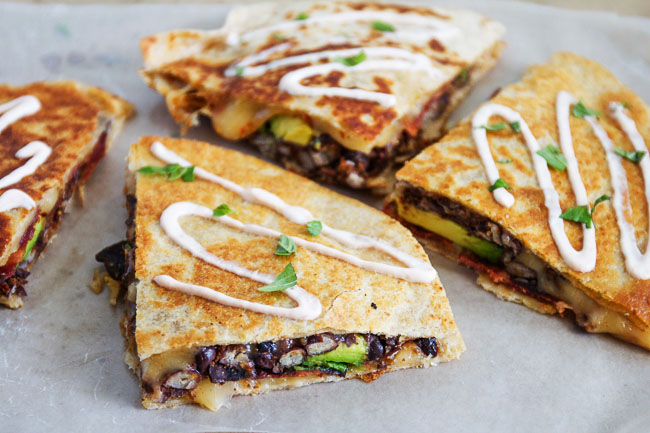 "Well whats there to eat?" "Knock it off Napoleon, make yourself a dang quesadilla!"
Please don't tell me I am the only person who starts reciting Napoleon Dynamite whenever someone says the word quesadilla. I made these tasty and easy Black Bean and Chipotle Quesadillas for lunch the other day and I am dreaming about them again. Picture this, chipotle cheese, seasoned black beans with chipotle powdered, cumin and ancho pepper, topped with avocado and bacon. Don't forget to drizzle a little Sriracha sour cream on top.
Quesadillas are easy to whip up in no time and can also be a great "clean out the fridge meal" you can stuff them with just about any veggies, meats or cheeses. The trick to a nice black bean quesadilla is to smash up the beans with a potato masher a bit so they don't fall out the sides.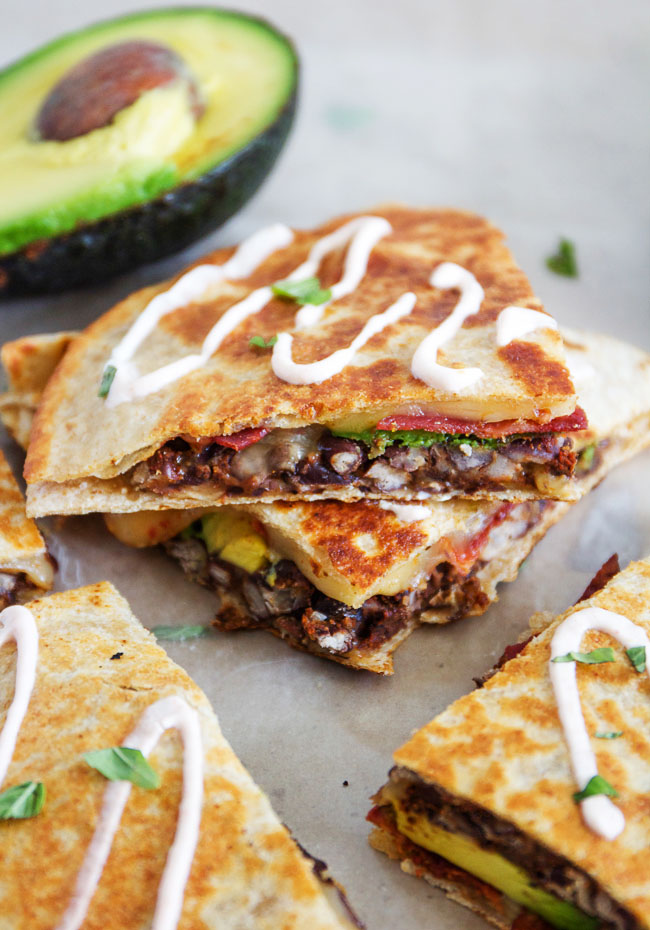 This recipe makes two large quesadillas cut into quarters. You can serve two or three people with this depending on how hungry everyone is. If you want to stretch the recipe for three add in a side.
Make sure you use a nice quality chipotle powder too, it's one of my favorite spices and I always have it on hand. Keep in mind that chipotle does have a little kick but these quesadillas are not too hot.
Black Bean and Chipotle Quesadillas
Black Bean and Chipotle Quesadillas stuffed with Bacon and Avocado.
Serves:
2 large quesadillas
Ingredients
4 medium sized (10 inch) flour tortilla wraps, I like to use whole wheat
8 slices chipotle cheese
1 15 ounce can black beans, rinsed and drained
2 teaspoons ground chipotle powder
1 teaspoon ground cumin
1 teaspoon ground ancho pepper
6 slices well cooked bacon, I use turkey bacon
1 whole avocado, sliced into quarter in pieces lengthwise
Oil for cooking
Instructions
Assemble the quesadillas, this recipe makes two whole quesadillas. Add two slices of cheese to each wrap.
Take your black beans, chipotle, cumin and ancho pepper and add it to a mixing bowl. Stir and then mash the black beans until they are no longer round and start to stick together.
Divide the black bean mixture in half and spread it over two wraps. I like to just use my hands and pat down to ensure everything sticks together nice and flat.
Top each wrap with black beans with 3 slices of bacon and divide the avocado slices among the two wraps as well.
Take the second wrap with chipotle cheese and top each filled wrap, now you have two quesadillas ready to be cooked.
Warm 1 tablespoon of oil over a medium heat in a large skillet and put the first quesadilla in. Cook for 3 - 4 minutes until the bottoms start to brown. Flip, removed from the heat and cut into quarters.
Drizzle with sour cream or serve with salsa and fresh herbs.
Repeat these steps for the second quesadilla.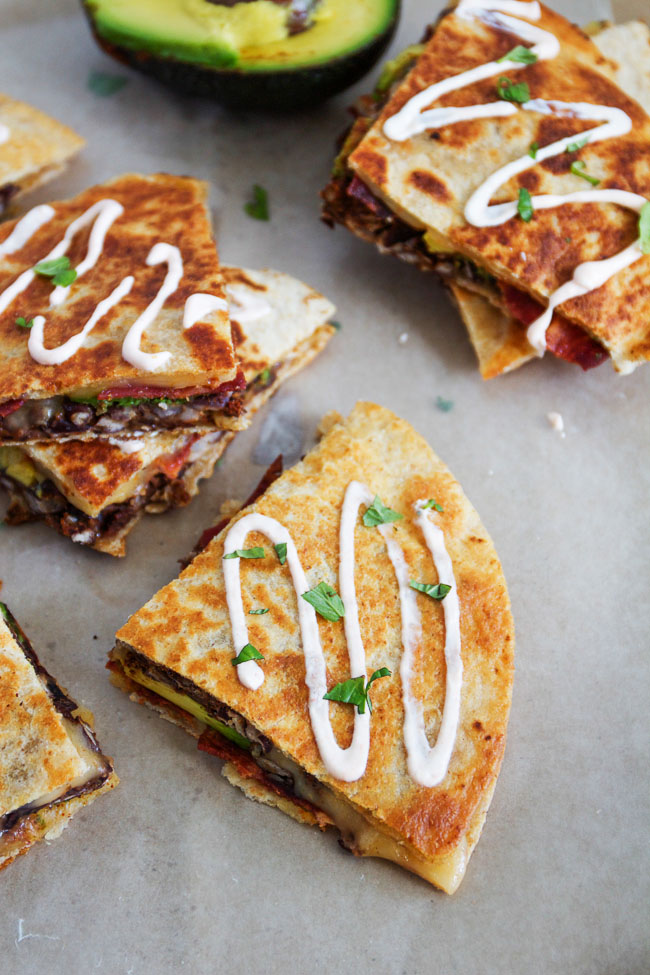 Ps. if you noticed the new share buttons on top or  bottom of this post that say "Yum" it's because you can save your favorite recipes to Yummly, a recipe discovery and saving site. You can visit Horses & Heels on Yummly over here. I am so excited to start using Yummly to share recipes on Horses & Heels.
Enjoy!
Photos and recipe by Raquel