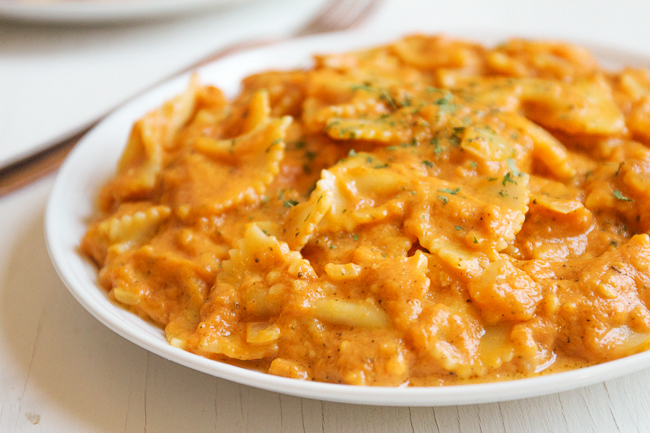 Pumpkin pasta seems to be on trend right now but there are also plenty of healthy reasons to give the pumpkin trend a whirl. The creamy consistency of this dish reminded me of a Mac and cheese. I wanted to make a dish that would be vegetarian friendly that could easily translate from fall to Christmas without a problem.
As I stated above, this post was sponsored by I Can't Believe It's Not Butter (awesome sponsors like these keep this site going). So naturally I wanted to create a recipe that allowed the buttery flavor to come through. The new I Can't Believe It's Not Butter!® offers a fresh butter taste to add flavor to any meal, and can be used for spreading, topping, sautéing, cooking or baking.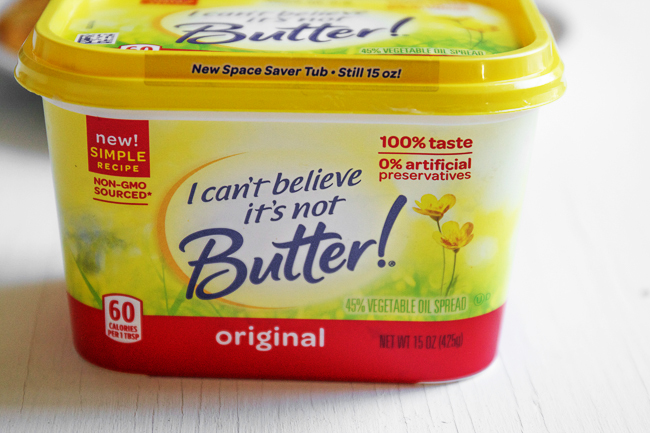 It was a perfect addition of my pasta dish and has has 40% fewer calories and 70% less saturated fat than butter. The new I Can't Believe It's Not Butter!® is made with plant-based oils and are a source of both monounsaturated and polyunsaturated fatty acids, as well as a good source of omega-3 ALA. You may purchase the new I Can't Believe It's Not Butter!® and to leave a product review on TheNewICB.com. There are definitely a few healthier benefits here, if you want to learn more please visit icantbelieveitsnotbutter.com.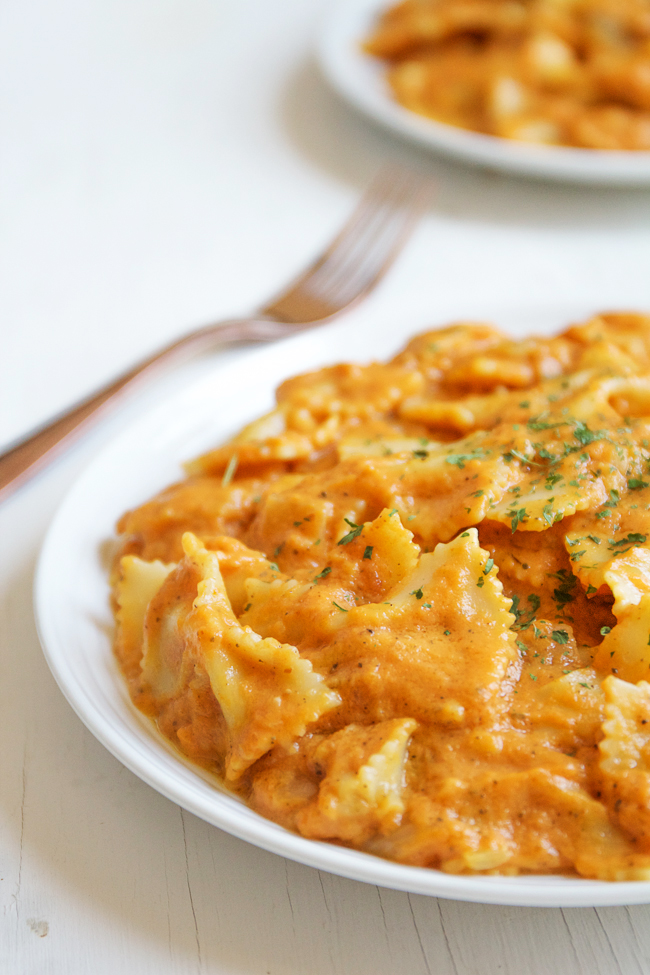 Buttery Pumpkin Pasta
A Buttery Pumpkin sauce served over pasta.
Ingredients
½ pound dry pasta (any shape)
1 tablespoon I Can't Believe It's Not Butter
1½ cups yellow onion, chopped
1 15 ounce can pure pumpkin puree
1 cup milk
1 cup I Can't Believe It's Not Butter
1 cup mozzarella cheese
2 tablespoons minced garlic from the jar (use 1 tablespoon for substituting fresh garlic)
2½ teaspoons rubbed sage
1 teaspoon black pepper
½ teaspoon salt
Pinch of nutmeg (freshly grated is best)
Instructions
Cook the Pasta
Cook your pasta according to box directions until it is tender. Drain, rinse and set aside.
Caramelize the Onions
You can do this while your pasta is cooking. Add 1 tablespoon of butter and the chopped onion to a skillet and cook on a low heat, stirring occasionally. Once the onions start to brown and caramelize remove them from heat and set aside. This should take 20 - 30 minutes.
Make the Sauce
Add pumpkin, milk, butter, cheese, and garlic to a large skillet. Cook over a low heat until the ingredients are melted (do not boil) and stir occasionally.
Mix in the sage, pepper and salt.
Combine the Ingredients
Add the pasta and onions to the sauce, throw in a pinch of nutmeg.
Stir well and serve hot.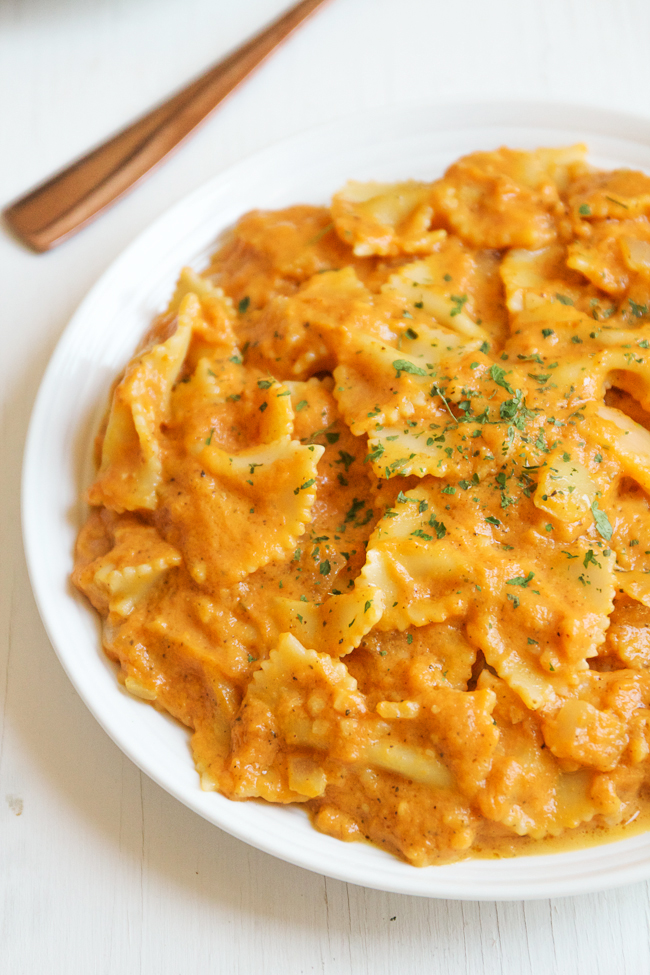 I sprinkled a little dried parsley on my pasta right before serving. It looks nice with just a touch of green and herbs pair well with this sauce. If you are interested in getting a little extra protein you could easily add some chicken, sausage or bacon to the dish.
I was selected for this opportunity as a member of Clever Girls and the content and opinions expressed here are all my own.