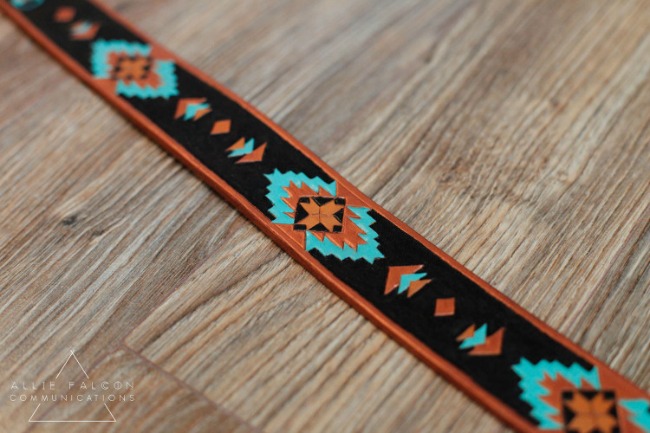 I love leather, I love leather, I love leather! If you have been a long time follower here at Horses & Heels, this is not new news to you. One of my favorite sections on this blog is the Designer Spotlight subject. It's always fun to get to know the person behind the brand or products you admire. Allie of Allie Falcon Communications spends her days blogging on her personal site, blogging for Cowgirl Magazine, doing graphic design for clients and creating beautiful leather pieces. She was nice enough to take the time out of her busy schedule and answer a few questions for us.
Q. Tell us a little bit about your background and what made you decide to start working with leather.
Allie – My Dad has always been a Texas rancher by day but he also used to be a leather artisan by night. My mom was a teacher, but could and still can, literally build ANYTHING. (Seriously, go check out my Instagram to see this amazing table she built with my logo on it!) I remember sitting on bare saddle trees and watching my Dad tool leather and watch saddle making VHS's, because he was always looking for ways to improve. Thank Heavens for YouTube, now. Am I right?!
Growing up I always thought it was amazing that Dad knew how to make something so beautiful with his own hands, but I didn't really try it myself until about a year and a half ago. I was graduated from college and married, and I didn't have a million distractions like I used to, so I visited my family one weekend and asked Dad to show me the basics. From there, I was hooked. I tend to get ahead of myself and I was already dreaming up purses, wallets and belts! But let's get real. At that point, I probably couldn't have even made a bookmark! HA!
The short answer to your question is, I wanted to work with leather so I could create the things I dream up in my head and build the products that I usually can't afford.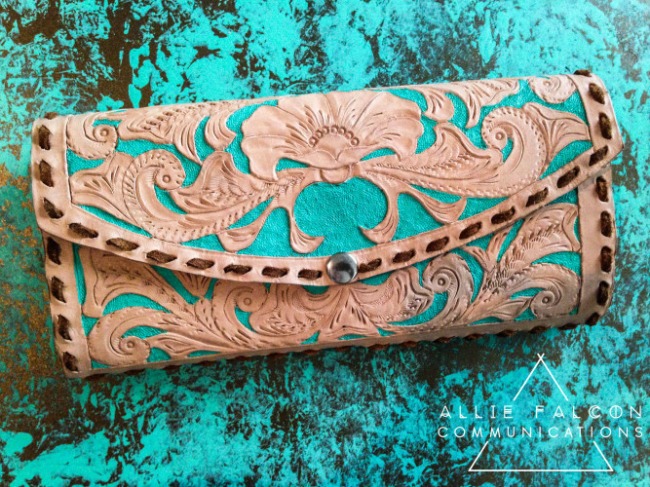 Q. What is the most challenging part about working with leather?
Allie – Each leather artist will probably tell you something different, but for me, it's the measuring and cutting. Neither is difficult, but any time spent not tooling, is no fun to me. I couldn't hate numbers more. On the list of the few things I hate in this world, it would be 1. Terrorists, 2. Numbers.
Cutting the leather out isn't really difficult, but it's time consuming. Every now and then, you will have something all measured out and you've already cut three of the four sides and then your hand twitches on that last cut and guess what? You get to start ALLLLLL OVER. But hey, when that stuff is all over, the tooling and painting make it all so worth it.
Q. Are there any special pieces you are working on right now?
Allie – I've got a cactus clutch drawn out that I'm dying to build. With all the turquoise and greens I'm planning on using, I just have a feeling it's going to be glorious. Once I get caught up on orders, it's going down!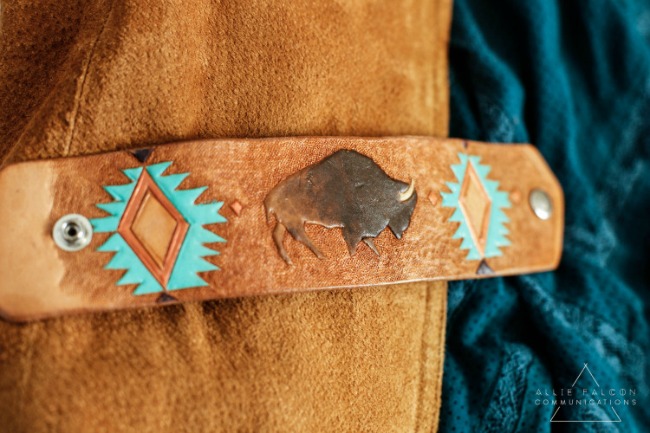 Q. Being a one woman show requires a lot of organization skills, do you have any tools or tips you would like to share?
Allie – The main thing that has helped me stay organized is my weekly blog planner. I know that's no miracle answer, but I'm a space cadet and if I make myself do the things I write down on the days I tell myself to do it, I stay on track. If I don't, well, the jury is still out on what you'd find me doing. Probably painting my nails, drinking a margarita and hiding from all the things I need to get done. 😉
I try to follow a routine everyday. I wake up, look at my planner and tackle the items in a certain order. Leather is for the morning time because it keeps me relaxed and it doesn't require a lot of thinking. Then I work on any graphic design or picture editing that needs doing. Then I write in the evenings, because that's when I do my best writing. With that said, I'd call my organization method, organized chaos. I've got it all together most days, using to-do lists and lots of coffee. However, I remember when I first started my business, I'd read other blogs and look at their perfectly clean pictures and advice about organization. They didn't mean to, but it made me feel like I wasn't going to succeed or that I didn't have my crap together enough to make it big. But guess what… comparison is the thief of joy and I don't want to give anyone the impression that I've got it all together every single day. About half the time, I feel like a chicken with my head cut off, but I'm living MY dream, I'm happy and I hope I can inspire someone else to live his or hers. You're dreams don't have to look like everyone else's. Just remember that!
Q. If you could design a clutch or bag for any celebrity, who would it be?
Allie – Ah! Do I have to pick just one? Probably Miranda Lambert or Kacey Musgraves. They both share my style aesthetic and I feel like they could really rock a leather bag like no other.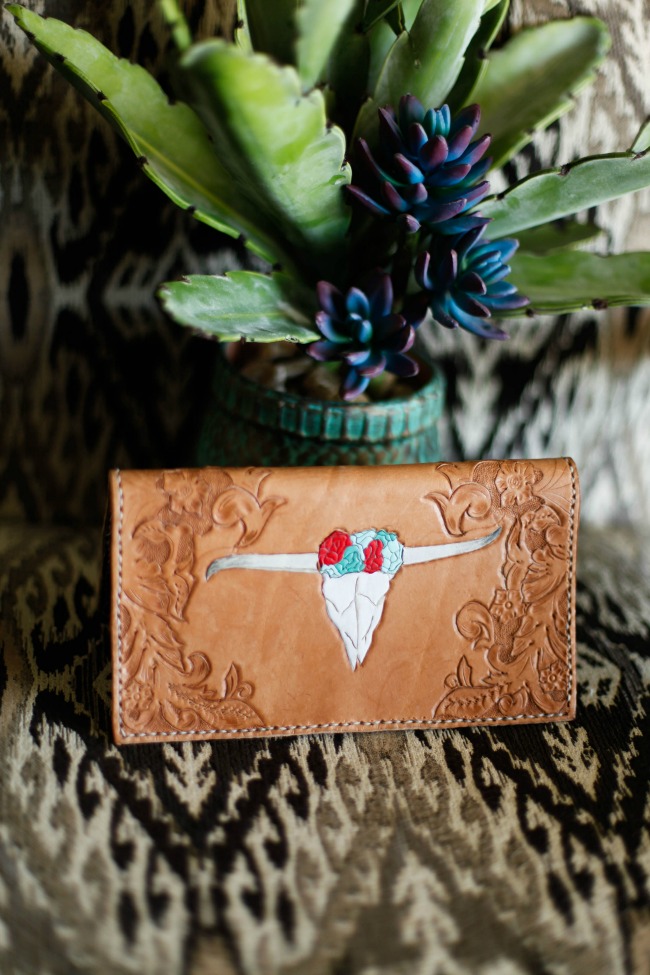 Q. What is your favorite piece created so far and why?
Allie – It's a tie between two cuffs. The buffalo cuff I built for myself, and the newest arrowhead cuff I just designed for a friend. I love the floral wallet and gamblin' purse I built, too, but I love doing southwestern patterns more than floral patterns most days. It just comes easier to me, plus, it's different! However, I got a good feelin' about this cactus clutch I'm working on y'all!
Q. And just for fun, what is your favorite brand of cowboy boots?
Allie – If we are talking store bought boots, Old Gringo, baby! If we are talking handmade/custom boots, Rocketbuster boots are so amazing you will want to hang them on the wall as art. Well, almost. Wearing them is clearly the top priority!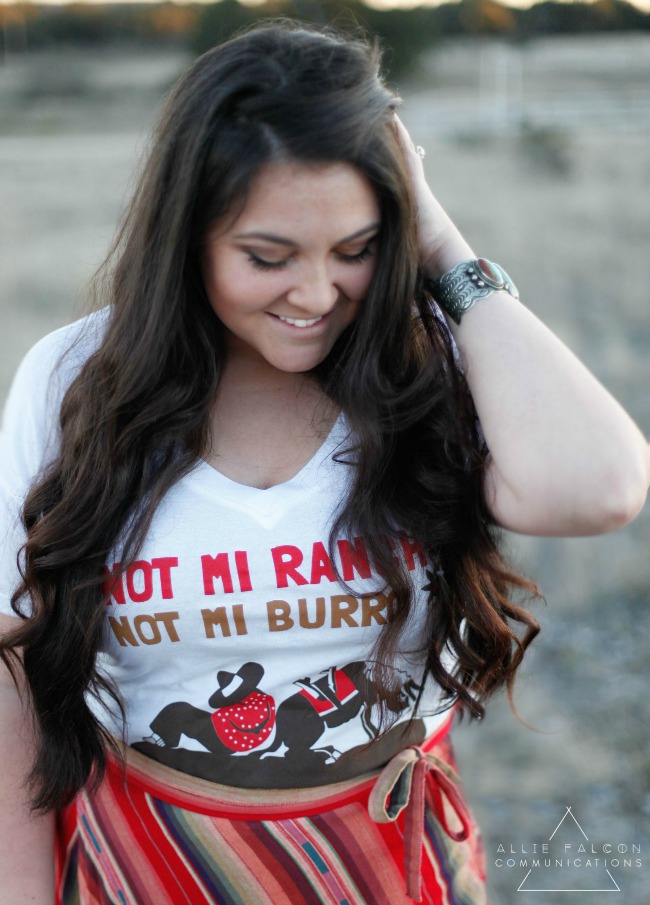 Isn't Allie pretty awesome? To see more of her work be sure to stop by her website or catch her on social media.
Photos c/o Allie Falcon Communications