Semi-precious handmade jewelry made locally in Dallas, Texas.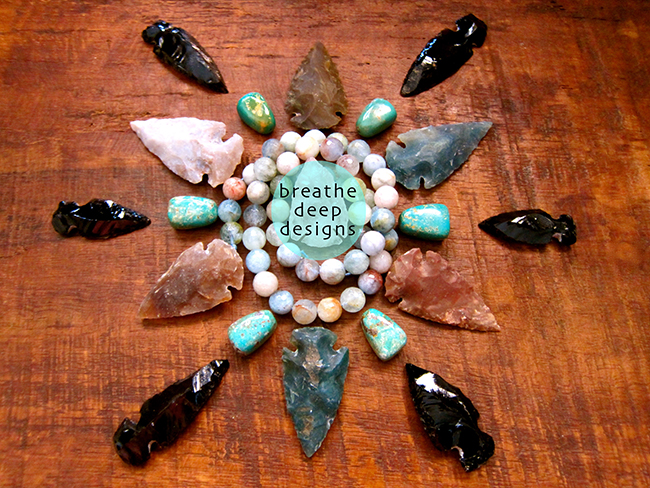 Looking for some new jewelry this fall? Breathe Deep Designs should be on your radar, it's locally made in Texas with plenty of love by founder Deepa Lal. Get to know Deepa, the woman behind the brand and more about her beautiful collections.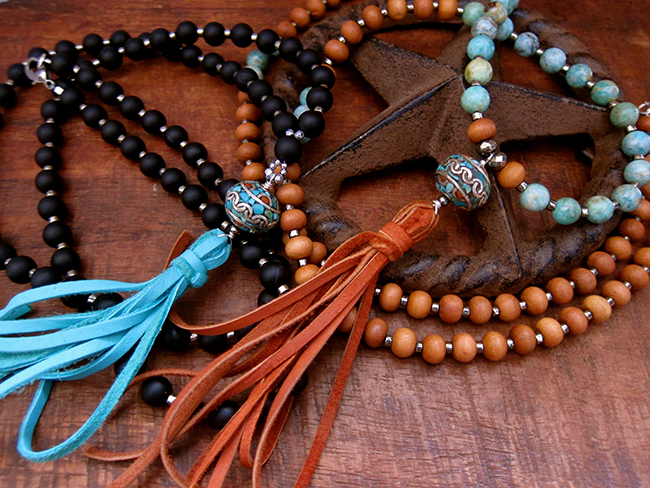 Q. Tell us how it all started, your career background was in IT, what made you decide to take on a new and creative path?
Deepa – I was always an artist at heart. I drew, painted, and worked with mixed media even in high school. My love for jewelry ran even deeper. I remember watching my mom get dressed up for dinner parties and she would let me pick through her beautiful jewelry to decide what she would wear. She would tell me stories of who gave her the jewelry (mostly my dad) for what occasion, tell me tales of India, my grandmother and me when I was little during the time I lived there. I loved detailed work on bangles, rings, earrings and necklaces. I knew all the gemstones even as a really young child.
After college where I minored in art and even took a side gig as a graphic designer designing T-Shirts, I went to business school and got my BBA and a double degree. I moved to Dallas and found myself in the growing world of Technology, Consulting and Project Management. You could say the dork in me loved the order and process of working efficiently and thoughtfully. I thrived in that environment for nearly 20 years working with changing Technology and bright engineers, but my heart craved art. Having an amazing consulting career afforded me the luxury of travel all over the world; something that my family valued and did often. I found artistic inspiration in far away places where languages, food, textiles, art and architecture impacted how I see the world. When I was laid off, I had to rethink what to do with my in-between work time, so I immediately joined an artists' guild. I started my training learning fabrication, soldering, hand knotting and many other skills. I LOVED it. I kept up some of it, while I could for a few years selling designs only in small home shows as I got back to Tech work. But as my career grew, so did the time I spent working in IT. A few years ago I pitched and started selling into my first high end boutique and then immediately afterwards a huge Asian Art Museum, then another nationally known art museum. So I knew it was time to transition from my day job in Technology to my love job –designing, and re-launched Breathe Deep Designs.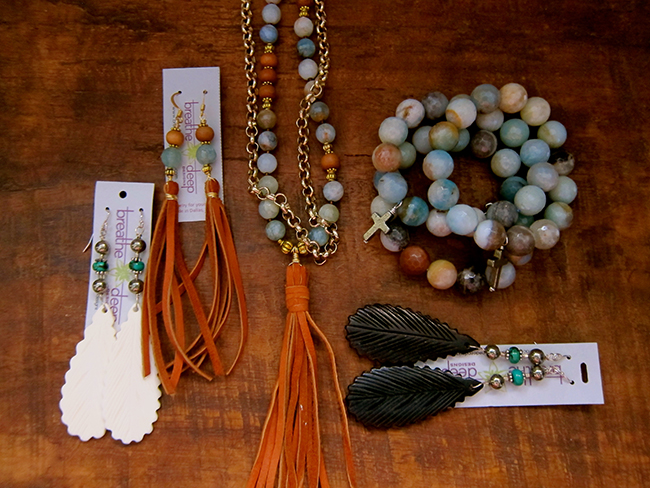 Q. Try to describe a typical day of work (if such thing exists) or your routine at Breathe Deep Designs.
Deepa – I have to say, my training in setting up project management offices and building efficiency in running large-scale projects helps. Here's how I break down a week: I spend Mondays and Tuesday only on Technology- reading business blogs, working on my website (that I built) learning about tech trends to market my products, prepping social media for the week etc.
I also meet with clients who I consult with because I just cannot seem to stop helping people and want more inspired businesses out there!
The rest of the week, I do customer drop offs, meet with clients, partners, and manage inventory at the stores I work with and photography. And yes, I design and make my jewelry too. I have a few rules now that keep me focused:
– I never design at night. Morning light is the best to work though inspirations!
– I only do my photography during the day. My perspective is better and I capture the right shot much faster.
– Evenings are best for photo editing and updating and posting to my websites.
– And this one is very important: I get in as much yoga as I can- It helps keep me grounded & inspired. It keeps me physically well and challenges me to keep stepping outside my box, as an entrepreneur and business owner, I need to keep doing that!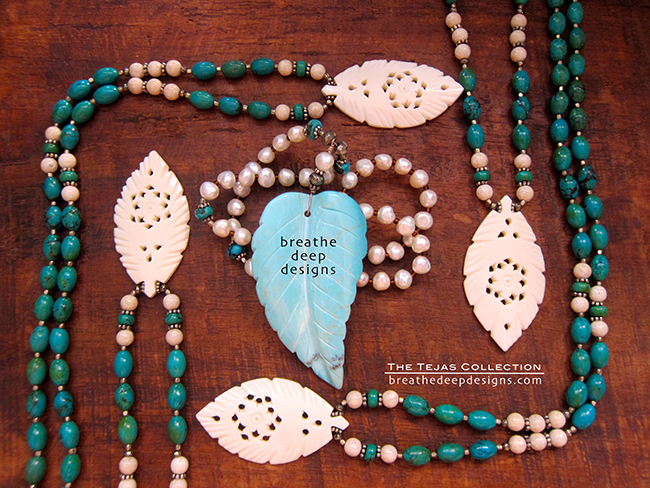 Q. Where do you find inspiration for your designs?
Deepa – I guess its two part for me- traveling the globe and home. I have always been the girl who picks up trinkets from street markets. I finally figured out what to do with all of them when I started designing. One of my favorite designs was when I traveled to Egypt and in a small market I found part of an antique dancers belt. Another traveler was buying most of it to place in a frame as a memento. It was hundreds of years old and I took apart pieces to make them into several pairs of earrings. That pair got me audience with a huge museum…I love taking something old, knowing the history and creating another vision for it. It breathes new life! The other part of travel is appreciating coming home. We were always an outdoors family so I love hiking, nature, gardening and quiet open spaces. Growing up in Texas does that to a girl. I can even find inspiration driving on our long highways, which are proudly strewn with beautiful flowers, as I drive home to see my family.
Q. What is your favorite thing about designing jewelry?
Deepa – I love the story of jewelry. It's a love story. Indian women buy gemstone jewelry for major turning points in their lives. Often they are given jewelry from fathers, husbands, grandparents to celebrate important moments or decisions such as going to school, getting married, having children, anniversaries or because they chose a path that they are excited about pursuing.
Today, when I meet a customer who is excited about my work, I love hearing why a design appeals to them. Often, I get a delicious personal story of why they are drawn to one design over another. Jewelry holds your story, especially the ones you pass down. I'm hoping I'm making pieces that people collect to pass to their daughters with an intimate story of love and intention!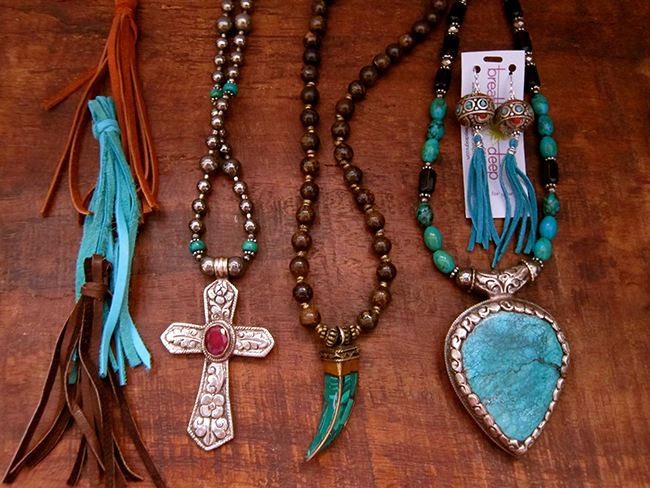 Q. Running a business can be one of the most challenging and rewarding jobs, if you could go back five years and give yourself one piece of advice, what would it be?
Deepa – Take more chances. I was playing it safe more than I should have! You can't grow unless you're constantly doing things that scare you, challenge you and even feel like they fail you. Failing at something is a learning experience! I was the first local artist to get into a museum who had only partnered with artists from out of state. I pitched a huge western store with a whole new line and even went after a gorgeous resort in CA who had never carried jewelry. These were all improbable efforts, or as I saw it, opportunities. It pays to shoot for the improbable. I love hearing "we've never…" because in my mind, I insert 'yet.'
Q. You currently have four collections in the Breathe Deep Designs family, are you working on any new collections? Do you have a favorite collection and why?
Deepa – I do have a new one available this fall. The four I have right now are all semiprecious:
The Breathe Deep Collection – the original collection the museums love that has a world travelers' wandering soul spirit to it.
The Exhale Collection – a simple yoga inspired collection of malas, prayer necklaces, and other icons of lotuses, Om's etc.
The Tejas Collection – western inspired designs. The pieces in this collection have semi precious and precious gemstones like Indian Rubies, Emeralds and Sapphires. They are designed and inspired by my growing up and living in Texas. Tejas means Texas and it also means 'radiant energy' in Sanskrit. So it is Texan and Indian – like me.
The Bhakti Collection – (the devotion collection) of high end gemstones that contain icons of faith and devotion such as Hand of God, Prayers, Mantras, Tree of Life, Ganeshas, Buddhas and Coptic crosses.
I have been working on a new precious collection of pave diamonds. They are simple, elegant and dark. I will be starting with a dark arrow ring reminding one to be true to their path. The new Devi Collection is named after my grandmother. Devi means 'Goddess' in Sanskrit, which is perfect since each collection has a meaning that combines my mix of cultures. I have to say I'm really proud of this collection and cannot wait to present it. As for a favorite, I still love all them all and adore putting my unique signature on each of them.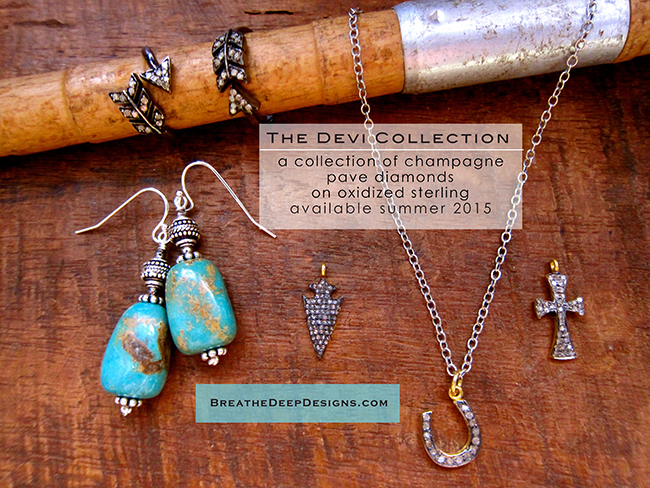 Q. And just for fun, what is your favorite brand of cowboy boots?
Deepa – Working with a high-end partner like Pinto Ranch has given me opportunities to oogle over so many lovely brands but I have yet to pick a favorite. I'm still holding out. I love the laid-back look and colors of Old Gringo so far. But every time I go in to do a trunk show at Pinto Ranch, I have a new favorite!
Visit Breathe Deep Designs online to purchase or inquire about any of the pieces you see here, you can also find Deepa's pieces at Pinto Ranch.
Photos provided c/o Breathe Deep Designs