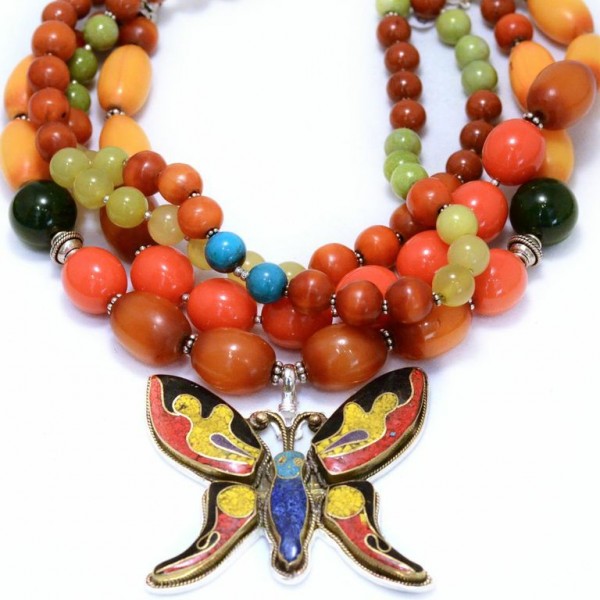 There is no such thing as too much jewelry & the spotlight is on Coreen Cordova Jewelry, I am absolutely delighted to share Coreen's jewelry & some of her inspirations. Please enjoy the photos of Coreen's work & take a peak at our Q&A with Coreen.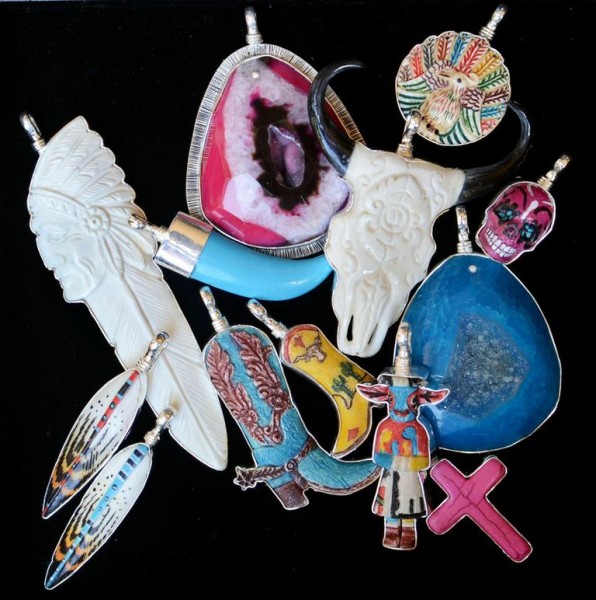 Coreen creates a variety of chains & fun charms that you may purchase individually. Her necklaces are interactive; you can make them as simple or intricate as you would like.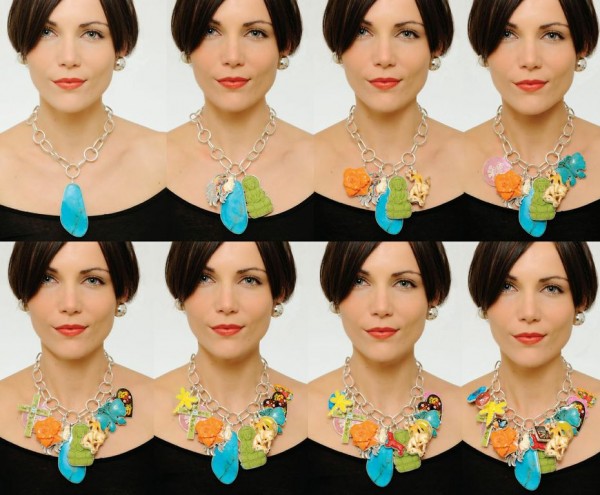 Here is a wonderful example of the layering, your necklace simply represents your style.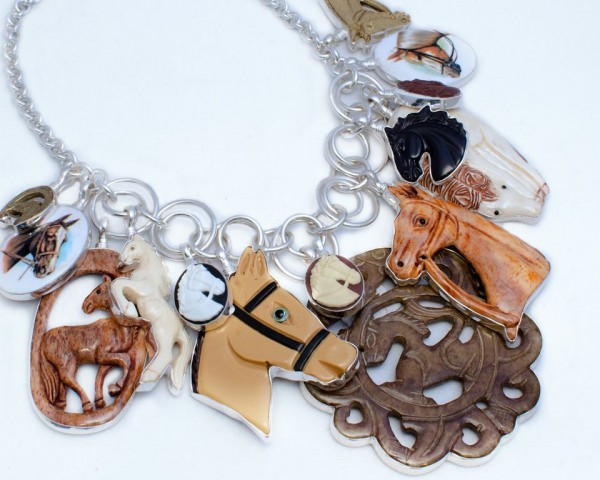 This necklace layered with horse charms is stunning.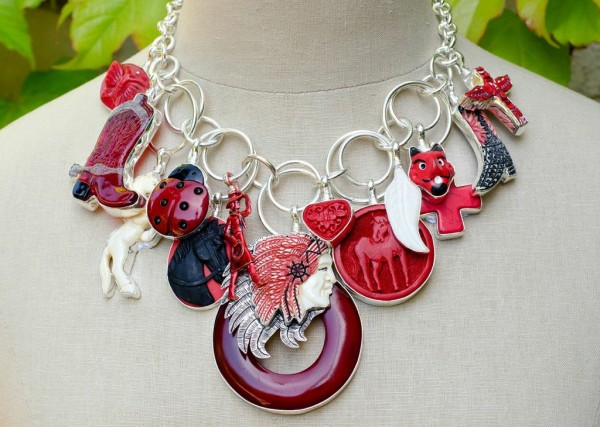 Here is a red color scheme.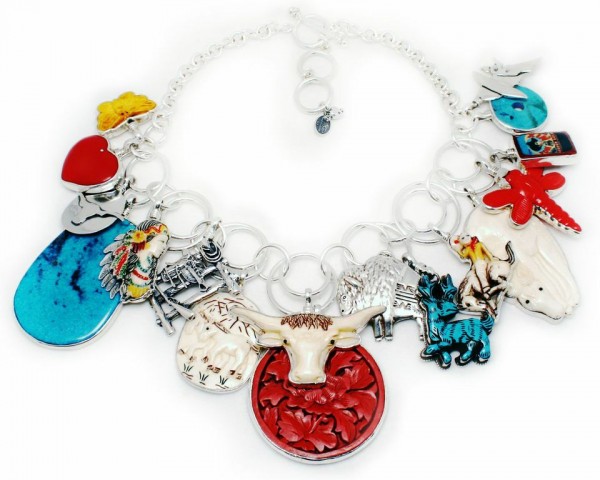 A western necklace linked up with shades of red, yellow & turquoise.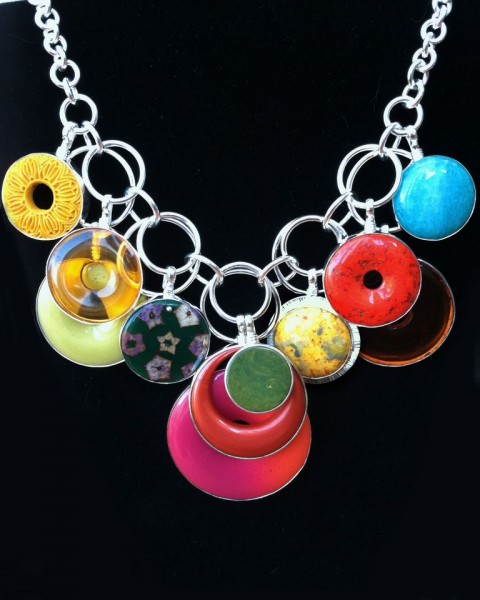 A colorful assortment of circular pieces.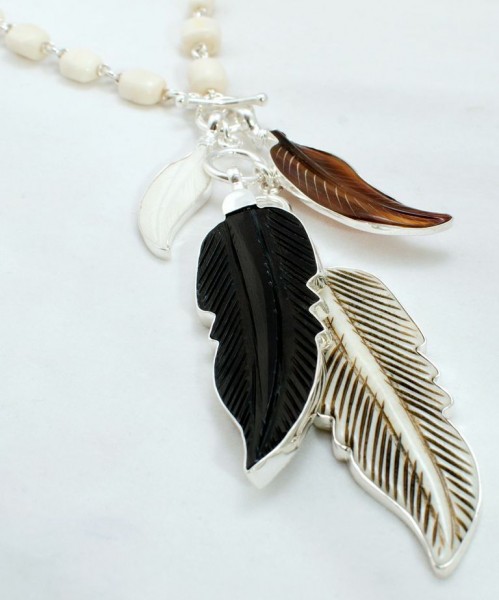 Feathers.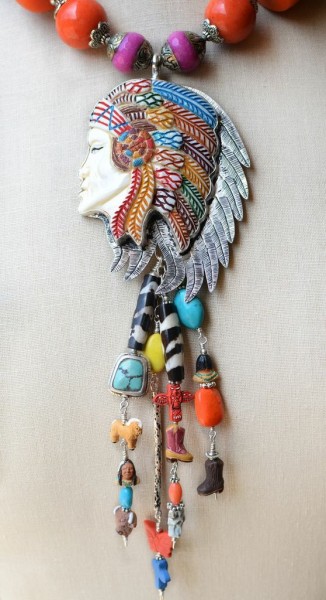 Native American charms.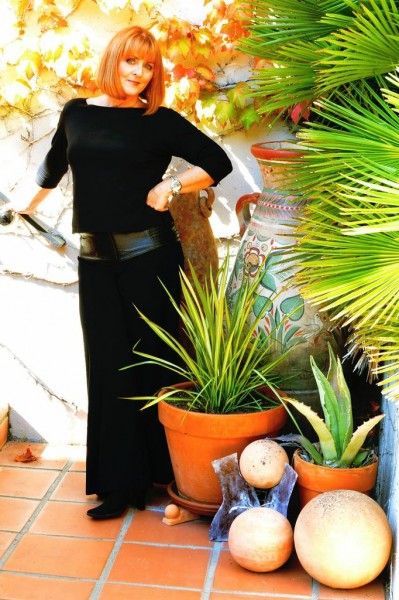 Q. What was your biggest inspiration to start your business? 
A. To do something artistic and enduring. I wanted to create meaningfulness and memory. I wanted to create "connection" between the wearer and what they believe is important.
Q. When it comes to designing, where do you draw inspiration from & who do you look up to? 
A. I draw inspiration from the world in general – fashion, color trends (in clothes as well as interior design), movies, music, social trends, religion, history.
I look up to several designers who are actually no longer producing; Rebecca Collins was my first "I want that feeling" jewelry designer and David Navarro, whose designs in the '80's and 90's were so unique and bohemian, I had to own tons of it!
The Native American jewelry designers, the Zuni and Santa Domingo are also inspiration for their inlay work and scale.
Q. Tell us a bit more about "2013 Year of the Horse" 
A. Well … I like to make things "happen" so instead of waiting for the actual year of the horse (Chinese astrology) I just made it now! My niche business is rooted in the Western industry. I, personally, am drawn to more "universal" aesthetic, more multi-cultural. I do like mixing my belief systems with symbols of good fortune – and what the heck, throw a bucking bronco in there for good measure!
Q. What are your favorite colors or patterns that you like to work with the most? 
A. By far, my favorite "shape" is round. Its meaning of earth, feminine, continuance, never-ending, life, friendship, love – well, just about everything that gives us life – is important to me. I'm crazy for the chevron shape right now as well.
My favorite colors are saturated color – orange, pink, turquoise, chartreuse, yellow. I love the colors of monk's robes – that warm paprika and burgundy – especially in the Fall.
Q. Most people who design have a specific customer or client in mind that they are designing for in their mind. Who is a celebrity crush that you would be thrilled to see wearing your designs? 
A. I design for women who like to "show up" in their lives – not afraid to show who they are and what they believe in.
My personal style icon is the 92 year old, Iris Apfel. She is amazing in scope and depth.
Q. Who is your favorite designer (high fashion, western or equestrian related)? 
A. Donna Karen for her modern woman aesthetic. Missoni for color and pattern design. Love love love Gaultier for his spirit and creativity.
Q. Do you have a piece that you have designed that you favor over all the others & why? 
A. For me, I love my Chinese lacquer. I use these pieces over and over again in my designs and even use them mixed with Western. I love the symbolism, colors and textures.
Q. What has been the most successful way to sell your products? Word of mouth, repeat customers, online discovery, ect? 
A. Probably the stores I am in (most successful way to sell). And we call my jewelry "crack on a chain" so I guess my repeat customer is my most important.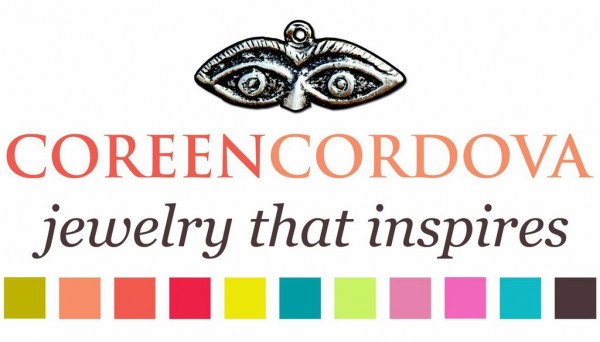 Thank you Coreen for taking the time to do this Q&A with us & thank you Tesia for gathering photos for me!