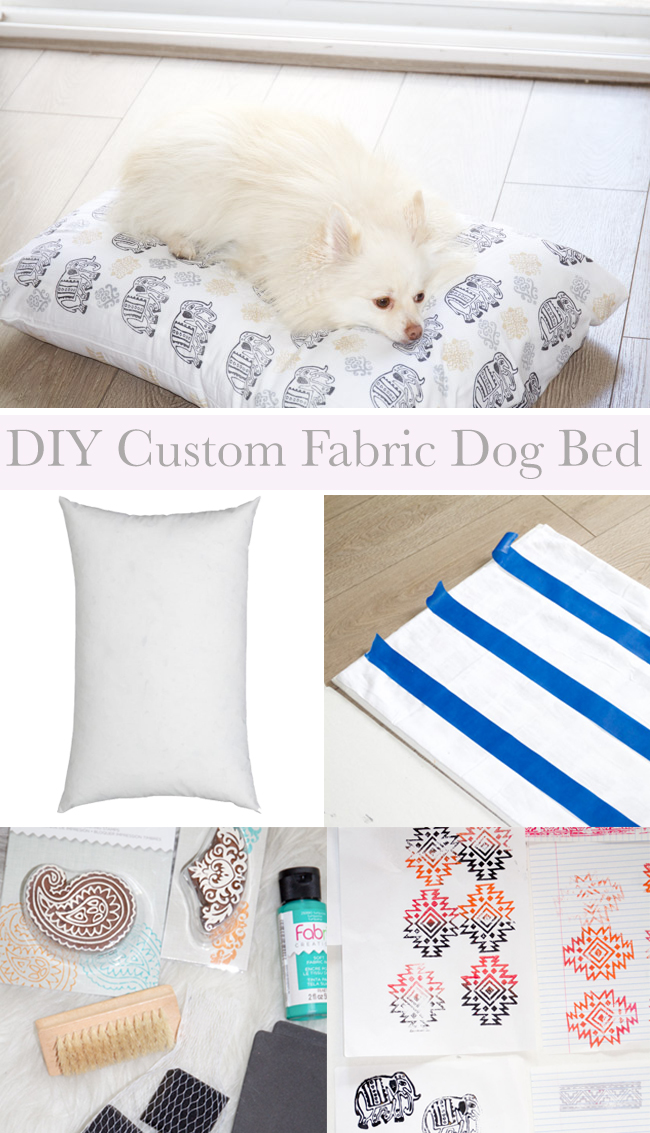 This awesome DIY project is brought to you by Fabric Creations™ and Blueprint Social, all opinions are my own.
Remember, awesome sponsors like Fabric Creations™ keep this site running! I was so excited to have a chance to work with Fabric Creations™ Soft Fabric Ink because I had been planning on making Mango a new dog bed with some custom fabric for a while. This inspired me to make my own fabric since I had been having a hard time finding something I really liked.
My DIY dog bed was made with a pillow and pillowcase (and of course Soft Fabric Ink and Block Printing Stamps). I loved how the double-sided bed turned out, although I am still toying around with the idea of updating the corners with tassels or rope. I tried a few things and I didn't like how they looked so I decided to leave the bed alone for now… Sometimes you need to take a break from a project and get fresh perspective.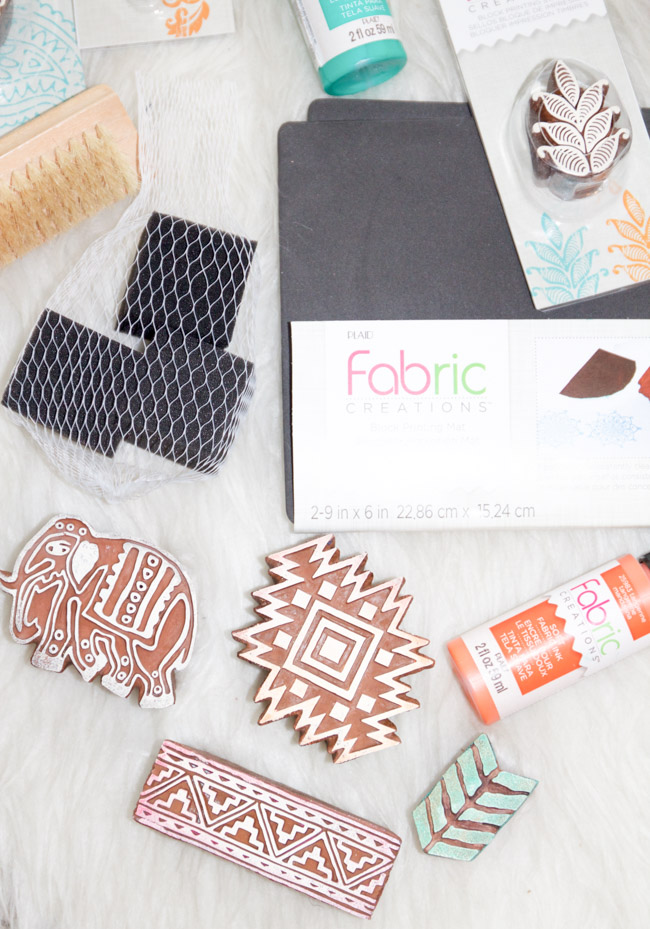 Fabric Creations Block Printing Stamps and Fabric Ink are both available at your local Hobby Lobby and www.plaidonline.com. You can also pick up tools to work with the Block Printing Stamps and Fabric Ink; sponge cubes for applying the ink, foam printing mats for the stamping process and a cleaning brush to remove the ink from the blocks when you are finished.
Supplies for your DIY Custom Fabric Dog Bed: 
A pillow (old or new).
A pillow case (any color). You could just stamp an old pillow but for cleaning purposes a pillowcase is the best way to go.
Block Printing Stamps – Buy Here > 
Fabric Ink – Buy Here > 
Tools – Foam Printing Mats, Sponge Cubes and Cleaning Brushes – Buy Here >
* Painters tape or a ruler are optional but suggested.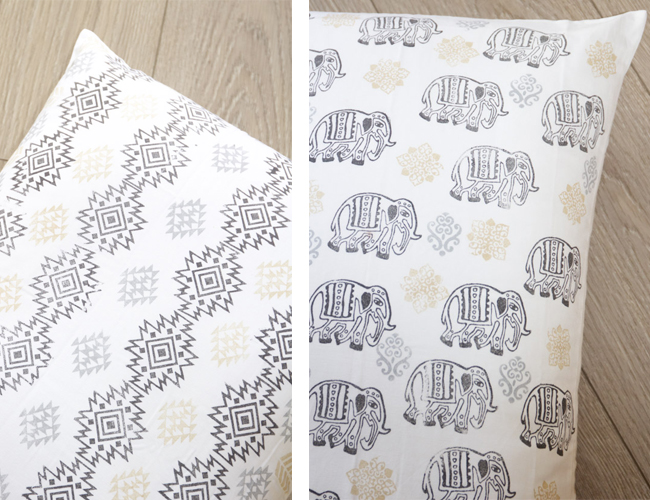 Seeing double! It's either elephant or Southwest print depending on Mango's mood.
1. Gather your supplies and start dreaming up your design, I recommend practicing on scrap paper or fabric before you begin stamping. This allows you to get a feel for the stamp and try your ideas ahead of time. Apply the fabric ink to a block printing stamp using a sponge, make sure the ink is spread out even.
2. Insert a foam printing mat into the empty pillow case and smooth out the fabric. Press down with a single swift motion for a second and lift straight up. Apply fabric ink for each stamp to ensure even coloring and stamp marks throughout. I created my elephant print freehand and did not use any rulers or tape for the design, but I did use tape on my southwest print.
3. Repeat this process until your pillowcase is stamped, be sure to move the foam mat as needed. Allow your fabric to dry overnight (it will be dry to the touch within an hour). Heat set the fabric ink with a hot dry iron and a pressing cloth. Lay the pressing cloth over the stamped fabric and iron the design for about 30 seconds. Be sure not to use any steam.
4. Do the opposite side of your pillowcase now, feel free to use the same design or do something different like I did! I kept the color scheme of black, silver and gold the same but now opted for a Southwest print. Allow to dry and iron the next day.
5. Put your pillowcase over your pillow and allow your dog to enjoy his or her new bed!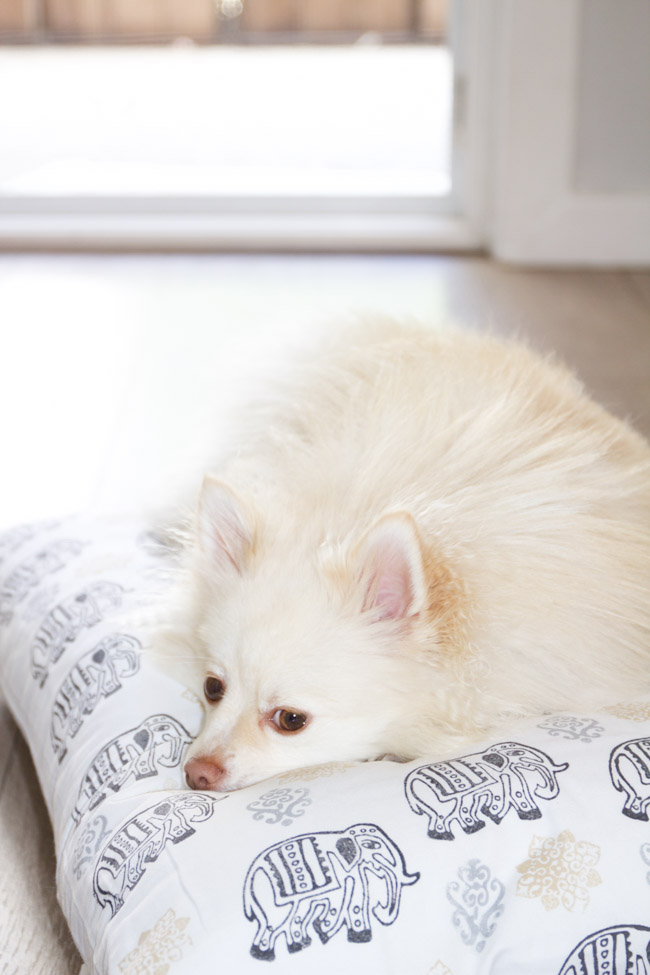 Fabric Creations Soft Fabric Ink is super soft fabric ink that is the perfect formulation for stamping, stenciling and brushing on fabric. It is machine washable, water based, and non-toxic.
Use printing blocks for creating unique fashions, quilts, textiles, stitching embroidery, scrapbooking, printing, and more! I cannot wait to try to create a few more projects with Fabric Creations™and make more custom fabric.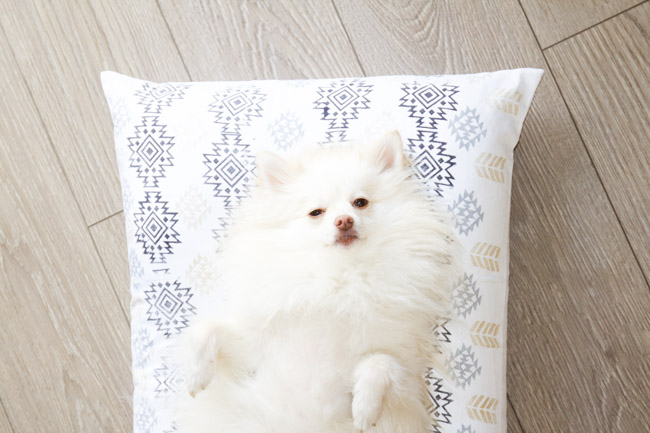 It's Mango approved!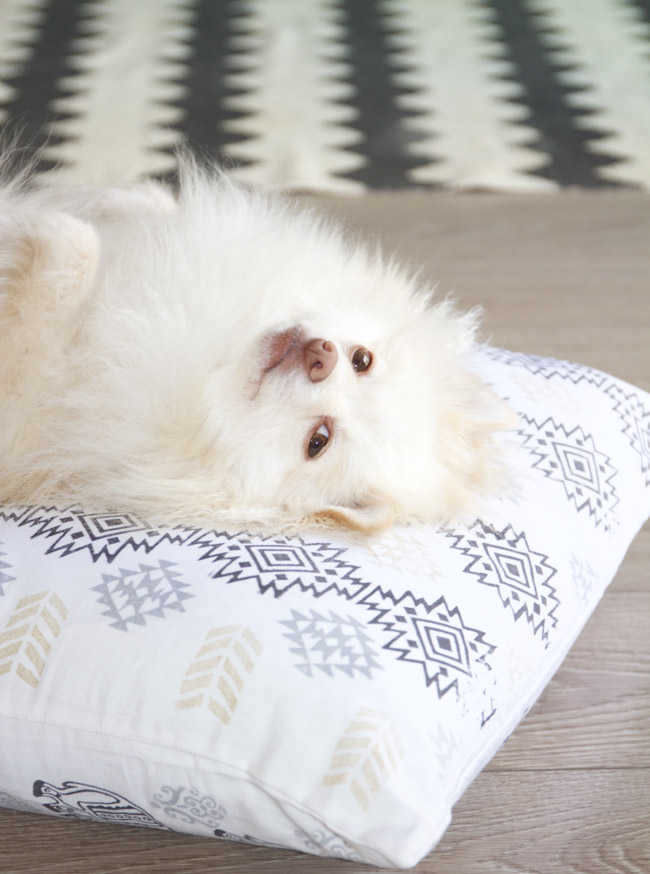 Ps. win some of your own stuff from Fabric Creations! Enter this awesome giveaway!
Want to learn about new products or get fresh DIY inspiration? Follow Plaid on Pinterest, Facebook and Instagram.