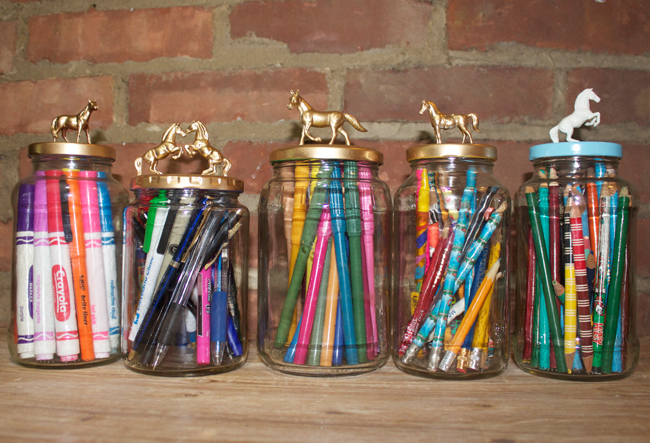 Organization brings me peace. I made these cute horse themed decorative jars to organize markers, pens & pencils. Before I made these, everything was thrown in a shoe box in one of my file cabinets – talk about not pretty. But the end result is so chic & this is probably the easiest DIY EVER!
Supplies Needed
Assorted jars with matching lids – You can buy jars from the store or save jars from food, wash & clean them & do a little repurposing! I used pickle jars (they have a wide advantage) & spaghetti sauce jars.
Spray paint in a color or colors of your choice, I used Krylon spray paint in brilliant gold.
Plastic toy horses (or other objects). I was originally going to get cute decorative knobs from Anthropologie.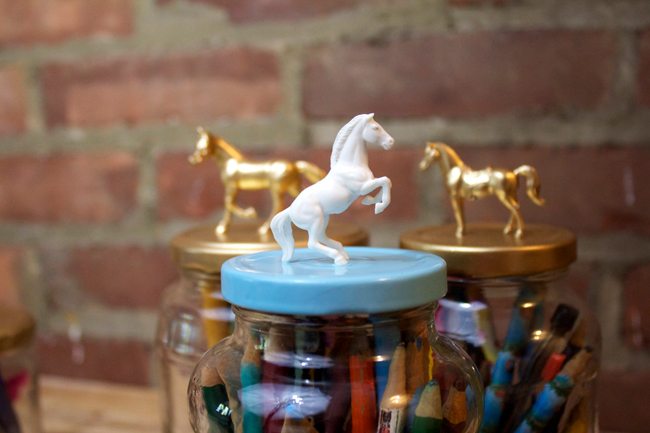 First you will need to decide what color you want your horses & lids to be. While I love the look of gold, adding an unexpected color like white or blue turned out very nice. It could be fun to have an assortment of different colors.
If your horses & lids are going to be the same color, simply add a tiny bit of super glue to the bottom of your horses' feet & stick them to the lid. Let them sit for an hour & then come back & spray paint them as one piece.
If you want your horse & lids to be different colors, spray paint each item separately & once both pieces are completely dry, use a tiny bit of super glue to attach the horse to the lid. *When I say a little super glue, I mean a little – it's powerful & you don't want excess glue to be on the lid because it doesn't look neat.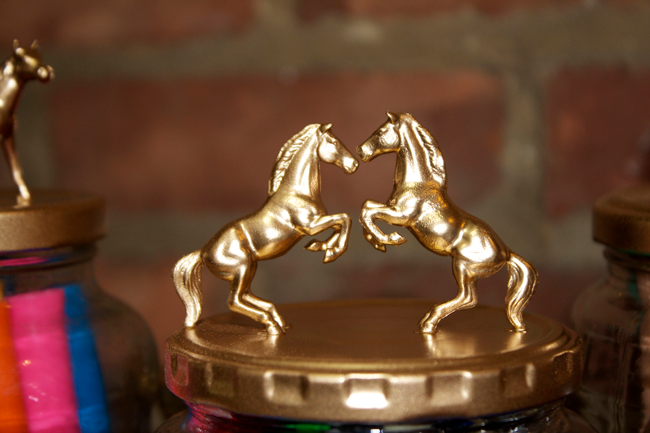 In case you are wondering where my toy horses came from, did anyone else play with farm set as a child? I LOVED my farm set! I had a variety of different horses to choose from like these rearing horses & they were the perfect size. Or try the toy section at the Dollar Store if you don't have any old toys that you can get into.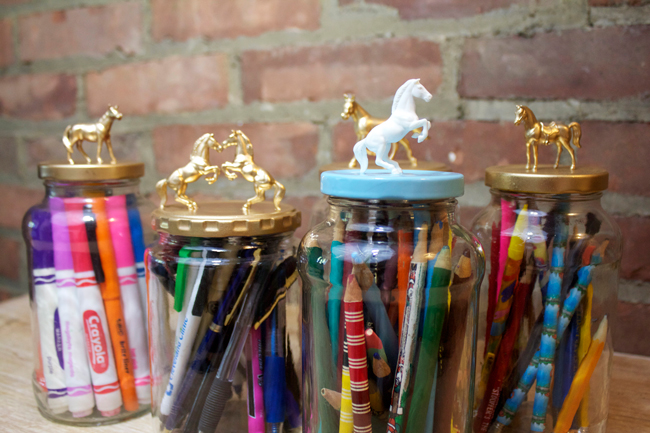 And there you have it, easy, chic & fun jars for your home or office. Storage possibilities are endless & I have a feeling I'm going to be making more jars soon!