Learn how to make this cool paper mâché horse head succulent holder.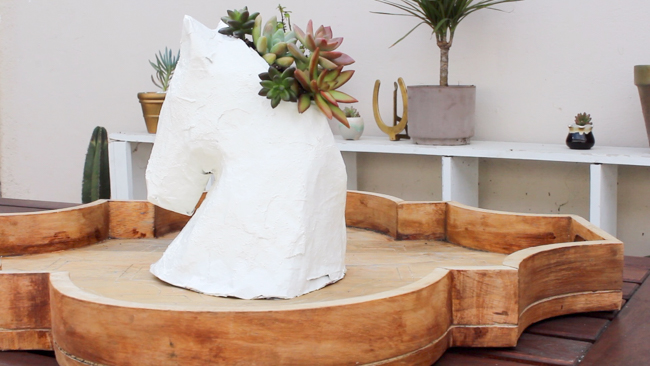 Many months ago my friend Susan and I went to this amazing store called Rogers Gardens in Orange County. I was having serious plant envy during my visit and felt a wave of inspiration coming on. The succulent arrangements were amazing (and extremely expensive) so I planned this equestrian themed planter DIY in my mind. I wanted to create a white horse head filled with vibrant green succulents.
I started to brainstorm a few ways to make this happen. Read on for all the details and watch my DIY Horse Head Succulent video on my YouTube channel.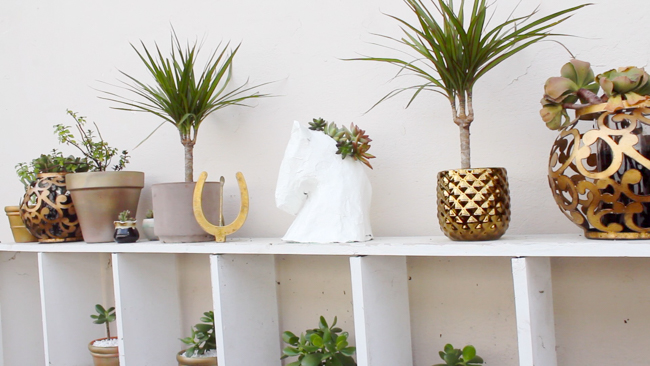 I decided to make a paper mâché sculpture. I knew making a horse head free style might be tricky. I thought about what I had around the house to make things easier. Immediately a pair of bookends came to mind. I used a pair of ceramic turquoise horse head bookends as my "mold".
I wrapped the horse head in tin foil immediately realizing that it wasn't going to pull off of the bookend with ease if I did the entire thing. So I had to do half a horse head at a time. Luckily I had a pair of bookends.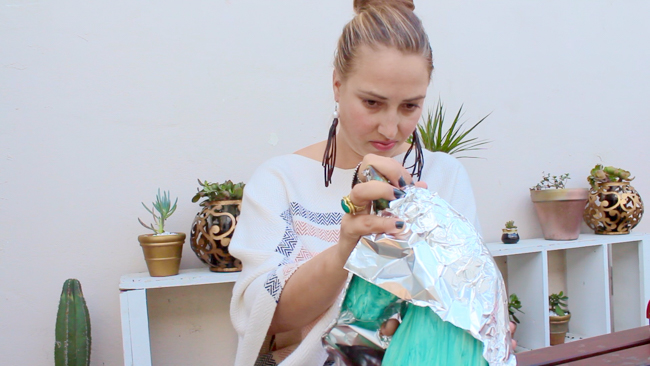 Next I made my paper mâché paste and was ready to go.
I began to tear my newspaper into strips and started the paper mâché process to cover the tin foil horse head. I started with the horse head on its side and moved and worked my way up. I also made a bottom base out of aluminum foil and covered this with the paper mâché technique as well. Once I was done, I allowed the paper mâché to dry overnight and completely harden.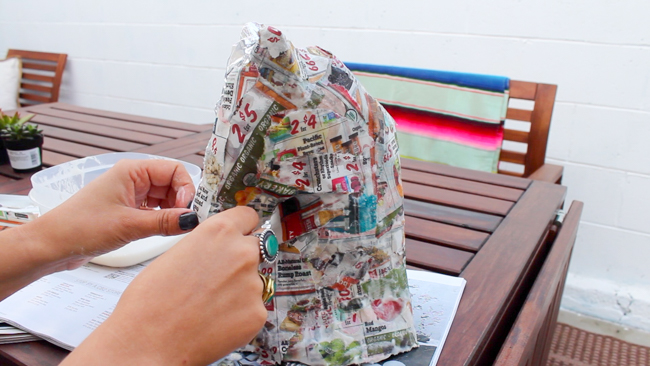 The Next Day
I removed the molds from each bookend. I trimmed away any extra newspaper and foil, cut away a hole for the succulents and lined up each side and the base. I used a combination of glue and tape to hold everything together. The glue would have been sufficient but I needed some sort of clamp so I used clear packing tape to hold everything together. I allowed that to dry completely and ended up doing a few more touch ups, allowing my mold to sit another day.
Then it was time to paint. I took my sculpture outside and used white spray paint. After I was finished, I realized that some of my imperfections were coming through despite painting.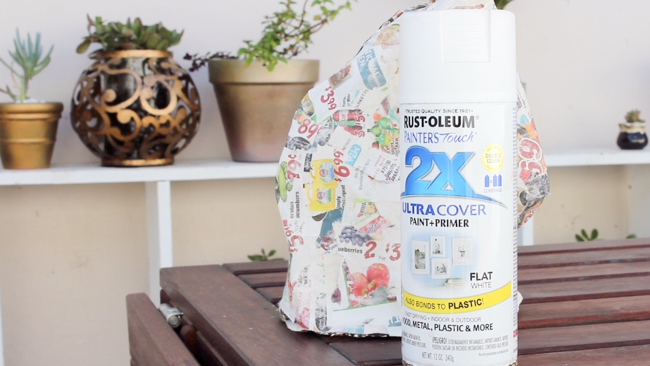 I began to feel a little frustrated with this DIY but I filled it with dirt and planted succulents. I should've been done to admire my creation but I felt frustrated. Sometimes projects don't turn out how we hope. I was starting to feel like hurling the horse head across the patio. My husband popped outside at this moment and told me how awesome it turned out. When I explained my disappointment, he suggested trying to play with the imperfections and add more texture.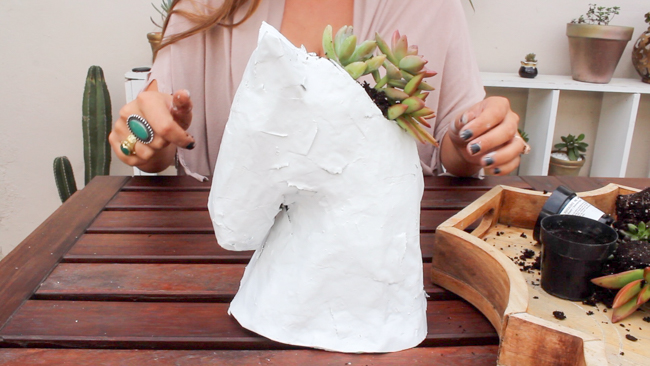 So I applied interior paint heavily with a paint brush, dabbing along the way. It created a cool texture. You could also try using a textured spray paint and skip this step entirely. It's up to you!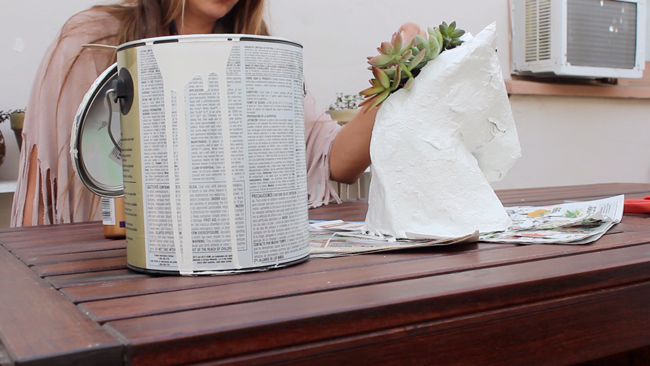 In the end, I love this horse head! Now that I went through the entire process, I think I would make another. This would make an amazing gift or housewarming project. Below is the supply list and my YouTube video. If you have any questions please ask!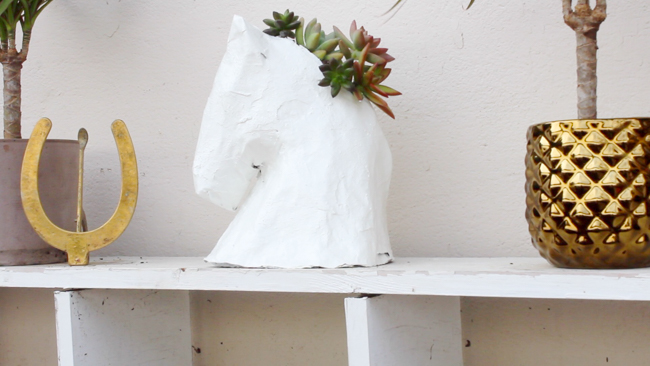 Supplies: 
Horse head or other mold of choice
Tin foil
Newspaper
Paper mâché paste – My formula was this – one cup of Faultless Premium Starch, 1/2 cup flour plus about 1/4 cup water. You may use any brand of starch but this is exactly what I did.
Scissors
Glue (I like Aleene's Tacky Glue)
Paint – I used a base of white spray paint followed by white interior paint to texturize the sculpture)
Paint brush
Potting soil and succulents of choice
I hope you enjoy this DIY! Be sure to follow @horsesandheels_ on Instagram!