This post brought to you by Faultless/Bon Ami Company. The content and opinions expressed below are that of Horses & Heels.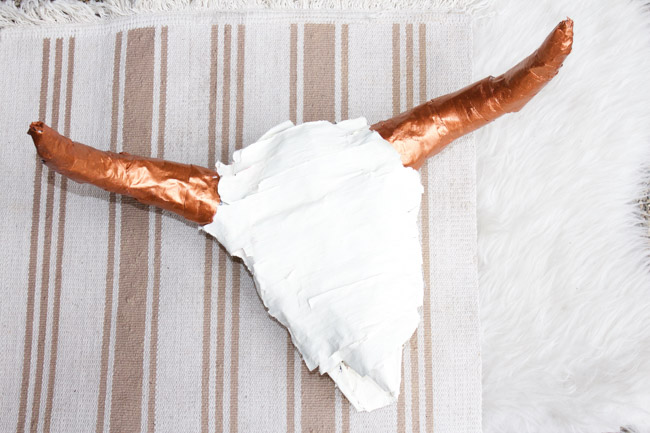 If you follow me on Pinterest it's no secret that I am obsessed with cow skulls. The real ones can be expensive and even the faux skulls can be pricey. One of my favorite pieces of home decor is a ceramic white and gold cow skull that hangs over the bar cart at home. I have been longing for a second one but since my original skull was a TJ Maxx score I hadn't quite found one to match the same ascetic.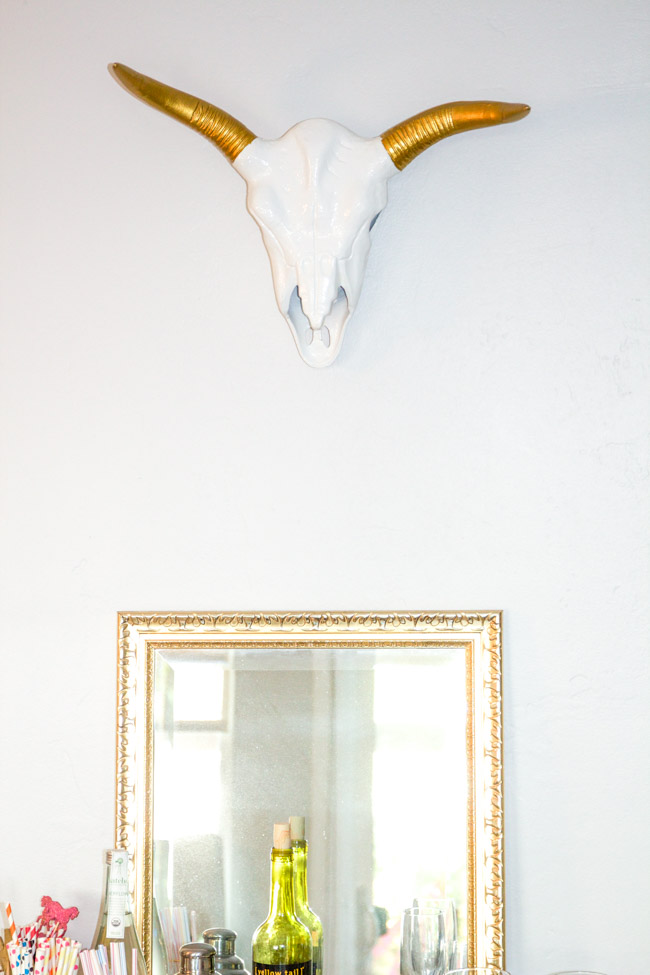 What do you do when you cannot buy something? You make it. I created a practically identical skull using a paper mache technique. Of course, with all DIY projects there are a few imperfections but that's okay.

There are so many different ways to make paper mache paste – glue, salt, water, flour… Sounds tricky, right? I actually created my paste using Faultless Starch Premium. You see Faultless starch is actually for clothing; it helps keep your clothes looking brand new and gives you the confidence to do your best work but I decided I needed to give my starch some other tasks. Faultless Starch's new Premium product can be found in the laundry aisle of most major retailers or you can find a store near you with the help of Faultless's "find a store tool". Buy it for your clothes but use it for your crafts ; )
Faultless Premium comes in a bottle that won't clog up or become flaky and sticky. Want to try Faultless for yourself? Download a Faultless Premium Coupon online today.
Supplies Needed: 
Newspaper
Aluminum Foil
Paper Mache Paste (Faultless Premium Starch, flour and water)
A mold for your cow skull
Paint in your choice of colors
1. Gather up all of your supplies and then  prepare the mold. Wrap aluminum foil around the horns and sections of the cow skull. You are going to make this in sections and bond it all together at the end. The foil protects your existing cow skull and is the start of a perfect base!
2. Make the paper mache paste. My formula was this – one cup of Faultless Premium Starch, 1/2 cup flour plus about 1/4 cup water. A couple of things to note, the Faultless Premium Starch does come in a spray bottle (they do have a liquid formula) so you will have a cup of foamy starch. Mix everything up and use immediately.
3. Tear the newspaper into strips, dunk in paper mache paste and wrap around the foiled sections. Allow everything to dry for at least 12 hours before doing a second coat. I recommend doing at least two coats, you can do a third coat if you want your piece to be extra durable.
4. The foil allows you to be able to slide the pieces off your cow skull easily. Once all of your pieces have been made, assemble them together and bond with additional paper mache paste. It seems like a daunting process but it was a lot easier than I anticipated. I did put holes in the back of my skull so I could hang it or set it on the table, my eye holes were cut too. My advice for this is to cut a bigger hole than you need. You can always fill it in later.
5. Once your cow skull is put together allow it to dry completely for 12 to 24 hours and then paint it! I just wanted my horns to be painted like my original piece and opted for a fresh white background. You could get really creative and make designs or prints. My horns are a pretty shade of copper and the base is white. For maximum coverage, apply two coats of paint.
Hang on the wall or on a place on a table and admire your beautiful masterpiece for a fraction of the price.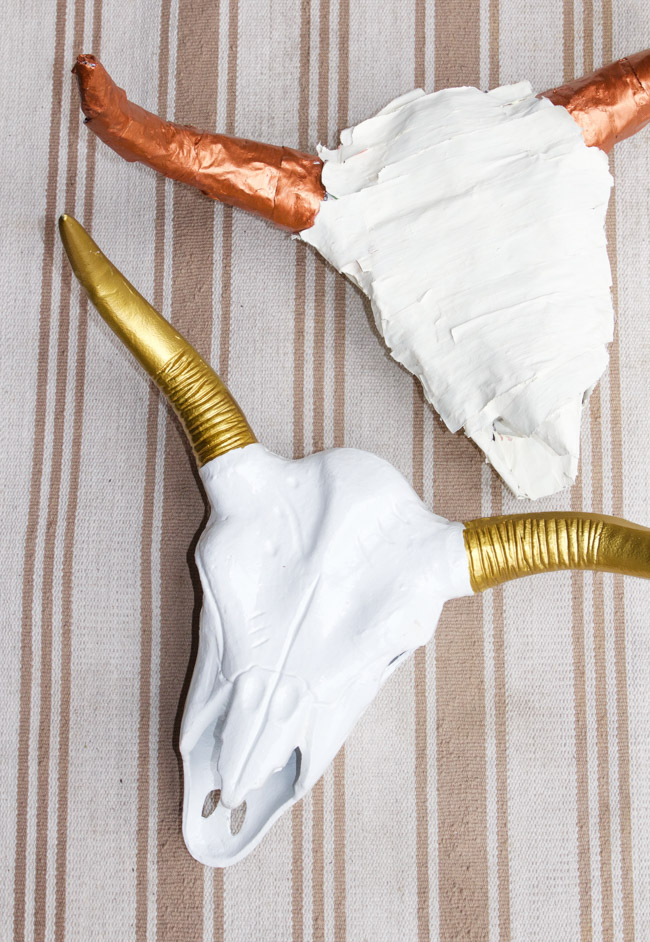 My original ceramic skull and my new one, I have a thing for mixed metals right now and might try to attempt another skull with silver horns.
Ps. Faultless has other great craft inspiration on their website!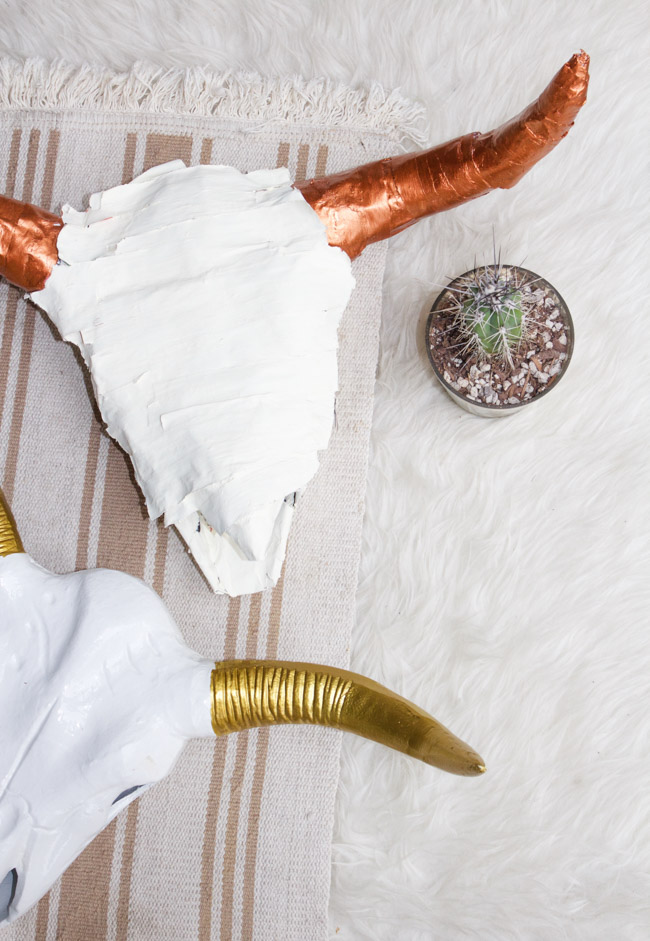 Be sure to keep up with Faultless Starch on Faultless on Facebook! How do you use Faultless starch in your life? Is it for clothing or crafts?