Learn how to make your own chic DIY unicorn jewelry holder.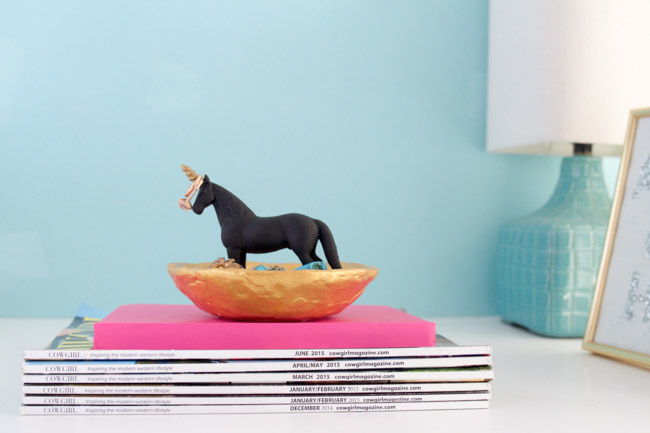 Organization is always the answer right? I made the cutest DIY unicorn jewelry holder for rings, earrings and other small pieces in hopes of dropping jewelry there instead of scattering it around everywhere else. Please tell me I am not the only one who has to go on jewelry round ups once a week to find those missing earrings? This is a quick and easy DIY with endless color combinations so you can completely personalize this project. I went with a predictable color combination of black and gold… will I ever get sick of gold? I was also inspired to create this by a couple of unicorn jewelry holders I found at Forever 21 and Urban Outfitters.
The Project Inspiration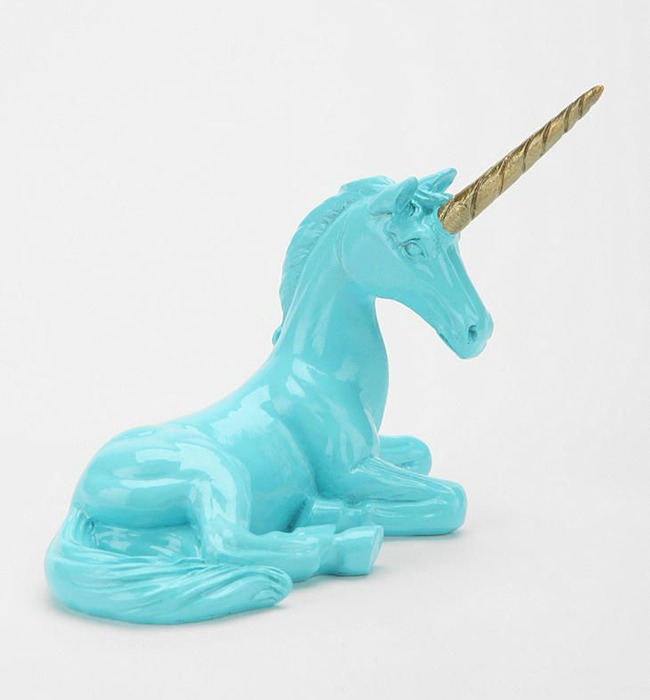 This ceramic turquoise unicorn ring hold is originally from Urban Outfitters but sadly, it's sold out : (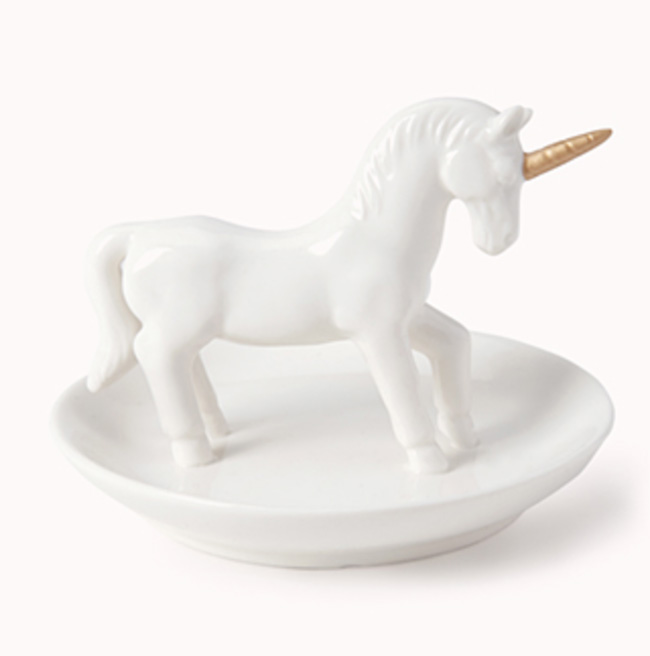 And then there is this white unicorn jewelry holder from Forever 21, also sold out!
I do know you can probably find similar unicorn jewelry dishes online but I had all of the materials on hand so I decided to give making these a try.
Supplies Needed:
A plastic toy horse or figurine about three or four inches tall
A small ceramic dish, try checking out the thrift stores or a dollar store.
Polymer clay (find it at your local craft store of buy it on Amazon).
Super glue ( I use Aleene's Super Gel and it's just $5)
Paint in the colors of your choice.
Directions:
1. Gather your supplies and start by making the unicorn horn out of clay. Roll a small piece into a tiny cone shape and then wrap a smaller piece of thin clay around the horn, making a coil. Now follow the directions according to your clay's package and bake it in the oven. An alternative to this is using an air clay which hardens from the air but I don't mind baking my clay. Paint the horn once it's cool and out of the oven.
2. Paint your horse and or dish if you want. If you notice my dish has a hammered affect, it's because I went ahead and covered my dish in clay and used my fingers to create a hammered texture. I baked it and then painted it gold. I also stamped in a few tiny horse shoe prints (this is all optional).
3. Glue the horn to the toy horse and glue the horse to the dish, be careful not to put too much on so you don't have glue marks. This is the reason I use Aleene's adhesive because it's easy to control and offers a great bond. Allow your glue to set for a 24 hours before hanging rings on the horn.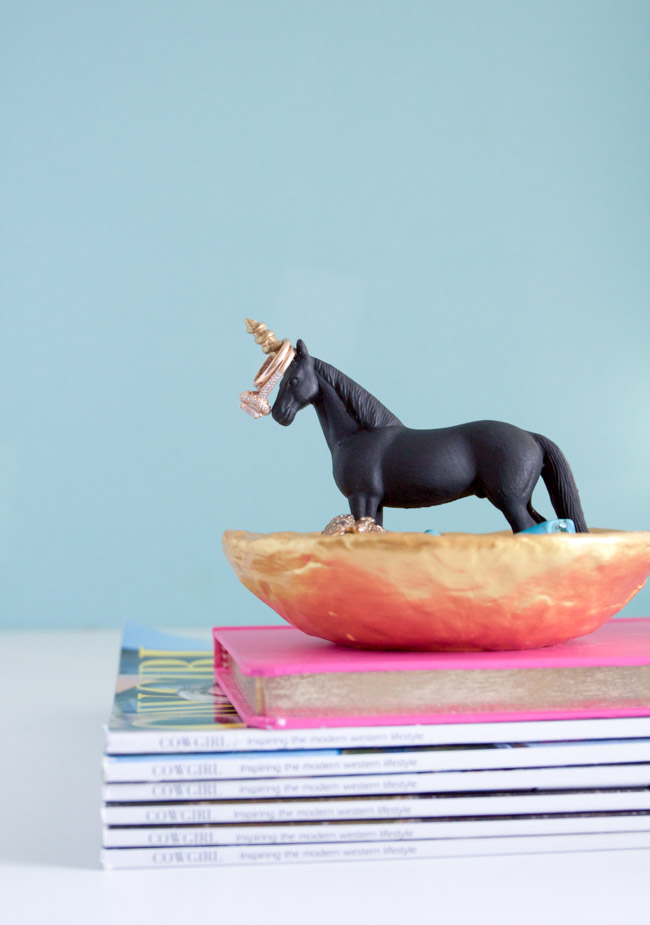 And that's it! You now have a beautiful DIY unicorn jewelry holder.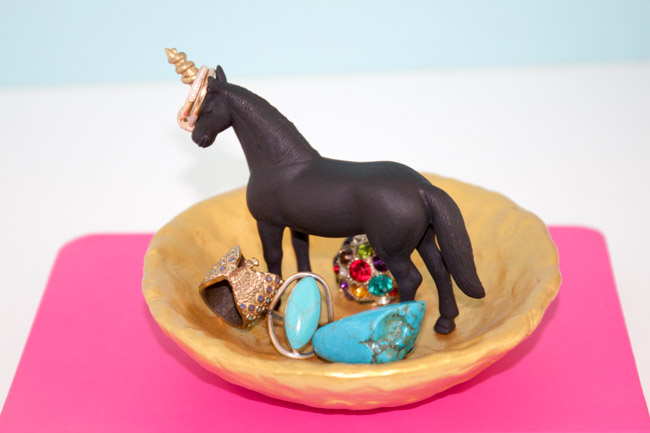 This horse used to be a toy of mine that I played with in my sand box as a child!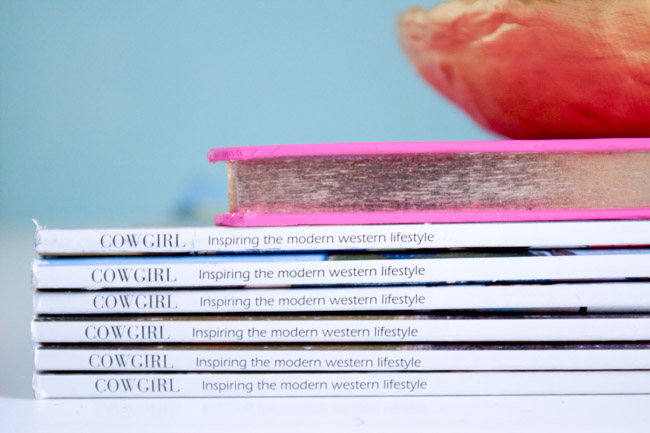 It looks good on top of my stack of Cowgirl Magazine.
I hope you will give this fun and easy DIY unicorn jewelry holder a try! Need more inspiration?
DIY your own porcelain paint jewelry dish >