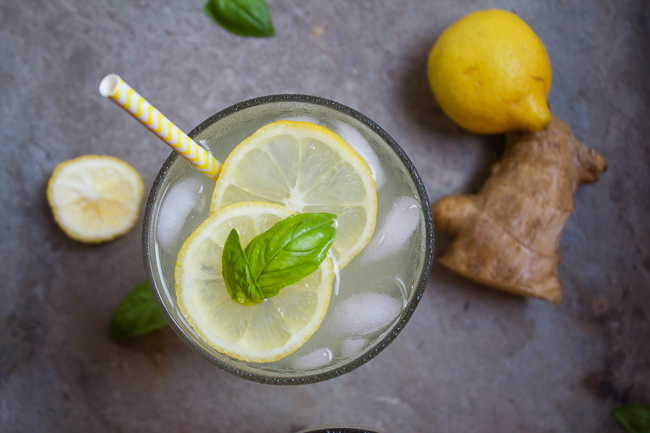 Ginger lemonade garnished with basil is a perfect summer drink and it's so easy to whip up. I've said it once and I'll say it again, nothing beats the taste of fresh squeezed lemonade. I have made a lot of different versions here on Horses & Heels; Cucumber Lemonade, Blackberry Basil Lemonade and Strawberry Basil Lemonade. But now I have a new favorite, it's Ginger Lemonade. Made with freshly grated ginger root and flavored overnight, this lemonade is tart and tangy with just the right amount of sweet. It also has a nice addition of basil, but the basil doesn't overpower the drink and compliments it very nicely.
Ginger root is also becoming one of those items I find myself keeping stocked in the refrigerator because it's great in food and beverages. Ginger also has a lot of health benefits and it helps with upset stomachs or nausea and if you Google it, you'll find endless ailment cures.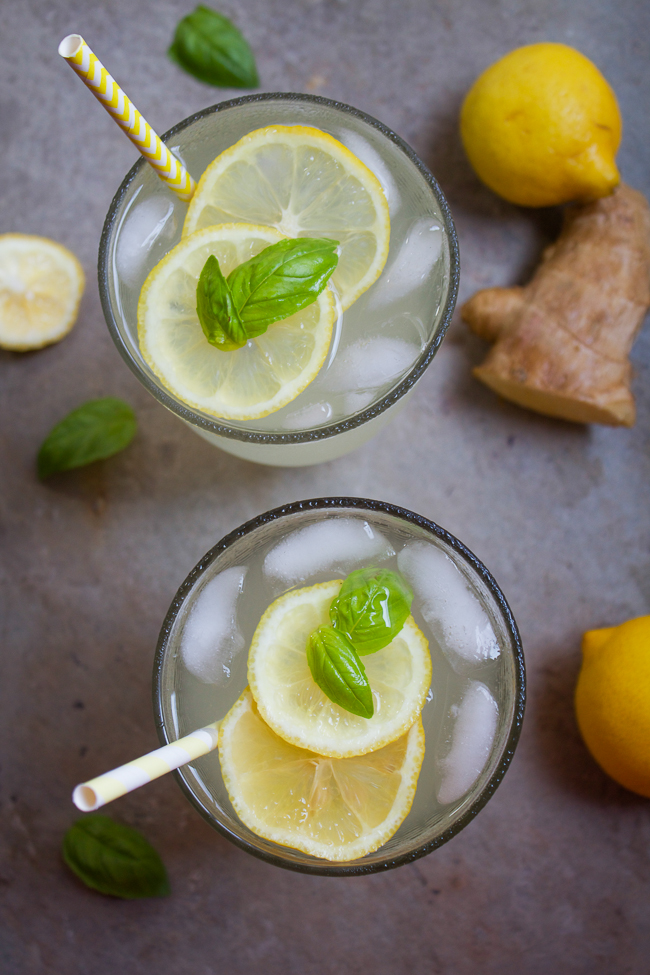 I do not like extremely sugary lemonades (think about those loaded fair lemonade you drank as a child or maybe still do), those are almost unbearably sweet. You may feel free to add more sugar to your lemonade if mine has too much tang for you.
Ginger Lemonade
A tangy lemonade flavored with fresh ginger root.
Serves:
4 large glasses or 8 small glasses
Ingredients
5 lemons
10 cups water
1 cup white sugar (or more depending on your preference)
1 heaping tablespoon fresh shredded basil leaves (about 4 large leaves)
1½ tablespoons freshly grated ginger root
Instructions
Halve and remove the seeds from your lemons and juice them.
Add fresh lemon juice, water, sugar, basil, and ginger root to a large bowl.
Refrigerate this overnight (or for at least 12 hours) allowing the ginger root to flavor your lemonade.
Pour the drink into a serving pitcher and use a strainer to sift out the pieces of ginger root and basil - discard them. You may leave the ginger root in the lemonade but each day it will become stronger and sometimes to larger grated ginger pieces are not favorable.
Garnish and serve with slices or lemon and pieces of basil.
Sip and enjoy!
Also try these other versions –  Cucumber Lemonade, Blackberry Basil Lemonade and Strawberry Basil Lemonade.