This delicious Grilled Bruschetta Chicken Sandwich recipe and blog post is sponsored by Foster Farms®, learn more about Foster Farms® and keep reading for this awesome recipe.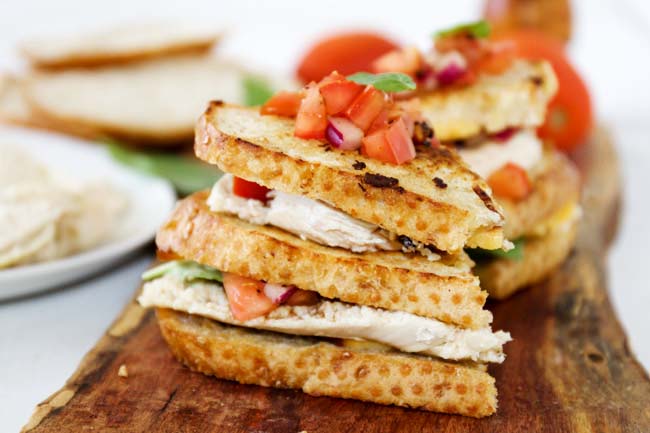 Bruschetta is one of the best ways to use up a summer surplus of tomatoes and basil. On top of a nice piece of bakery bread and drizzled with balsamic vinegar it doesn't get much better than that, or does it?
While I love a good bruschetta it's not always enough to make a filling meal and lacks protein from meat. Enter the grilled bruschetta chicken sandwich; it's made with fresh chicken, smoked Gouda cheese and your traditional bruschetta ingredients.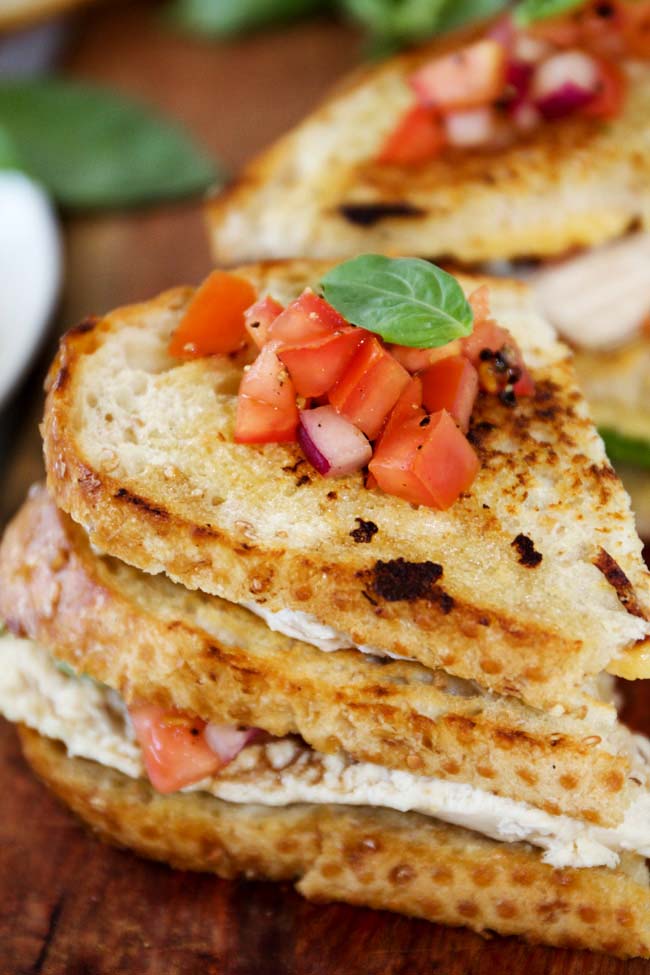 Since moving to California I have been enjoying everything this state has to offer; palm trees, sunshine almost 24/7, the beach, farmer's markets and great food. It's fresh food that makes a good meal and adding Foster Farms chicken to my sandwich was an easy and natural choice. Foster Farms chicken is local here on the West Coast and in California; the company is family-owned and operated since 1939. Leading the West Coast in poultry production, Foster Farms now offers something for everyone with the introduction of their Fresh and Natural, Organic and Simply Raised antibiotic free lines. They recently updated their logo and packaging to introduce these new chicken products. Look for the Foster Farms logo at your store.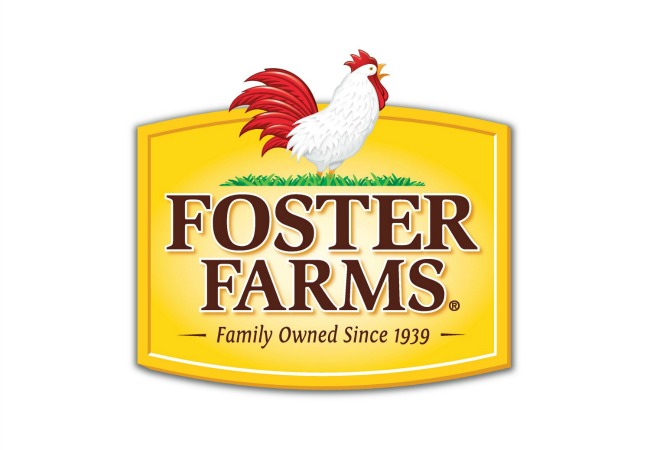 Let's get into a few more details about the chicken; I purchased Foster Farms Simply Raised chicken. It's antibiotic free, American Humane Certified and minimally processed with no added steroids, hormones or preservatives and sodium free.
Look for these packages at your store and get familiar with the different products online at FosterFarms.com
You can find Foster Farms Fresh & Natural and Simply Raised chicken in California, Washington and Oregon and most supermarkets. Organic is available at Costco and select supermarkets in California, Washington and Oregon.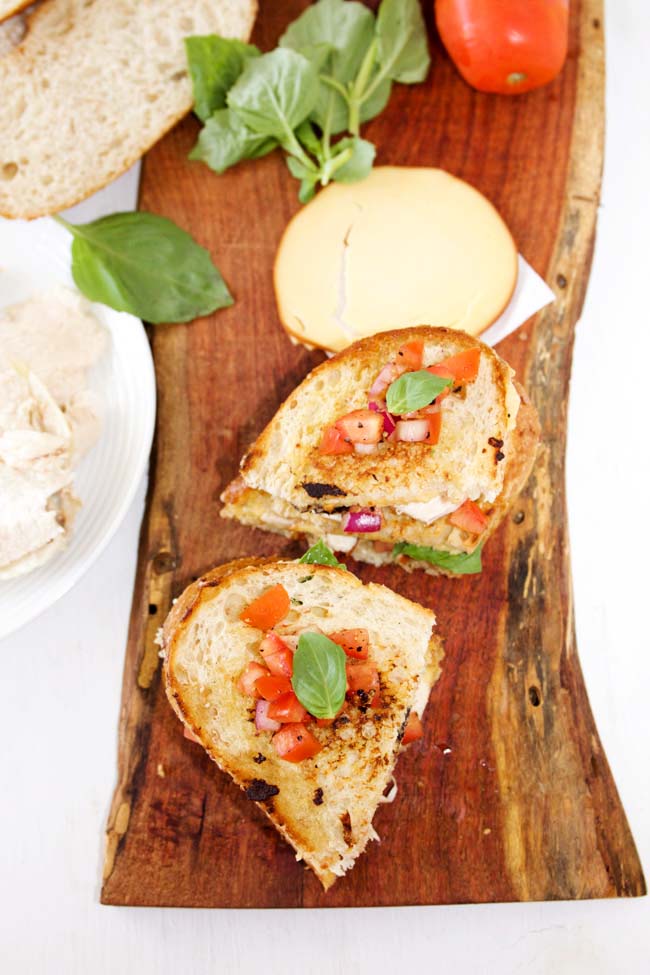 Serving tip: This sandwich is HUGE! I was only able to eat a half and felt like I had over eaten so keep in mind you may not need to make a sandwich per person. Because of the tomatoes and balsamic this sandwich isn't a good leftover because your bread with get soft. It's best enjoyed right away.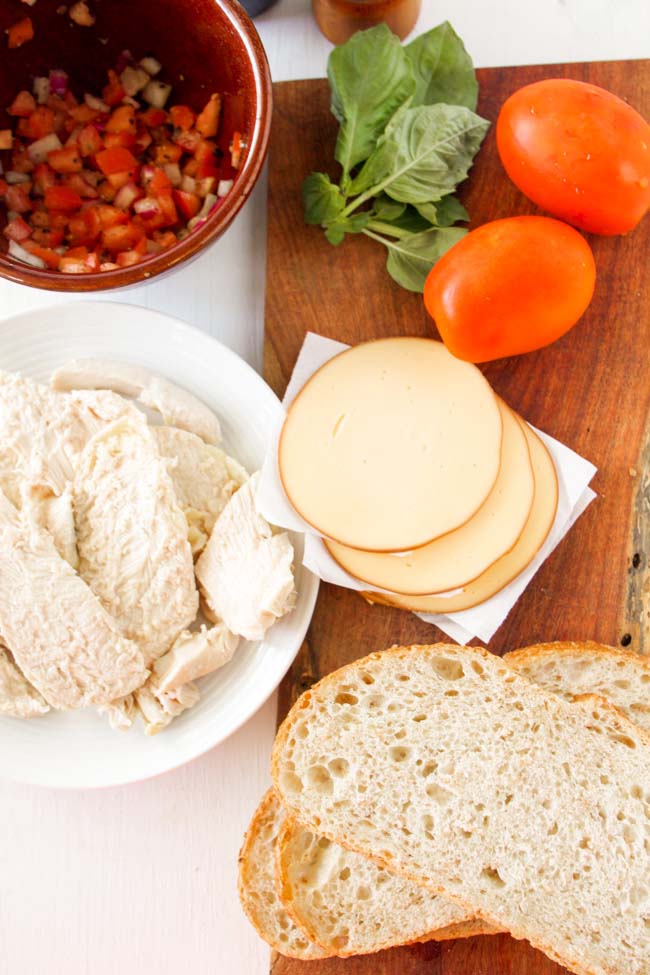 Grilled Bruschetta Chicken Sandwiches
A filling Grilled Bruschetta Chicken Sandwich with Smoked Gouda Cheese.
Ingredients
Per Sandwich:
3 large slices sourdough bread (or bread of your choice)
2 large thin slices of Foster Farms chicken breast (slice each breast lengthwise and you get about 3 slices per breast)
4 slices smoked Gouda cheese
*Butter
4 tablespoons diced tomatoes
2 tablespoons diced red onions
1 teaspoon balsamic vinegar
Fresh cracked black pepper
A sprinkle of shallot salt (can substitute for regular salt)
Fresh basil leaves
Instructions
Cook your chicken:
Add chicken breasts to a large pot (I like to cook more chicken than I need and use some the next day) and cover over a medium heat. Cook covered for about 20 minutes, flipping half way.
While the chicken cooks dice your tomatoes and red onions. Place in a small bowl and add in balsamic vinegar, black pepper and shallot salt. Set aside.
Prepare the sandwiches:
Once the chicken is cooked, allow it to cool before thinly slicing.
Butter one side of each piece of bread and place the butter side down in a skillet over a low heat. After 5 minutes the bread should start to brown. Flip, butter the opposite sides and place them down on the skillet, divide the cheese up and place it on the bread. Cover the skillet and leave the lid on until the cheese begins to melt. Remove from the heat and assemble your sandwich.
Assemble:
Top first piece of bread (cheese side up) with sliced chicken a couple spoonfuls of the balsamic blend and a few fresh basil leaves. Add another piece of bread and repeat the layer. Top with a final piece of bread. Cut in half and share or enjoy the whole sandwich.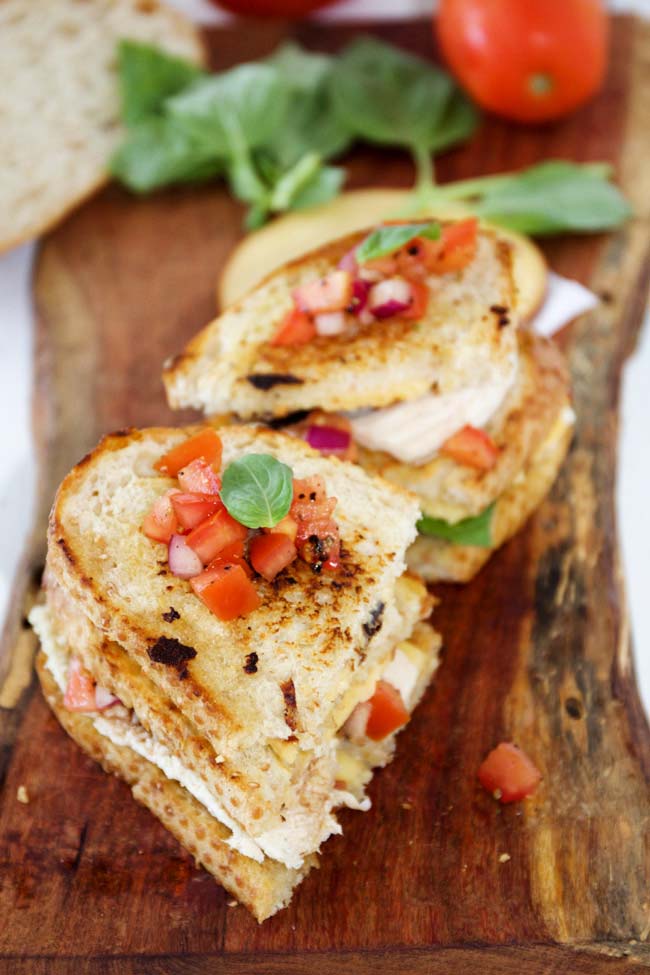 This post is sponsored by Foster Farms®, the opinions expressed are my own.