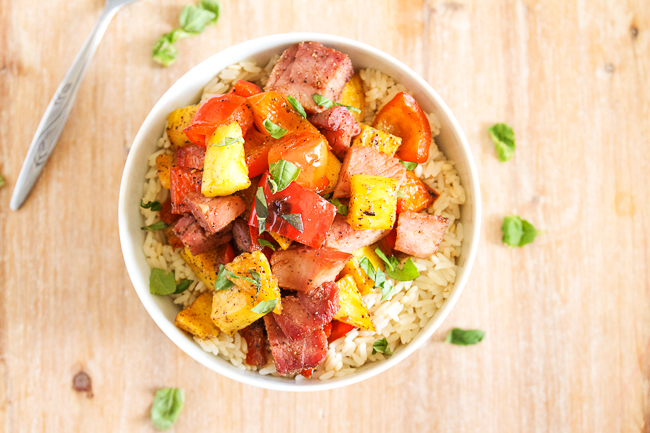 These Hawaiian Ham and Pineapple bowls are brought to you by my trip to the grocery store that resulted in buying a ten pound ham (for a family of two). Easter is next week so naturally ham is on sale and I can't pass up a good sale; $10.00 for a ten pound ham? I'm in!
I wasn't planning on sharing this recipe but it was so good that I made it again just to share (there were no leftovers that first night). The combination of juicy pineapple, sweet red peppers and plump ham slightly charred and covered with brown sugar glaze over rice is amazing.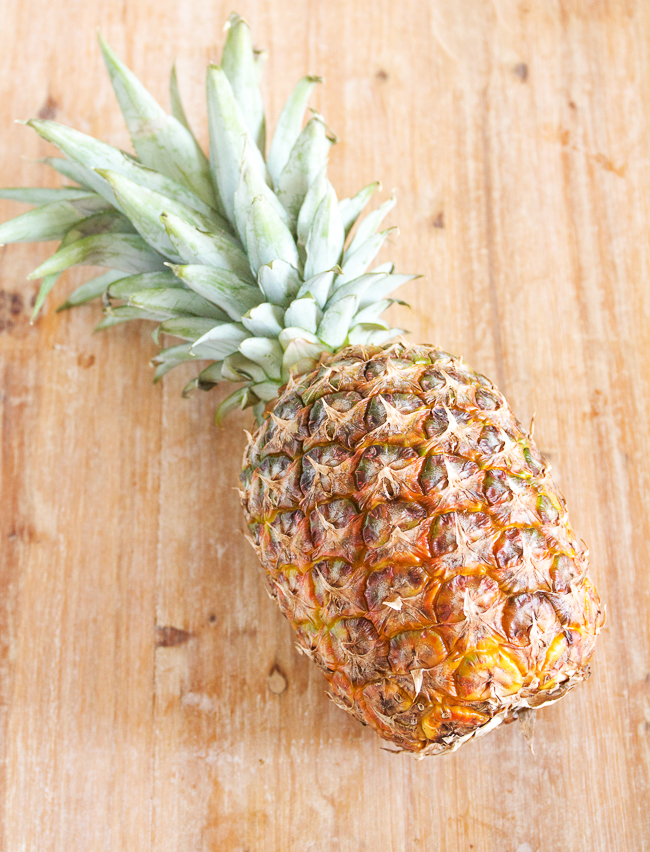 Ps. I recently learned how to pick out the perfect pineapple at the store, try smelling the bottom of the pineapple. If there is no scent, it's probably not ripe. But if it smells like a pineapple, it's ready and will be very sweet. The leaves should also be nice and green. I picked out a bad pineapple not long ago and now I swear by smelling them, I have no problem being that girl smelling a pineapple at the store.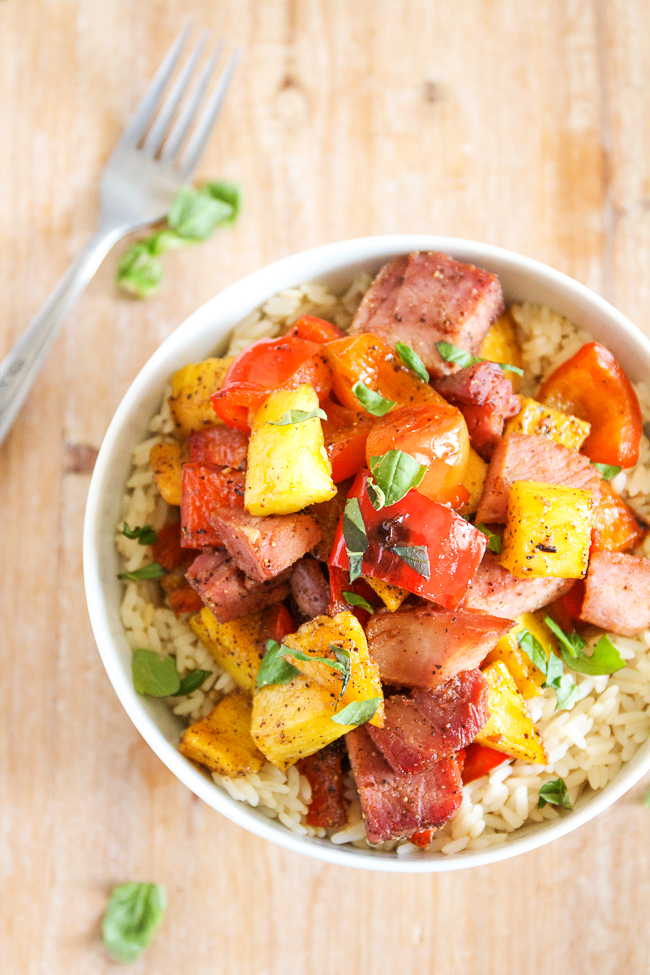 Hawaiian Ham & Pineapple Bowls
A flavorful bowl over rice packed with red peppers, pineapple and ham.
Ingredients
2 cups rice - any variety (white, brown, jasmine, ect.)
Chicken stock or chicken bouillon cubes.
1 tablespoon vegetable oil
2 cups red pepper pieces cut into ½ inch by 1 inch pieces
1 cup smoked ham cubes cut into ½ inch by 1 inch pieces
1 cup fresh pineapple cubes cut into ½ inch by 1 inch pieces
2 tablespoons light brown sugar
1 tablespoon water
1 teaspoon black pepper
½ teaspoon salt
Fresh basil leaves
Instructions
The secret to a delicious rice is flavoring it with chicken bouillon. You can either cook the 2 cups of rice in chicken stock (use the amount suggested on your rice plus ¼ cup extra) or cook the rice according to directions and add a bouillon cube in at the end.
While the rice cooks add the red pepper and a tablespoon of vegetable oil to a large skillet. Cook over a low to medium heat for about 5 to 7 minutes or until the peppers start to blacken. Flip occasionally.
Add in ham, pineapple, brown sugar, water, pepper and salt, crank up the heat for about a minute so you can blacken the pineapple and sear the ham.
Reduce the heat, stir and let simmer for about 5 minutes.
Serve over rice with fresh shredded basil leaves on top.
The recipe serves two people or can stretch more if you serve it with a couple of sides.