I was putting away my summer handbags when I came across my spring collection
La Espulea
handbag from a few years ago. Its pink flowers just were not going to cut it for the next few months… see you in the spring I thought.
I decided to check out the latest
La Espulea
handbags at
LILO Collections
& the rest of the
LILO
products as well. I'm normally all about sparkles & bling but sometimes I like to opt for a sleek & more refined style. Confession; I used to ride English when I was younger – jumping & dressage. I still have my Ariat English boots & I thought about bringing them out of the closet & pairing them with some leggings & long cardigans for the fall.
These next pieces would go perfect to complete the look.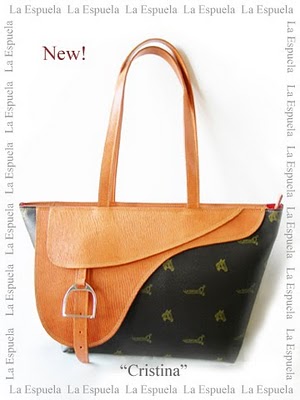 The
La Espuela Barcelona 
Cristina
handbag is handmade in Spain with hand cut, naturally tanned leather. It's shaped like an english saddle & accented with a silver trimmed stirrup.
A classic bag
LILO Collections Susana Scarf Handbag
is also made from naturally tanned leather using vegetable oil instead of harsh chemicals. I'm always up for earth friendly products that look good. It is probably my favorite
LILO
bag
The
Milan Bianca
dome handbag is spacious & available in chocolate or black. It's great for those days when you feel like you need to carry half of your make up or a small office with you.
LILO Collections
has a variety of jewelry, belts, scarves, & gift items for just about everyone on your holiday list as well. A lot of products are made with renewable resources & unique finishes you can't find anywhere else. Visit
LILO Collections
to find out more about locating a retailer or upcoming events where they are going to be.
Bracelets always make great stocking stuffers or just because gifts as well. I honestly believe that bracelets are the most common jewelry pieces given to women during the holidays. I think because men believe they are a "safe" gift. Earrings & necklaces sometimes give out a more serious vibe & bracelets say casual, unless you talking about a diamond tennis bracelet. The new Salas bracelets are cute & simple.
These bracelets are great as well, I love the snaffle bits.
LILO Collections – Stylish. Fresh. Unique.