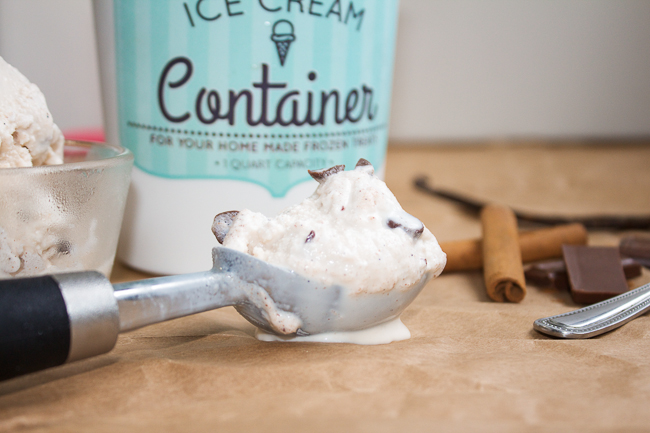 Vanilla ice cream never goes out of style but ever since the ice cream maker entered my life I have been creating all kinds of ice cream flavors. Imagine traditional vanilla bean ice cream with the addition of sweet and fragrant cinnamon and pieces of milk chocolate… drooling yet? This is a must try for summer and those warm days ahead.
Homemade Vanilla Cinnamon Ice Cream
A sweet and creamy vanilla bean cinnamon ice cream with milk chocolate pieces.
Ingredients
2 cups half and half
1 cup heavy whipping cream
¾ cup white sugar
1 whole vanilla bean
1 teaspoon ground cinnamon
½ cup milk chocolate pieces
Instructions
Add half and half, whipping cream and sugar to a sauce pan.
Split the vanilla bean and scrape out the insides, drop them into the sauce pan along with the whole vanilla bean.
Stir and place over a medium heat, covering the pan with a lid. Occasionally stir the mixture and remove it from the heat when it starts to bubble. Do not let the mixture boil or burn!
Allow the pot to cool for about 30 minutes, remove the vanilla bean pod and add in cinnamon, stir well.
Refrigerate for at least three hours allowing the flavors to fuse together.
Place the contents into your ice cream maker and follow directions according to your machine.
Dump in the chocolate pieces in the last 5 minutes.
The ice cream will not be soft set, you can serve it as is or scoop it into a container and place in the freezer for a few hours.
One thing I must add is if you do substitutions for heavy cream with a lower fat content your ice cream consistency will not be the same as mind. During the process of my experimentation, I have really learned that ingredients directly affect the texture of ice cream. Also please do not substitute vanilla extract for the vanilla bean, sadly it's just not the same thing.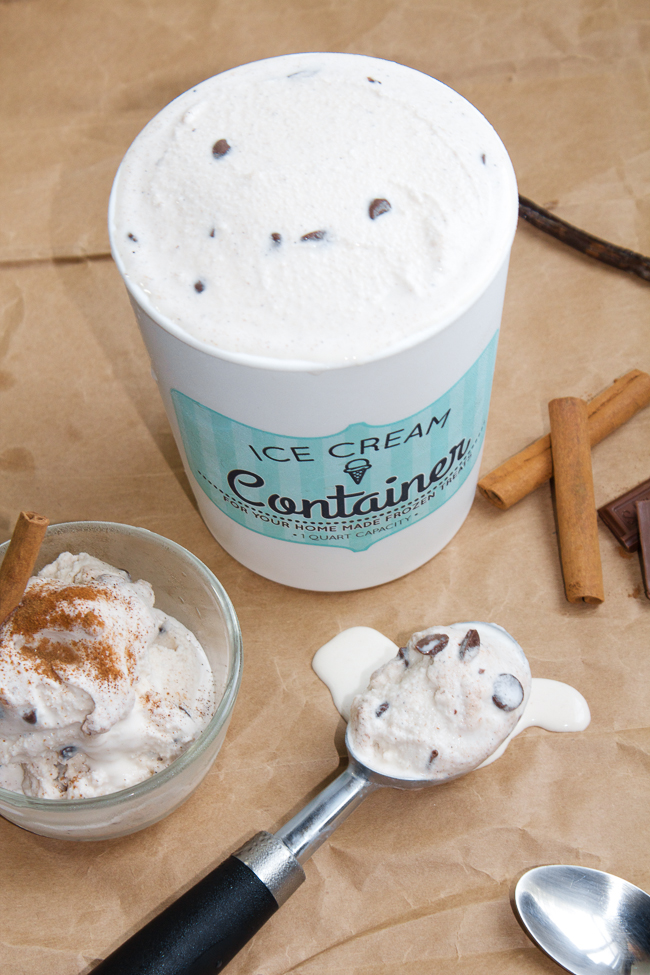 Feel free to garnish you ice cream with an additional pinch of cinnamon or add in cinnamon sticks for some fun.
Photos by Raquel