With Quarter Horse Congress quickly approaching my sister & I started talking about what she is going to wear. It's a big enough decision deciding on the horse's tack but what about the rider? You deserve to have an amazing outfit & of course you want to sparkle.
So I started my mission to find some great shirts & came up with this…
These shirts are all originals designed & created by Faith of Just Fly Designs. They are all made one at a time & can be customized just for you. Faith was nice enough to send me some samples of her previous work, prepare to be mesmerized.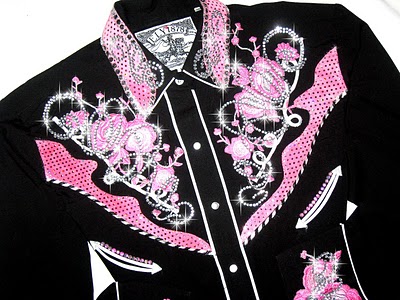 One of my favorites, it all starts on the computer & takes hours to do the design with the software program. I asked how long it takes to create a shirt…. Any guesses?
It can take up to 30 hours to make a shirt, now that's dedication. This black shirt with blue accents is ready for a rodeo.
When you really want to make an entrance opt for the fringe. The back of this shirt is stunning, there are thousands of crystals on every creation. Just Fly Designs was founded in 2000 & does more than just show shirts for rodeos & horsemanship. You can order customized jeans, t-shirts & jackets.
This star design is gorgeous, with jeans to match. Pick your colors & design for a shirt that no one else will ever have.
I spent a very long time looking at all of the designs today, your biggest challenge will be deciding what your shirt should look like. View everything at
Just Fly Designs