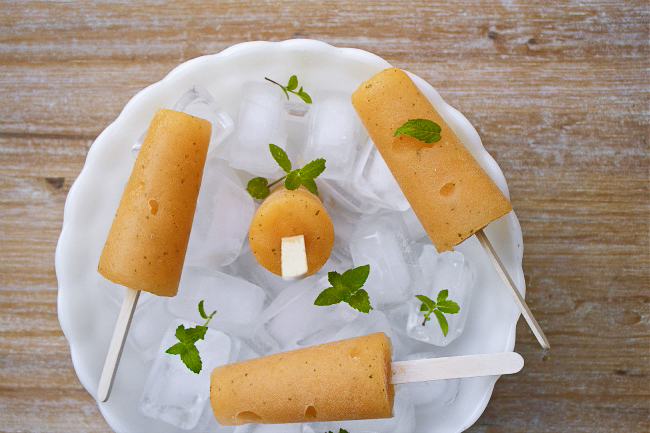 It is hot! And this heat definitely calls for a popsicle or two. I made these tasty & cool melon mint popsicles yesterday & had to share them. These popsicles have just three ingredients & are so easy to make. I recently picked up some molds & have started experimenting with different popsicles & these were deemed "blog worthy". For molds I used Kidco Healthy Snack Frozen Treat Trays
 & just inserted wooden sticks instead of the reusable plastic ones.
Sometimes it seems like "good & healthy" popsicles that are not packed with corn syrup & artificial sweeteners are pricey, but with a recipe like this you will never buy store-bought popsicles again! I have mint plants, so fresh mint is always on hand & while I suggest using raw honey, you don't have to.
Melon Mint Popsicles
Sweet & minty melon popsicles.
Ingredients
5½ cups semi frozen cantaloupe
½ cup raw honey
¼ cup fresh mint leaves (loosely packed)
Instructions
Add melon, honey & mint to a blender & blend until the chunks of melon disappear.
Pour into popsicle molds, do not overfill them because the popsicles will expand in the freezer.
Insert popsicle sticks in the middle of each filled popsicle mold.
Freeze for at least three hours or until completely frozen.
To remove popsicles from the frozen molds, run a little hot water on the outside & gently twist until the popsicle comes out.