Easy oven baked lemon chicken over carrots.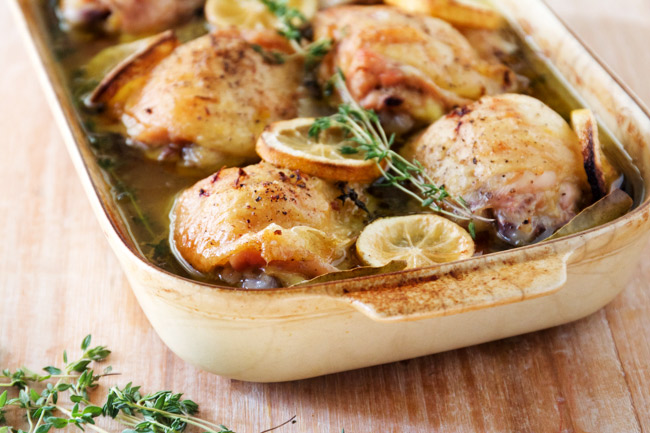 I make chicken at least twice a week and always include it in our meal plans. My oven baked chicken over vegetables is easy, healthy and full of flavor. This recipe is perfect for fall and winter meals, whip up a side of mashed potatoes or a green salad to serve with this. I usually cook my chicken over carrots; the carrots slow cook for over an hour in the flavorful chicken juices.
This recipe could work with a whole chicken, thighs or chicken breasts. I usually buy the bone in thighs from Foster Farms because they taste great and I use the bones for soups after.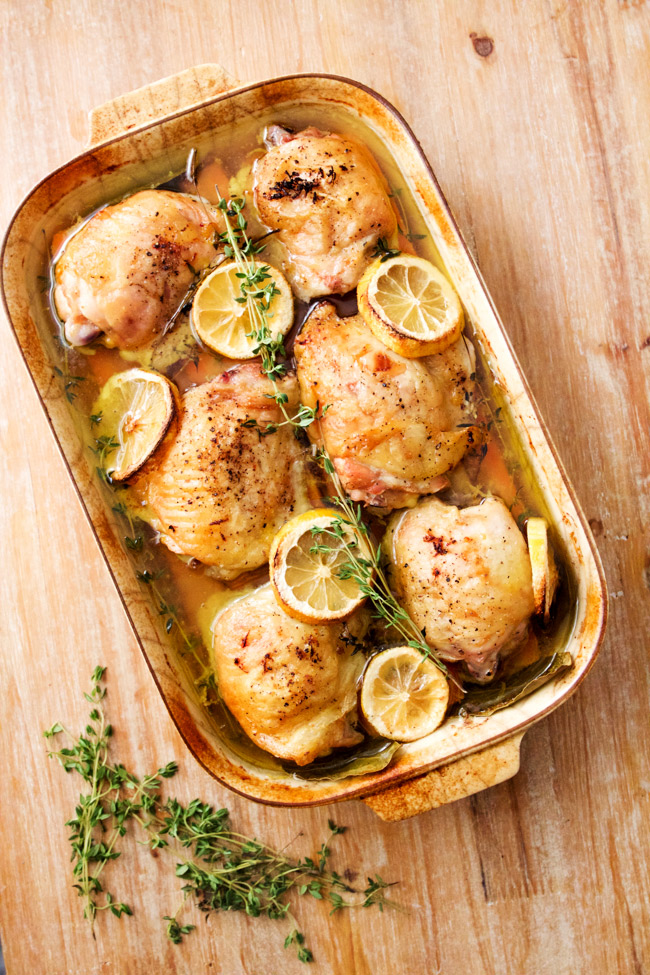 This oven baked lemon chicken uses one lemon, a cup of white wine, fresh thyme, bay leaves, olive oil, salt and pepper. It's very basic and full of flavor.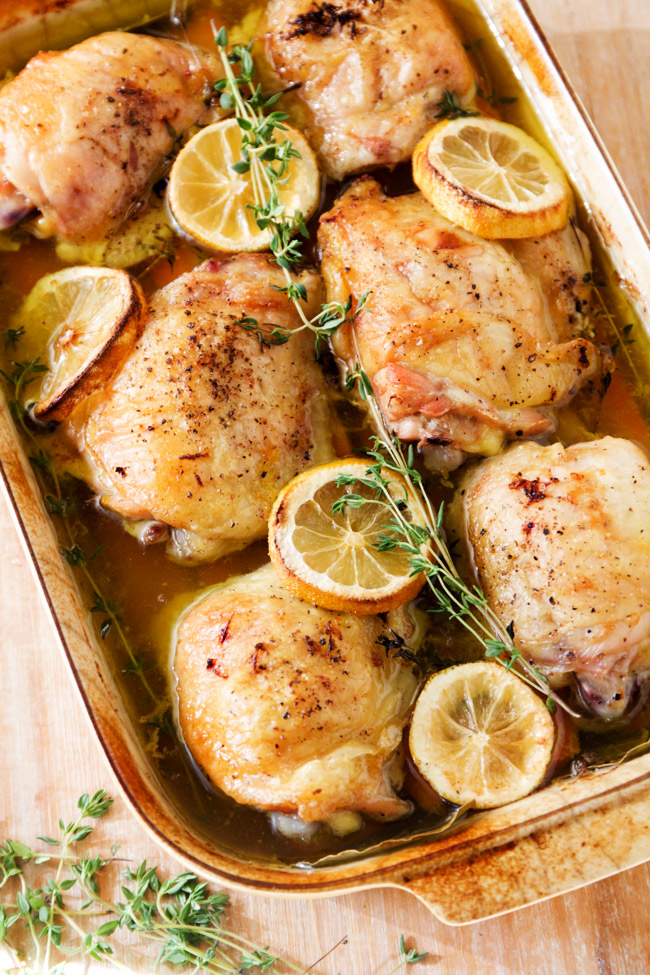 Oven Baked Lemon Chicken
Oven baked lemon chicken with herbs.
Ingredients
6 bone in thigh pieces of chicken (can substitute for breasts) with the skin on
6 large carrots cut in half lengthwise (or other vegetable of choice)
1½ cups water
½ cup white wine
3 bay leaves
1 lemon
fresh thyme
¼ cup olive oil
salt
pepper
Instructions
Pre heat the oven to 315 degrees
Place the sliced carrots (or other vegetable) in a large oven safe dish. I use an 4" x 11" dish.
Pour over water and wine.
Add in bay leaves.
Place chicken breasts on top of the carrots.
Add 6 sprigs of fresh thyme to the dish.
Zest the lemon and then cut into slices. Sprinkle the lemon zest over the chicken and be sure to some zest in the liquid. Arrange slices of lemon on top of the chicken breasts.
Drizzle the olive oil over the tops of the chicken breasts.
Sprinkle with a generous amount of salt and pepper.
Bake for 1 hour at 315 degrees then raise the temperature to 400 degrees and bake for an additional 30 minutes to brown the skins.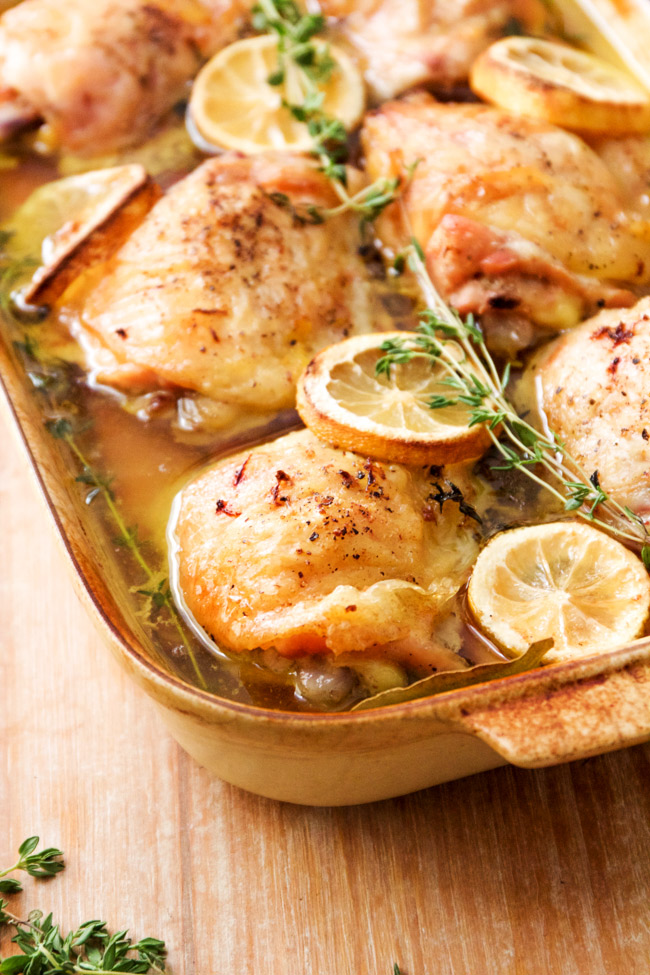 This chicken also makes a great leftover reheated. Just pop it in the oven for for 20 -30 minutes at 350 and cover it with aluminum foil to prevent it from drying out.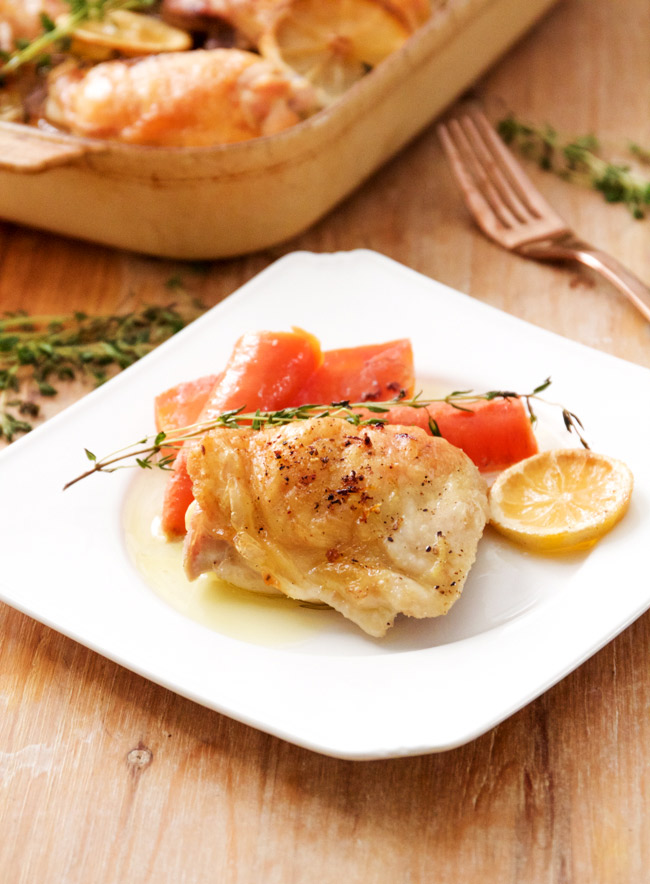 Are you on Instagram? I would love it if you joined me there? Follow
@Horsesandheels_