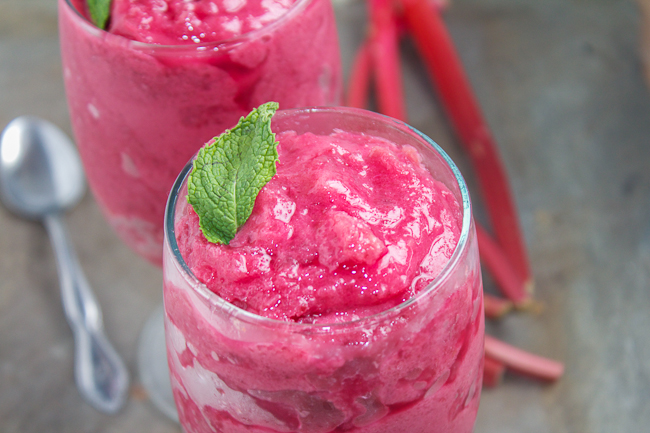 Rhubarb Green Tea Slush – a frozen beverage with tangy rhubarb, sweet cherries and healthy green tea. Does it get any better? Rhubarb is one of those vegetables (yes, it's considered a vegetable and not a fruit) that seems to only have a few good dishes that come to mind; a rhubarb pie, a rhubarb crisp or maybe a strawberry rhubarb pie. But the potential for rhubarb is endless! Let this slush be a little inspiration and a new favorite recipe of yours.

It's easy to make and is a unique beverage that will really have people talking, plus its vibrant deep pink color is so pretty and all natural.
Rhubarb Green Tea Slush
A slushy drink flavored with rhubarb and green tea.
Ingredients
1 cup frozen sweet cherries
4 cups fresh rhubarb, chopped
1 cup of white sugar (or other sugar substitute)
1 quart green tea (use 4 tea bags and 4 cups of water)
Instructions
Add cherries, rhubarb and sugar to a sauce pan.
Cook on low for about 20 minutes, stirring occasionally until the rhubarb is soft and tender. Do not boil or scorch the bottom of the pan.
Meanwhile, make your green tea on the stove. Bring 4 cups of cold water to a boil, add tea bags and let them steep for 15 minutes.
Add the rhubarb cherry mixture to a blender and puree.
Remove tea bags from tea and add tea to the blender and mix.
Place the beverage in the freezer for 4-6 hours until it becomes "slushy" or freeze overnight and blend the frozen mixture before serving.
*If you freeze the drink overnight, let it sit out on the counter for about an hour before trying to blend the frozen drink.
Garnish with some mint leaves or rhubarb stalks if desired and enjoy.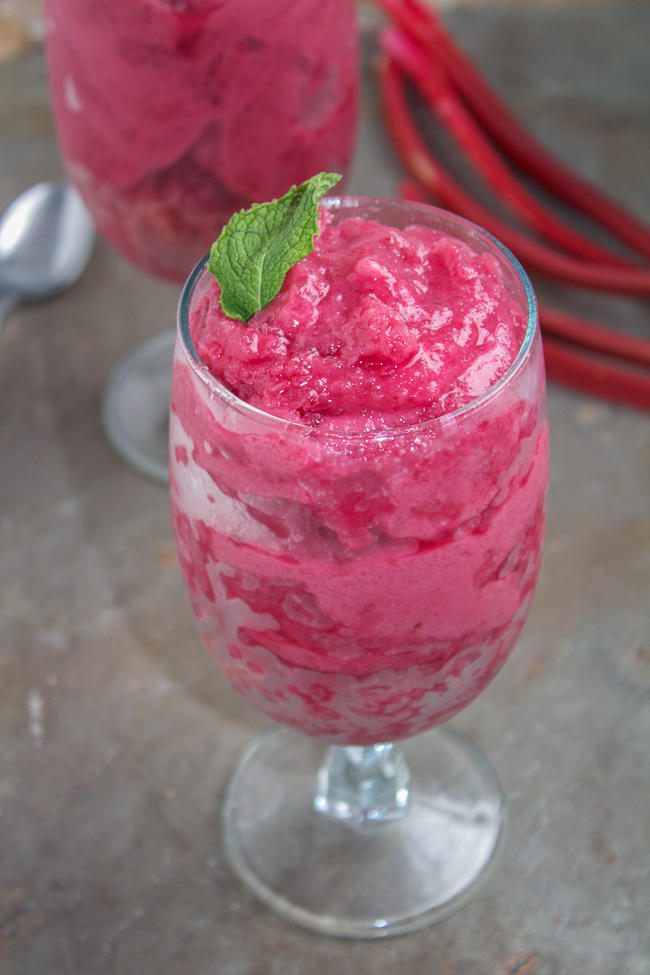 Rhubarb never tasted so good!