I love new discoveries, especially these gorgeous handbags from
Rinaldi Equestrian & Polo Collection
. They are elegant, classy & a new item to add to my ongoing wish list. I picked out a few of my favorite bags that I am swooning over. The collection is designed by Rina Shah, she is inspired by Hermes, DKNY & Ralph Lauren. Of course Rina's passion for horses influenced the collection.
Aqua blue Chandini bag with bits & chains print accented with Swarovski crystals. This bag is so pretty & is summer appropriate.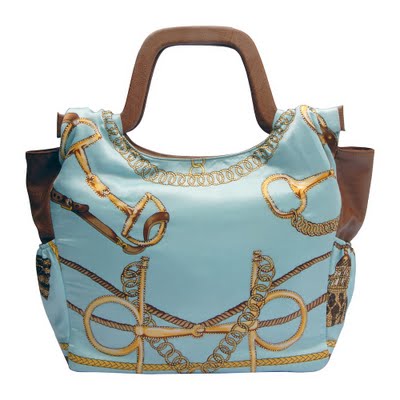 The red & white Stirrups Scarf Tote. I'm absolutely in love with the gold chain handle, it looks perfect with the bag's bit & print.
The Frost bag, it's pink & pretty. It's perfect for a girly girl who wants to incorporate some equestrian flair into her look.
The Zoretto bag, it's preppy & ready to dress up your wardrobe.
You can see more bags plus shoes & other items online at Rinaldi Designs.
Photos from Rinaldi Equestrian Collection